With its mesmerizing canals, cinematic bridges, and timeless architecture, this Italian gem is a must-visit destination for travellers seeking a touch of magic and romanticism. As you prepare for your Venetian escape, let us be your trusted gondolier, guiding you through the winding streets and unveiling the secrets that make Venice truly unique. Here are 10 things you need to know before embarking on your Venetian adventure.
Arriving in Style
Waterways and Transportation in Venice… As you step foot in the most magical city in the world, prepare to bid adieu to traditional means of transportation. In this pretty much "car-free city", canals are the highways and vaporettos (water buses) become your best friends. Master the art of navigating the waterways, and embrace the joy of gliding along the Grand Canal like a true Venetian.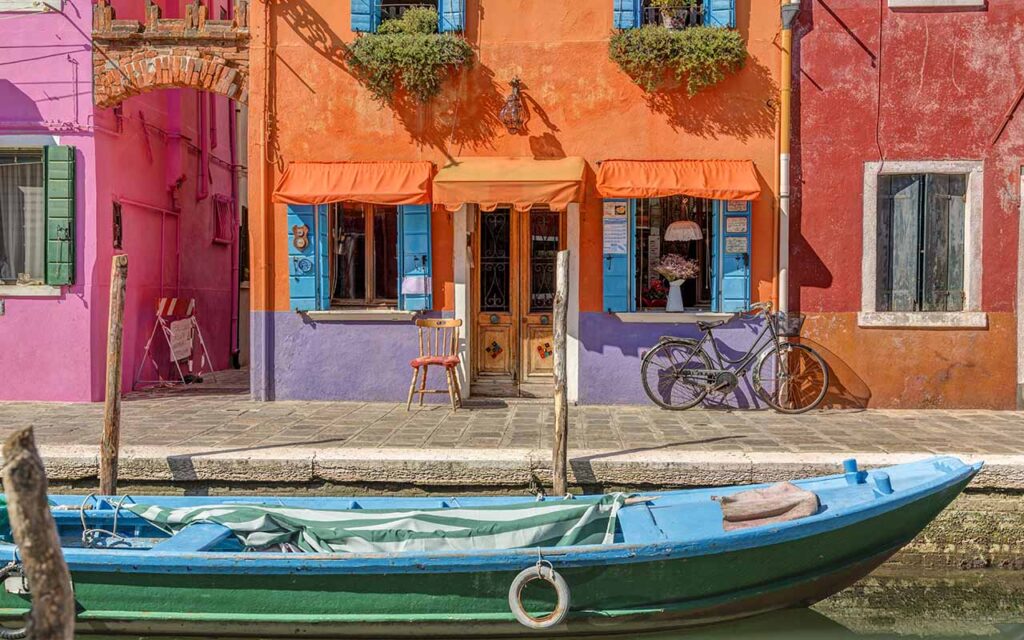 Timing is Everything
To avoid the crowds and truly experience the essence of Venice, consider visiting during the shoulder seasons—spring or autumn—when the city is less crowded. Beat the throngs of tourists and relish the tranquillity of hidden alleyways and charming squares. Plus, you'll have a better chance of capturing those breathtaking photos without a sea of selfie sticks in the background and have a much better experience on the sites you visit!
Get Lost (Deliberately!)
Embrace Venice's Maze-Like Streets Venice is a labyrinth of winding streets, bridges, and canals, and getting lost is part of the adventure. Wander aimlessly through its alleys, allowing serendipity to guide you to hidden treasures. Who knows? You might stumble upon a quaint café or an artisan shop that's off the beaten path.
Buon Appetito
Venice's Culinary Delights No visit to Venice is complete without indulging in the city's delectable cuisine. Savour a plate of freshly caught seafood, accompanied by a glass of local Veneto wine. Don't forget to try the iconic cicchetti, mouthwatering small bites served in the city's charming bacari (wine bars). Buon appetito!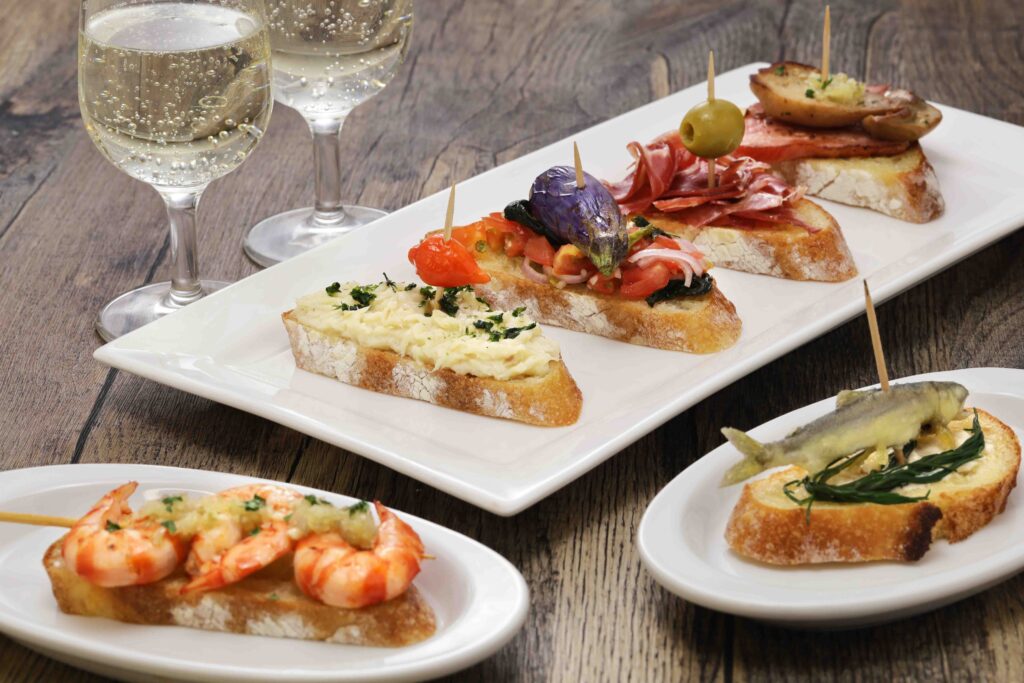 Explore the Islands
Murano, Burano, and Torcello While Venice steals the spotlight, don't miss the chance to explore its neighbouring islands. Hop on a vaporetto and venture to Murano, renowned for its glassmaking traditions. Discover the vibrant hues of Burano, famous for its colourful houses, and step back in time on the peaceful island of Torcello, home to ancient churches and atmospheric ruins.
Visit the St Marks Basilica at night
Imagine stepping into a world where time seems to stand still, where the air is filled with the echoes of celestial harmonies. St. Mark's Basilica, a symbol of Venetian grandeur, offers a mesmerizing experience that transcends the realm of the ordinary, especially when visited at night. Join us on a captivating journey as we unravel the enchanting melodies that fill the sacred halls of St. Mark's Basilica after sunset and experience this iconic landmark with an expert guide who speaks your language. Learn more here.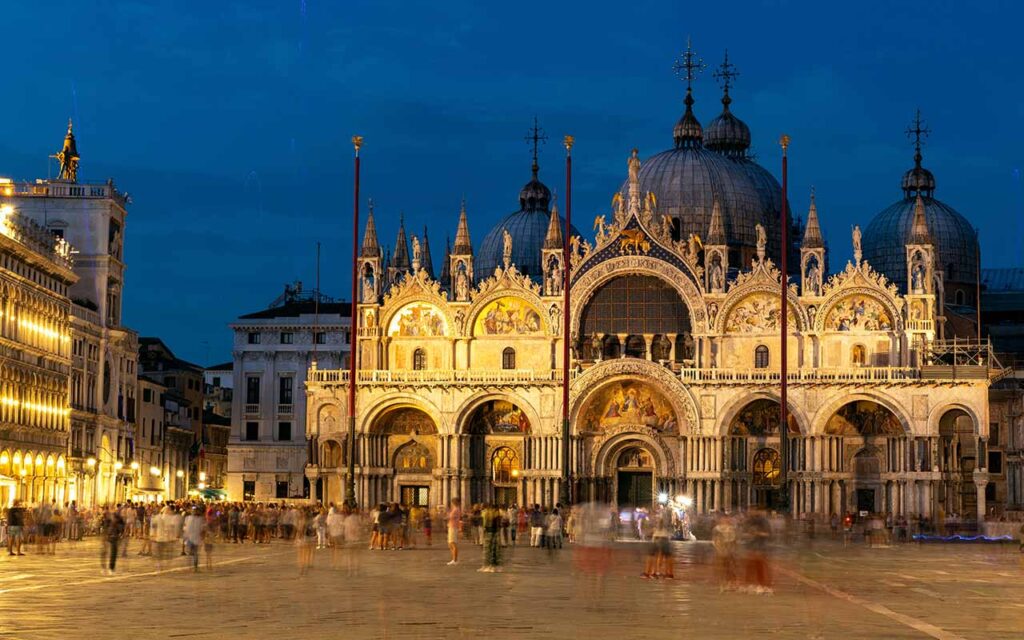 Carnival Magic
Join the Festivities If you're fortunate enough to visit during February, immerse yourself in the mesmerizing world of Carnival. Witness the city come alive with extravagant costumes, masked balls, and vibrant parades. Join in the revelry, don your own mask, and let Venice's Carnival cast its spell on you.
Language of Love
Unleash Your Inner Casanova Venice is the epitome of romance, so channel your inner Casanova or Casanovette and embrace the city's amorous ambience. Take a moonlit gondola ride with your beloved, exchange kisses on the Bridge of Sighs, and let the magical atmosphere of Venice work its enchantment on your heart.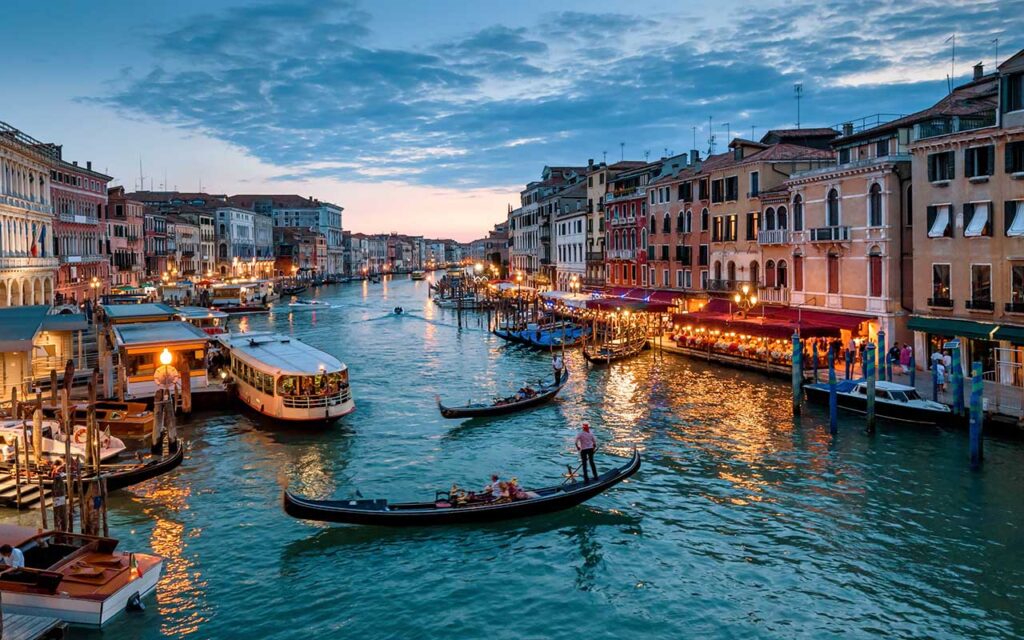 Art and Culture
Discover the Venetian Masters Venice has long been a haven for artistic souls. Immerse yourself in its cultural tapestry by visiting the Gallerie dell'Accademia or the Peggy Guggenheim Collection with us, showcasing masterpieces from the Venetian Renaissance to contemporary art. Let the brushstrokes of Titian and the sculptures of Canova ignite your imagination. Discover more Venice tours here.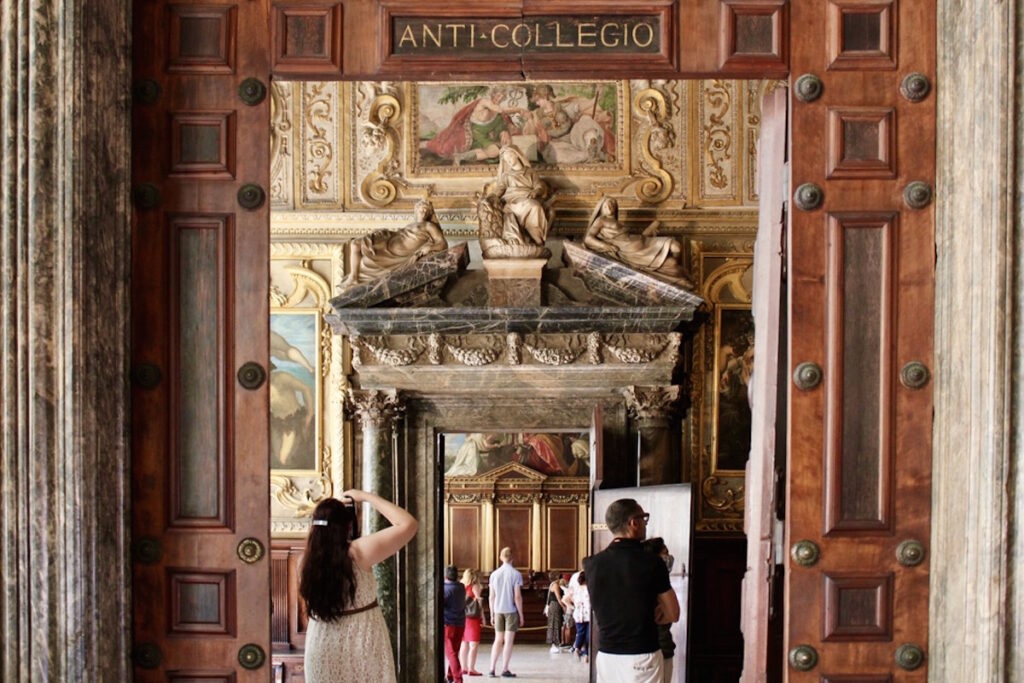 Prepare for Aqua Alta
High Water Woes Venice's captivating beauty sometimes comes with a soggy surprise—acqua alta, or high water. Be prepared for occasional flooding, particularly during the winter months. Pack a pair of waterproof boots, embrace the unique experience of strolling on raised walkways, and savour the charm of Venice even when the waters rise.
Souvenirs to Treasure
Embrace Local Craftsmanship As you bid farewell to Venice, bring home a piece of its magic by supporting local artisans. Seek out authentic Murano glass creations, handmade carnival masks, and intricate lace from Burano. By doing so, you'll have a tangible reminder of your Venetian adventure, and you'll contribute to the preservation of Venice's rich cultural heritage.
Venice, with its ethereal beauty and hidden wonders, promises an unforgettable journey like no other. Armed with these 10 insider tips, you're ready to set sail on your Venetian adventure. Embrace the city's idyllic charm, immerse yourself in its vibrant culture, and let the romance of Venice sweep you off your feet. Buon Viaggio!
Laine Alcantara | Travel Content Creator