Exclusive Private St Mark's Basilica Tour at Night
---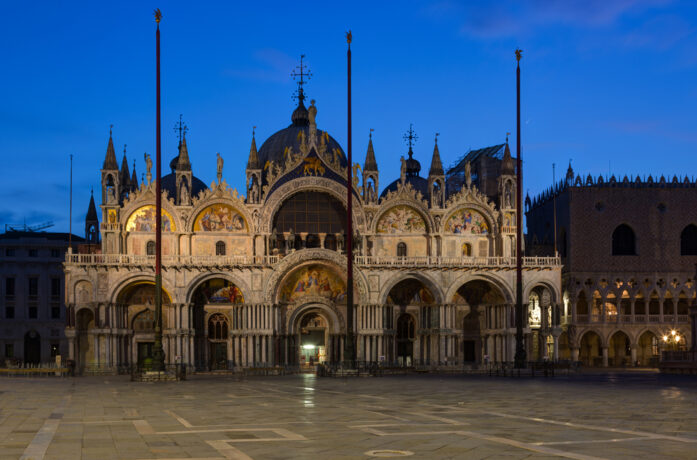 ---
LivTours' St. Mark's Basilica Tour at Night offers you an opportunity to see one of Venice's most popular sites after hours. This means no crowds, no waiting, and completely unobstructed views of the art and architecture within this spectacular Basilica. The interior of St. Mark's is one of the most ornate and decorated spaces in all of Venice, and your private guide is your key to seeing all that there is to see without the noise or distractions during regular visiting hours.
The eerie yet ethereal glow and sparkle of the dim lighting and the brilliant gold mosaics will set the stage, but the rest of the spectacle is all around you via open floors, close views of priceless statues and a rare study of the Pala d'oro without other tour groups filing in front of you to catch a glimpse. Rarer still is a visit to the Basilica's crypts.  This area of the Basilica has very restricted access and has an incredible history including housing the most important relic of Venice, the remains of St. Mark!
BOOK NOW
---
Explore Venice's St. Mark's Basilica by night with VIP access and expert guide

See the Basilica's ancient golden mosaics as they sparkle and shine by moonlight

Visit highlights like the Pala d'oro and the crypts, normally closed to visitors

Learn the meanings and stories behind the art and designs without the crowds

Reserve now and enjoy an all-access and exclusive experience for LivTours travelers
BOOK NOW
Exclusive private Tours and Experiences. Also offered in Spanish, French, Portuguese, Swedish and Russian
Our prices always include tickets and reservations fees (no waiting in lines!)
Our tour guides and staff are selected experts and speak perfect English
Easy to book and prepay your tours with our secure payment system
Eco-sustainable tourism, designed to respect and support local culture, art and traditions
---
Your LivTours' St. Mark's Basilica Tour at Night meets after regular hours when the crowds have dispersed and you are ready to make your entrance. First, take a look at a priceless piece of art hidden in plain sight, the famous Tetrarchs sculpture. Featuring four Roman emperors and made of red porphyry – a type of marble that was incredibly valuable and scarce even in antiquity – learn about the long story behind this sculpture and why it is where it is today.
Your expert guide will take you inside this architectural marvel via a side entrance. It will be dark, but this is just preparing you for the grand reveal.  To visit St. Mark's Basilica is already a special experience, but to see it by night, without the crowds thanks to exclusive after hours access is truly a once-in-a-lifetime experience. Imagine that once upon a time only royalty had this kind of privilege! You will be immediately struck by the ethereal sparkle and glow of the extensive, ancient mosaic tiles that adorn 43,000 square feet of the interior of the Basilica.
Having a full view of the church will allow you to see more than simply the incredible ceiling decor, but also the remarkable and stunning floors. You will be fascinated with the diversity in themes: doves, griffins, peacocks, geometric patterns, eagles, and even dogs.  Your guide will help you find the meanings and inspiration behind these seemingly mysterious designs.
Among the countless works of art housed inside St. Mark is the priceless altarpiece known as the Pala d'oro.  A Byzantine masterpiece, this golden high altar features thousands of pearls, emeralds, and other gemstones.  By moonlight its sparkle is heavenly.
Your Night Tour of St. Mark will also take you somewhere that is normally restricted, the Crypts. The Holy Crypts inside St. Mark have survived centuries of flooding, and house the remains of very important past Venetians and most importantly the body of St. Mark himself.
This Night Tour grants you the best atmosphere possible to explore one of Venice's most important historical sites.  Magical, spectacular, and inspiring.  Book today!
BOOK NOW
---
St Mark's Basilica VIP After-hours access

Mosaics and Facade introduction

Golden Mosaic ceilings

Pala d'Oro special viewing

Crypt under Altar

Fully guided experience
BOOK NOW
---
Please note that tour starting times are subject to change based on ticket availability

Offered in: English, French, Spanish, Portuguese, and Italian. Please specify under "Additional notes" if you wish to book the tour in a language other than English.

St. Mark's and other churches have dress code requirements for entry.  Tank tops, short dresses, and mini-skirts are not permitted.  Shorts or dresses must be knee-length.  Shoulders must be covered (a scarf wrap is allowed).
Backpacks and large bags are not permitted inside the Basilica.
Photography is not allowed inside the Basilica.
BOOK NOW
---
LivTours' group size of max 6 participants is and always has been based on sustainable travel, and we are proud to be at the forefront of change and innovation in the industry.  LivTours is committed to providing travelers with truly sustainable tours with the lowest possible environmental impact, all while supporting the local industries and people of each unique destination. To learn more about how you can actively support sustainable tourism  and how LivTours is contributing, click here.
BOOK NOW
---
When you book a LivTours Private Tour or Experience, you are guaranteed a dedicated, expert guide that allows you the flexibility to start your tour at a time which is convenient for you, making planning easy. Our private tours ensure that you will get a tailored experience to meet all your needs so we go at your pace, perfect for families with younger children, elderly, or individuals with accessibility needs. Please be advised that all private tours begin at a base price starting at two people*. Prices are inclusive of entry tickets where applicable. *Some Ferrari private experiences are inclusive of one person only.
BOOK NOW
---
Make your day even more unique and comfortable by upgrading your tour with a customizable LivTours optional add on!
Guide Pickup from Central Hotel (Transport Excluded)
55 €
95.70 A$
51.15 £
64.90 $
BOOK NOW
---
Excellent tour and excellent guide
"Our guide, Pamela, knew tons of information to share with us and she was super kind. You will definitely have to come see this if you are visiting Venice. "
Philip H - United States
---
Fantastic evening tour
"We went on this tour with Roberta, our guide. Seeing this amazing basilica at night was something I am so happy we did not miss. It was beautiful. Roberta was wonderful and I would highly recommend this tour. "
Bryce D - United States
---
Nico is awesome!
"Do not miss out on this tour. We have been to Venice twice now, and we are so happy we did this. Our guide, Nico, made the tour super entertaining and kept us all engaged as well as answered our questions. Highly recommend!"
Laura S - United States
---
BOOK NOW
---
By selecting Choose Dates Later / Buy as Gift at booking, any tour can be purchased without fixed dates. This is the perfect option if you want to purchase your tour as a gift for a loved one, or if you are in the pre-planning phase of your vacation. After booking, you will receive a Travel Voucher Code and full instructions on how to schedule your tours when ready. Once your travel plans are confirmed, you can easily use the Travel Voucher Code on the LivTours website to formally schedule your tours. You can find out more here.
BOOK NOW