Private Evening Gondola Ride Venice & City Stroll
---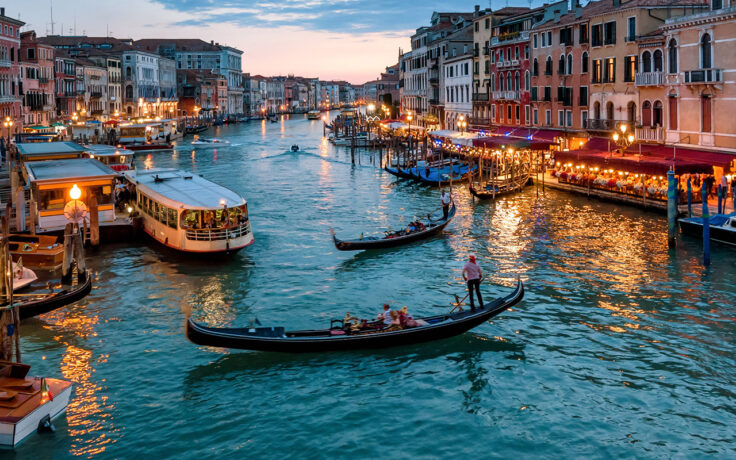 ---
LivTours Private Evening Gondola Ride in Venice is an ideal way to explore this unique and romantic city. Learn about the legends and intriguing stories of Venice from past as your local private guide takes you on a stroll through the hear of Venice. End the tour with a private gondola ride and glide through the narrow canals with your loved ones as the sun is setting.
BOOK NOW
---
Enjoy a romantic private gondola on the small canals of Venice

Learn about the facinating history as you wind your way through the alleyways

Tour Venice like a local in the twilight when the crowds have left for the day

Soak up the enchanting history of the city's many canals with your private guide

Discover the mysterious and beautiful canalside palaces with thousands of stories
BOOK NOW
Exclusive private Tours and Experiences. Also offered in Spanish, French, Portuguese, Swedish and Russian
Our prices always include tickets and reservations fees (no waiting in lines!)
Our tour guides and staff are selected experts and speak perfect English
Easy to book and prepay your tours with our secure payment system
Eco-sustainable tourism, designed to respect and support local culture, art and traditions
---
Your Private Evening Gondola Ride in Venice starts from the picturesque square of Campo San Giacometto where you will meet your local guide.  This square is home to the oldest church in Venetian history, dating back to 421 AD.  The area is in the daytime a bustling part of the city since it's where the Venetians come to buy fresh groceries at the nearby fresh food market, the Rialto Market, located next to the Grand Canal.
The Rialto area gave the name to the famous Rialto Bridge, known for its unique architecture. Learn the story behind the design as you cross over. We will make sure to stop at the top of the bridge where you can take stunning photos of the Grand Canal. Venice at twilight is a sight for sore eyes!
You will continue your stroll in the calmer evening air of Venice, through the small streets without the daunting crowds, and walk across the charming bridges and discover hidden piazzas. Your guide will make plenty of stops along the way to tell you more about this city's history and its anecdotes. Feel free to ask as many questions as you want.
No tour of Venice would be complete without visiting the political and religious center of Venice, Saint Mark's square. Reaching this beautiful square at this time of the early evening allows you to admire the Basilica of Saint Mark completely lit, along with the Bell Tower and the Doge's Palace.  Surely an unforgettable moment as your guide shares with you the stories and history of the buildings that surround you.
Just a stone's throw away a gondola is waiting to take you on a peaceful and romantic ride through the canals. Your LivTours private guide will make sure you are comfortable and take some photos of you in the gondola before waving you off. For 30 minutes you will enjoy the gentle and very classical way to see Venice, from its narrow canals!
BOOK NOW
---
Campo San Giacometto

Grand Canal

Rialto Bridge

Campo Santa Maria Formosa

Palazzo Querini Stampalia (from outside)

Campo Santi Giovanni e Paolo

St Marks Square

St Marks Basilica (from the outside)

Doge's Palace (from the outside)

Private 30 min gondola ride
BOOK NOW
---
LivTours' group size of max 6 participants is and always has been based on sustainable travel, and we are proud to be at the forefront of change and innovation in the industry.  LivTours is committed to providing travelers with truly sustainable tours with the lowest possible environmental impact, all while supporting the local industries and people of each unique destination. To learn more about how you can actively support sustainable tourism  and how LivTours is contributing, click here.
BOOK NOW
---
When you book a LivTours Private Tour or Experience, you are guaranteed a dedicated, expert guide that allows you the flexibility to start your tour at a time which is convenient for you, making planning easy. Our private tours ensure that you will get a tailored experience to meet all your needs so we go at your pace, perfect for families with younger children, elderly, or individuals with accessibility needs. Please be advised that all private tours begin at a base price starting at two people*. Prices are inclusive of entry tickets where applicable. *Some Ferrari private experiences are inclusive of one person only.
BOOK NOW
---
Make your day even more unique and comfortable by upgrading your tour with a customizable LivTours optional add on!
Guide Pickup from Central Hotel (Transport Excluded)
55 €
95.70 A$
51.15 £
64.90 $
BOOK NOW
---
Private tour + Gondala ride = Amazing Experience in Venice!
"We had the best evening with Nico, our guide, who took us around Venice. He was very informational and new so much about the history of Venice. After the tour, we went on the gondola and it was amazing. Recommend!"
Joey P - United States
---
See Venice at its best
"We are so happy we took this evening walking tour while in Venice. The city is so much more peaceful in the evening and the views and monuments at night are simply enticing. Our guide Sara was a lovely person and very excellent guide. The gondola ride at the end was the perfect way to end our Venice experience. Very romantic!!"
Ann G. - USA
---
Just enchanting
"Venice at twilight is enchanting. We really enjoyed the stroll and then ngondola ride around the canals. We came home with so many beautiful pictures and we'll remember Venice for the rest of our lives."
Jessica - USA
---
BOOK NOW
---
By selecting Choose Dates Later / Buy as Gift at booking, any tour can be purchased without fixed dates. This is the perfect option if you want to purchase your tour as a gift for a loved one, or if you are in the pre-planning phase of your vacation. After booking, you will receive a Travel Voucher Code and full instructions on how to schedule your tours when ready. Once your travel plans are confirmed, you can easily use the Travel Voucher Code on the LivTours website to formally schedule your tours. You can find out more here.
BOOK NOW