St Mark's Basilica at Night Tour | Semi-Private Experience
---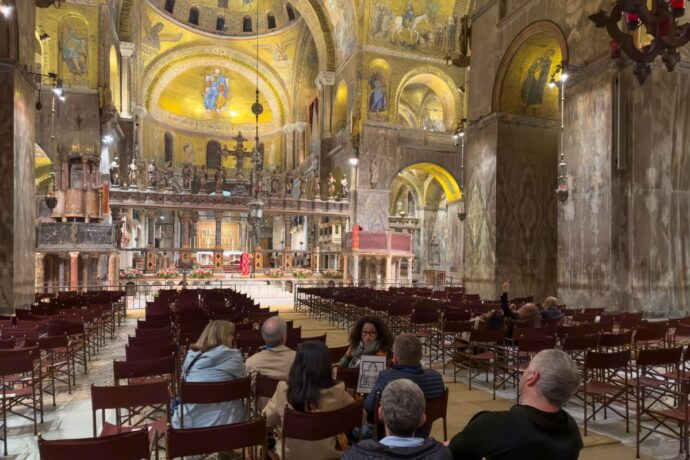 ---
LivTours' St Mark's Basilica at Night Tour gives you a rare chance to visit one of Venice's most important and glorious landmarks without the crowds and by moonlight. This focused visit allows you to go in-depth into the Patron Saint of Venice, St. Mark. Who was he and how did he become so central to Venice? What do we know about his life and how it is that he came to rest inside this very Basilica?
This tour offers travelers an extraordinary experience – to see the intricate and priceless interior as it shimmers by night, completely alone, opened exclusively for LivTours clientele. You will have an unobstructed view of every single detail and corner of this incredible work of art and symbol of faith, wealth, and culture. See the dazzling light show as the golden mosaics and Pala d'Oro shimmer in the night light. You will be able to access the ancient crypts underneath the Basilica – an area off-limits during the day. Discovering St. Mark's by night is truly a once in a lifetime opportunity!
BOOK NOW
---
Visit Venice's St. Mark's Basilica after hours with LivTours VIP entrance privileges

Explore the historic Basilica's mosaics and impressive architecture by moonlight

Discover all the intricate details inside with only LivTours clientele & your guide

Experience this incredible landmark with an expert guide who speaks your language

See the golden Pala d'Oro and visit the underground crypts - without the crowds
BOOK NOW
Semi-Private tours and experiences are guaranteed six participants max.
Our prices always include tickets and reservations fees (no waiting in lines!)
Our tour guides and staff are selected experts and speak perfect English
Easy to book and prepay your tours with our secure payment system
Eco-sustainable tourism, designed to respect and support local culture, art and traditions
---
Your LivTours' St. Mark's Basilica at Night Tour meets in the heart of Venice, St. Mark's Square. Your guide will share the history and stories behind the important landmarks located in the city's largest square as well as some background on this enchanting floating city itself. Before going inside, you will admire this masterpiece of Byzantine architectural style and understand why this 11th-century cathedral came to be called the "Golden Church".
After exploring this fascinating square, you will be escorted inside of St. Mark's Basilica. As the lights are methodically illuminated upon entry, you will be immediately struck by the glow from the more than 4,000 square meters of golden mosaics. Absorb everything around you, for this is really a chance that few visitors ever have the opportunity to have. Thousands of square feet of mosaics depicting both old and new testament stories are visible for you to view, without crowds and other obstructions. Your guide will take you through the key themes to orient you as you wander through this immense site.
One of the highlights of St. Mark's that will be accessible during your evening visit is the renowned Pala d'Oro – the most famous high altarpiece. This relic is incredibly important to the history of this church in part because it has remained undisturbed in its original place for so many centuries. An unmistakably priceless artifact, this golden altarpiece features gold and several thousands of pieces of precious gems and stones. The origin of this piece lends itself to the mystic and the significance of this normally crowded tourist attraction. Appreciate it fully in a way that is rarely afforded during this visit.
Enter areas typically off-limits such as the Basilica's underground crypts. Learn the story behind the ancient crypts and how they have come to survive centuries of flooding. Whose remains are here and how is this space reserved and maintained?
LivTours' Night Tour of St. Mark's Basilica is an absolute must for travelers with a real desire to experience sites in their most tranquil, natural state.
BOOK NOW
---
St Mark's Square

Exclusive VIP access into St Marks Basilica

Stunning lightshow inside Basilica

Pala d'Oro, high alterpeice
BOOK NOW
---
Places of worship have strict dress code requirements for entry. All participants are required to have shoulders and knees covered (no tank tops or short dresses) to enter.

There is no photography allowed inside St Marks Basilica.
BOOK NOW
---
LivTours' group size of max 6 participants is and always has been based on sustainable travel, and we are proud to be at the forefront of change and innovation in the industry.  LivTours is committed to providing travelers with truly sustainable tours with the lowest possible environmental impact, all while supporting the local industries and people of each unique destination. To learn more about how you can actively support sustainable tourism  and how LivTours is contributing, click here.
BOOK NOW
---
All LivTours Semi-Private Group Tours are limited to 6 guests per tour guide. Our commitment to maintaining our uniquely tiny group sizes can sometimes be a little tricky, mathematically speaking. For example, we want to ensure that traveling families and friends can tour together so on rare occasions we may add one or two guests in order to not split groups. On that same note, you may also find yourself on tour with less than six people! We thank you for your understanding and flexibility.
BOOK NOW
---
Absolutely beyond my expectations
"Our tour guide's explanation of the important details of St Mark's Basilica allowed us to better understand the history, religious significance and cultural references. Her love of the Basilica as well as her patience and attentiveness to her group did not go unnoticed. The light event was spectacular. The Basilica is so much more than a building and this tour proved it. "
Kathy - USA
---
Incredibly fantastic!
"Nico was amazing!! The night time tour of St Marks was more than we expected and we will remember this experience for a lifetime. The beauty of the basilica at night is beyond words and Nico's knowledge and passion shined through his every word. Highly recommend!"
Lisa M. - USA
---
Incredible experience.
"It was really a perfect tour. It felt very intimate. Our guide was incredible and really packed a lot in one hour while inside. They turned off all the lights, and slowly brought them up one by one. It was incredible. There are often times I visit an attraction, and I see something peculiar and wonder the story or history behind that one thing. Our Nico explained all of it!"
Julia
---
BOOK NOW
---
By selecting Choose Dates Later / Buy as Gift at booking, any tour can be purchased without fixed dates. This is the perfect option if you want to purchase your tour as a gift for a loved one, or if you are in the pre-planning phase of your vacation. After booking, you will receive a Travel Voucher Code and full instructions on how to schedule your tours when ready. Once your travel plans are confirmed, you can easily use the Travel Voucher Code on the LivTours website to formally schedule your tours. You can find out more here.
BOOK NOW