With their bright red tunics and their tall bearskins hats the Queen's Guard is one of London's most iconic symbols, so it unsurprising that thousands of tourists flock to witness the spectacle of the changing of the guard. A theatrical and musical military ceremony that sees the hand over of the responsibility of guarding the Royal Palace. But What is the best way to see this splendid military parade? Here are some tips on where and how to see the changing of the guard.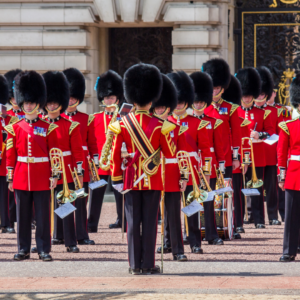 Firstly the Queen's Guard is not purely ceremonial. They are active members of the military real soldiers of the British Army with real weapons and a real job, to protect the Royal Households Buckingham Palace and smaller Saint James Palace, found next door, and while this a serious affair, it doesn't mean they don't put on a show while doing it. Accompanied by a military band, the changing of the guard is full of all the pomp and ceremony you would expect of a royal parade, and is quite the musical experience, while you would be right in expecting traditional brass marching music, the royal band has been known to spice things up a bit playing all sorts from Daft Punk to the Game of Thrones soundtrack.
With 5 regiments making up the Queen's Guard, there is a way to identify who is who if you want to impress your friends and family. Always in scarlet red in summer and violet grey in winter, there is a small detail to help you recognize who is who;
Irish Guards:
Little blue plume sticking out tall bearskin hat. Buttons on tunics are in sets of five
Welsh Guard:
Little white and green plume sticking out the hat. Buttons are in sets of four
Scots Guard:
No plume. Buttons in sets of three
Coldstream Guards:
Red Plume. Buttons in pairs
Grenadier Guards:
White Plume. Single buttons in a line.
To catch them in action, you should know that they are starting at 10.45. The changing of the guard lasts 45 minutes (you will want to arrive 15 mins or more early to ensure a good spot and watch the guards preparing)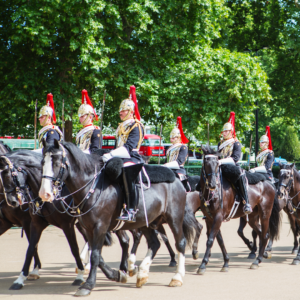 June-July the changing of the guard takes place daily. August-May the changing of the guard takes place Monday-Wednesday-Friday-Sunday.
While 90 percent of tourists head to the front gates of Buckingham Palace hoping to get the best spot, but the ceremony takes place across three locations. Saint James Palace – Buckingham Palace – Wellington Barracks.
For the most theatrical way to enjoy this military moment, we suggest starting at Saint James Palace and following the old guards as they march on their way to Buckingham Palace. From there you can see both sets of old guards leave as the new guard arrives. Don't forget to follow guards towards Wellington Barracks for the final and most impressive part of the ceremony as the guards say farewell before going off duty.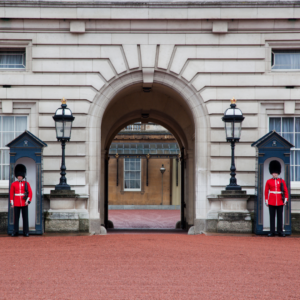 Safety note: Make sure you remain behind the fences and do not step out in the direction of the march. These soldiers are not only on guard with real weapons but they are trained to not stop and will not stop if you are in their way.