Christmas in Rome is celebrated from December 8th to January 6th. As you would expect, the celebrations center around the churches and particularly the Vatican. As an important time for the family, many businesses and attractions are closed or have reduced schedules, particularly on the public holidays: December 8th, December 24th, December 25th, December 31st, January 1st, and January 6th.
Keep reading to find out more about Christmas in Rome:
December 8th – Feast of the Immaculate Conception
December 8th is the kickoff of the holiday season in Italy, which starts with a public holiday. Offices and schools are closed, although you'll find most museums and restaurants stay open.
This is traditionally the day when Italian families put up their Christmas tree, and the city is no exception. Rome's official Christmas tree goes up in front of the Vittoriano monument in Piazza Venezia. Another impressive tree stands in St. Peter's Square, next to the crib that changes each year. Click here to learn more about this year's tree and crib.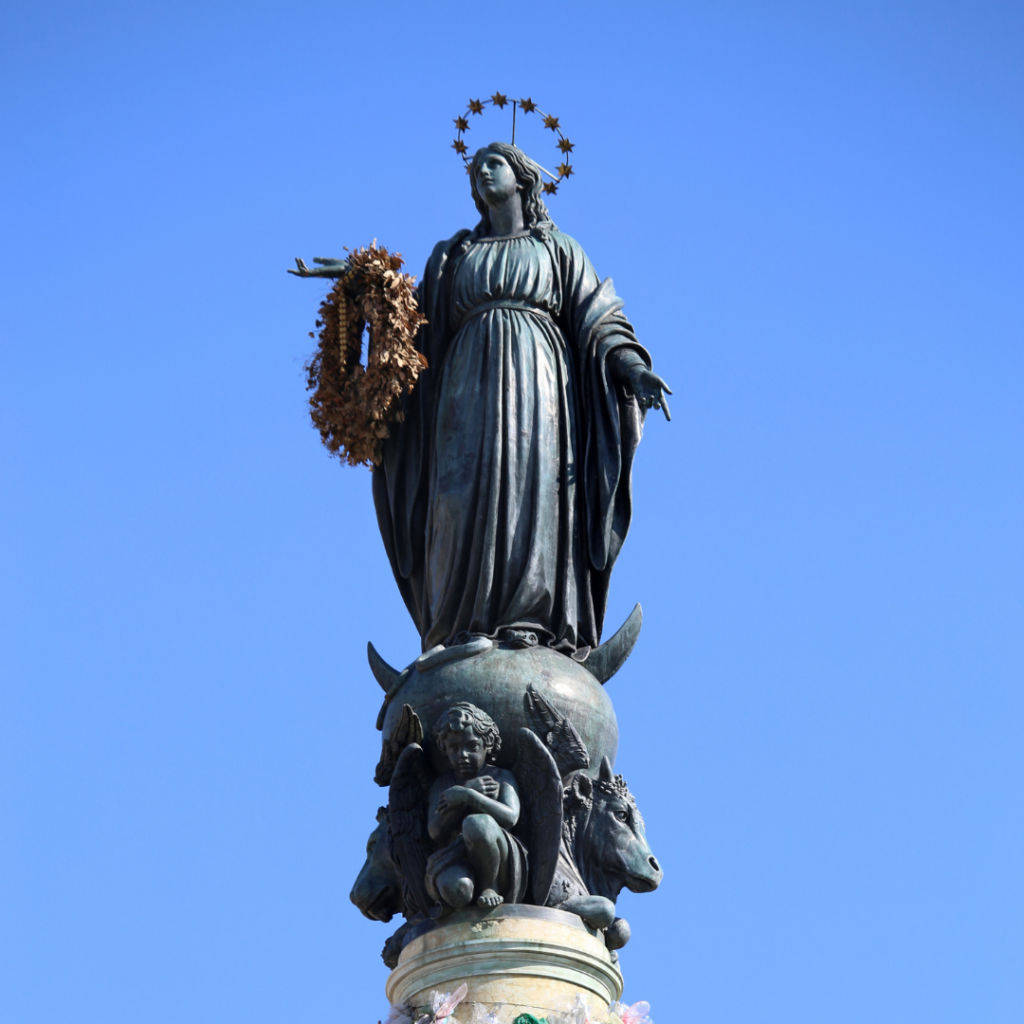 Every year, the Pope travels from the Vatican to Piazza di Spagna on December 8th. Outside the Spanish Embassy is a 27m column with a statue of the Virgin Mary. Traditionally, the Commander of the city's Fire Brigade puts a wreath of flowers on her arm (and removes last year's) while the Pope leads prayers at the foot of the column. In other years, this has taken place in the afternoon in front of a great crowd, but last year, to avoid people gathering in the square, he went at 7am.
December 24th – Christmas Eve
Christmas Eve in Rome is business as usual but expect businesses, museums and shops to close early. Christmas Eve dinner is a big family occasion, so workers and shoppers head home early. If you want to dine out this evening, it's best to book in advance.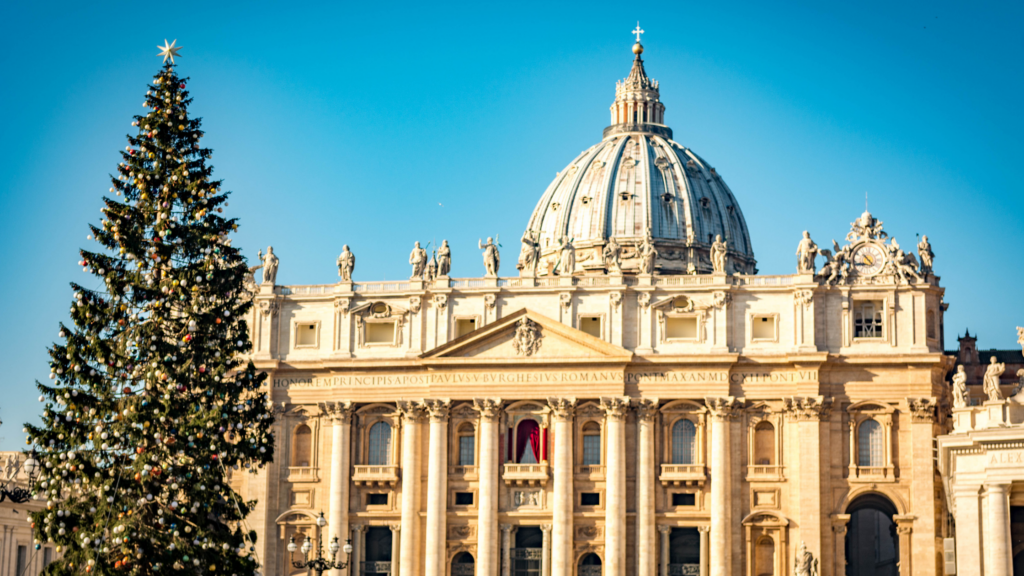 The big event of the day is the Papal Mass at St. Peter's Basilica. Getting tickets isn't easy and you should write to the Office of the Prefecture several months before you travel to Rome if you want to be inside the church. But everyone is welcome to watch mass via the video scenes in St. Peter's Square, which is still a lovely experience. Do bear in mind however that it doesn't start a midnight! Christmas Eve mass at the Vatican is at 19.30, and it's best to arrive by 19.00 to find a place. Some of the English-speaking churches also offer mass on the 24th, all starting around the same time.
December 25th – Christmas Day
As you might expect, most shops, museums, and businesses won't open today. Definitely book restaurants well in advance and expect to find fixed Christmas menus.
So public transport drivers can have lunch with their families, services are suspended from 13.00 to 16.30. This includes buses, subway, trams and local trains, so plan on moving before 13.00 if you have to travel.
At midday, the Pope gives the 'Urbi et Orbi' blessing in St. Peter's Square. This is free and open to everyone. After that, enjoy a walk through the city. It's not unusual to find blue skies over Rome in late December, so wrap up and enjoy Christmas in Rome without the crowds.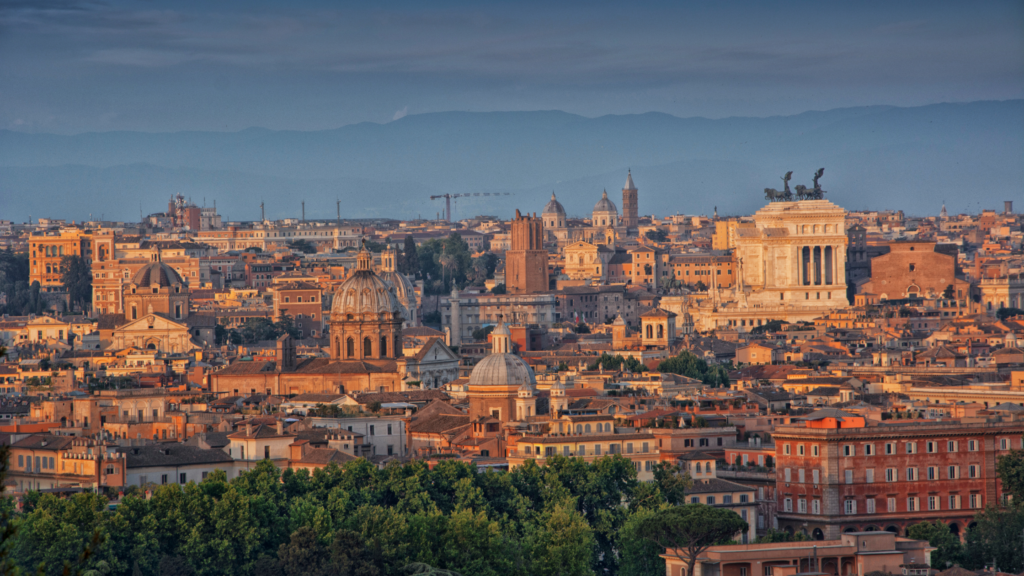 December 31st – New Year's Eve
On New Year's Eve in Rome, most shops will be open but may close earlier than normal. Similarly, most museums and attractions are open on New Year's Eve, but close earlier. Public transportation runs later than it normally would, as people tend to stay out much later on New Year's Eve. The metro runs until 2:30 am on the morning of the 1st.
The City hosts a free concert in Circo Massimo. This year vaccine certificates and masks will be necessary to attend. If you are looking for something quieter, most of the big hotels are taking bookings for dinners and some have after dinner events too. Choose one with a rooftop view of the city like Hotel Minerva (next to the Pantheon) or Hotel Atlante (with a stunning view of St. Peter's) where you can watch the fireworks across the city in comfort.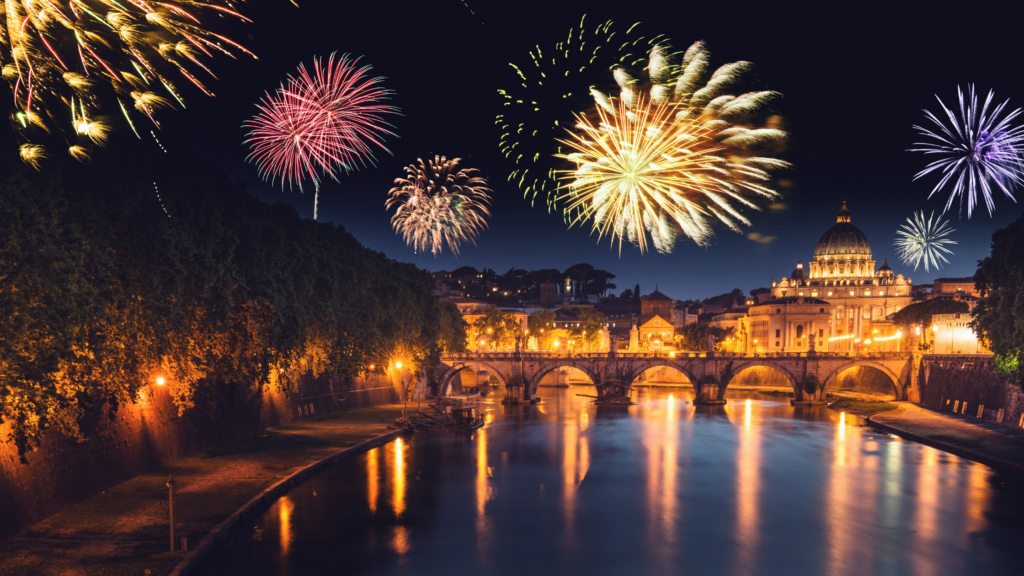 January 1st – New Year's Day
If you didn't stay out all night and don't want to sleep in, then you're in for a treat in the morning when you find you have the city to yourself. Visit the Trevi Fountain without the crowds, get perfect pictures of the Spanish Steps, stroll through an empty Piazza Navona and enjoy watching the city slowly come to life.
Some of the larger museums and exhibitions will be open today, though shops won't be. many restaurants won't be open, so book in advance again.
January 6th – Epiphany
January 6th is a national holiday and the end of the Christmas celebrations. Schools and many businesses reopen on the 7th, so it's the last vacation day for many people. Most museums are back to a normal schedule, except the Vatican Museums as this is a religious celebration.
Despite its religious significance, Epiphany is known throughout Italy as La Befana. Before Santa Claus was widely known in Italy, it was the Befana who brought gifts for Italian children. After Christmas, don't be surprised to see what appear to be witches on broomsticks filling the shops with sacks of chocolate. This is the typical gift that children wake up to on January 6th. But although she may look like a Halloween leftover, La Befana is actually a kind old lady (and according to some legends, an expert housekeeper, hence the broom) who leaves sweets for all the good children (bad children get coal!) as she travels in search of Baby Jesus.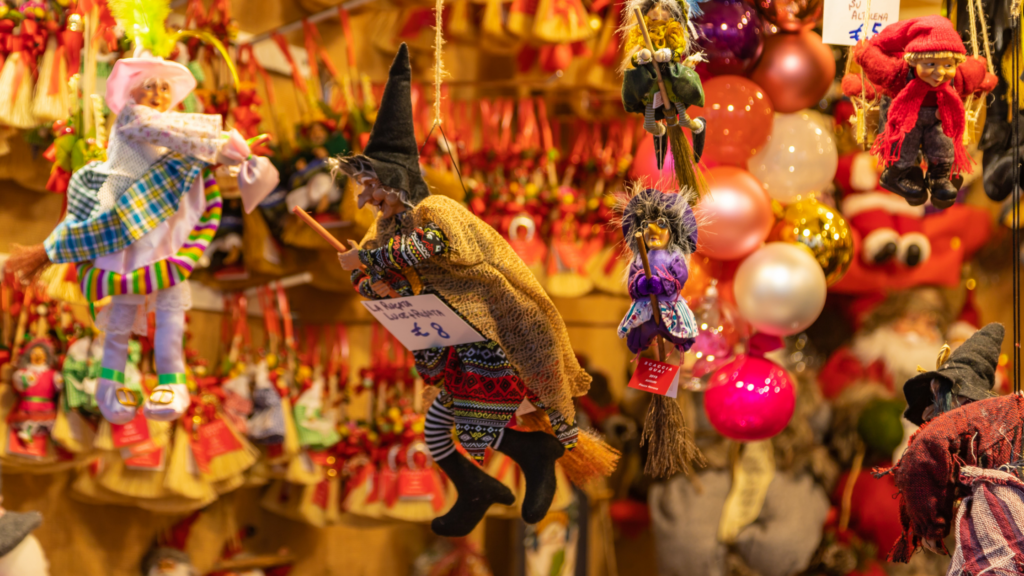 It is still unsure exactly what the Christmas celebrations will look like in Rome this year due to COVID-19, but we can keep our fingers crossed that they will go ahead as planned!
And while the museums are closed, LivTours guides will be working over the holidays. Even on December 25th and January 1st, you can join a tour of Rome's beautiful historic center on foot or by golf cart.
Buone Feste!