Exclusive Semi-Private Rome Walking Tour & Highlights
---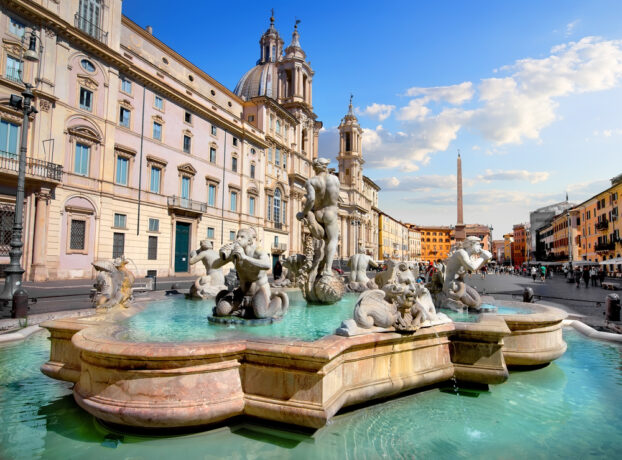 ---
LivTours Exclusive Rome Walking Tour is the perfect way to dive into the Eternal City thanks to the comfort of a semi-private tour, with no more than 6 people per group. Learn firsthand what makes this city so culturally rich. You and your group will have an expert local guide tell you stories of la Città Eterna all while walking its beautiful cobblestoned streets. The tour includes highlights of the heart of Rome which include the Trevi Fountain, Pantheon, Spanish Steps, and more.
Do not worry about getting lost in the labyrinth of tiny streets that make up Rome's historical center. Your local tour guide will lead the way to ensure you visit all the main attractions, as well as see some of the lesser-known areas as well along the way. LivTours understands that a lot of travelers may be overwhelmed by all the beauty there is to see in Rome. This is why we've crafted the perfect walking tour to bring you the highlights of this beautiful city while walking at a leisurely pace. LivTours would love for you to experience the typical Italian passeggiata with us. This captivating stroll is the perfect introduction to Rome.
BOOK NOW
---
Discover the highlights of Rome's city center with a semi-private guided walking tour

See the iconic Spanish Steps and the architectural marvel of the Pantheon

Throw a coin in the stunning Trevi Fountain & enjoy some famous Italian gelato

Witness the work of the masterful Gian Lorenzo Bernini in Piazza Navona

Enjoy the comfort & intimacy of a semi-private tour with six people max per group
BOOK NOW
Semi-Private tours and experiences are guaranteed six participants max.
Our prices always include tickets and reservations fees (no waiting in lines!)
Our tour guides and staff are selected experts and speak perfect English
Easy to book and prepay your tours with our secure payment system
Eco-sustainable tourism, designed to respect and support local culture, art and traditions
---
Your Rome Walking Tour begins at the picture-perfect Spanish Steps and goes on to enter Rome's maze of charming cobblestone streets. Be prepared to escape from modern-day life and be transported back to the city's Baroque-era grandeur. Along the way, your guide will recount stories and historical anecdotes bringing to life the history of the fountains, architecture, buildings, and piazzas. Explore the hidden gems of Rome, which can be tucked away in every corner of this magnificent city.
As you weave in and out of Rome's narrow streets, you will suddenly find yourself in front of the incredible and breathtaking Pantheon. The Pantheon could be considered the most influential, awe-inspiring building in ancient Rome and is the only intact pagan temple left in the city. Don't take our word for it – Michelangelo himself believed this structure was the work of angels, not men. On this tour, you will have the chance to see for yourself.
Continuing along, your Rome Walking Tour will visit the iconic Trevi Fountain, arguably the most famous fountain in the world. Marvel at its beauty and do not forget to toss a coin in, to ensure your return to the Eternal City! What could be a better way to take a short break from walking, than to stop for gelato at LivTours' favorite authentic Roman gelateria? The most difficult decision you will have to make is choosing which flavor to try!
The tour will conclude with a visit to Piazza Navona, which is one of the largest and most beautiful piazzas in Rome. The piazza (or square) centers around three impressive fountains, the most famous being Bernini's Four Rivers Fountain. Engage in the lively scene of talented street artists and musicians or sit down to people-watch. Whatever you do, you are bound to enjoy this grand piazza.
If you have worked up an appetite following your tour, you can enjoy a meal at one of the many restaurants nearby. Your guide will be happy to make a recommendation.
BOOK NOW
---
Spanish Steps

Trevi Fountain

Pantheon

Piazza Navona

Numerous streets & Churches on route

Traditional Italian Gelato
BOOK NOW
---
LivTours' group size of max 6 participants is and always has been based on sustainable travel, and we are proud to be at the forefront of change and innovation in the industry.  LivTours is committed to providing travelers with truly sustainable tours with the lowest possible environmental impact, all while supporting the local industries and people of each unique destination. To learn more about how you can actively support sustainable tourism  and how LivTours is contributing, click here.
BOOK NOW
---
All LivTours Semi-Private Group Tours are limited to 6 guests per tour guide. Our commitment to maintaining our uniquely tiny group sizes can sometimes be a little tricky, mathematically speaking. For example, we want to ensure that traveling families and friends can tour together so on rare occasions we may add one or two guests in order to not split groups. On that same note, you may also find yourself on tour with less than six people! We thank you for your understanding and flexibility.
BOOK NOW
---
Highly recommended!
"We had a great tour with Luca. He provides a fresh outlook and is lively and friendly. His English is excellent. We were only two plus Luca and could walk fast, so he added a few of his favorite places to our tour. Highly recommended!"
Mark - USA
---
Extremely happy with all our tours
"We have left Italy with so many wonderful memories! Thank you for being part of helping us make those memories! We are so happy that we chose your company to book with! We will definitely keep LivTours in mind for future adventures. I appreciate the attention to detail. Even though there was the one misunderstanding about our transportation, you handled it well and it in no way marred our experience. All the guides were excellent and brought their unique personalities and passions to enhance our experience of the sites we visited. "
Andy - USA
---
Rome walking tour
"Rome is the perfect city for a walking tour. The general area where most of the major sites are located isn't that large so it's fairly easy. I wouldn't have wanted to be without a guide, however, not just for the great information that we got but also because we were led through little back streets instead of on the main thoroughfares and we would have certainly gotten lost if we'd been on our own. But thanks to our guide, the experience was very unique and memorable!"
Libby - USA
---
BOOK NOW
---
By selecting Choose Dates Later / Buy as Gift at booking, any tour can be purchased without fixed dates. This is the perfect option if you want to purchase your tour as a gift for a loved one, or if you are in the pre-planning phase of your vacation. After booking, you will receive a Travel Voucher Code and full instructions on how to schedule your tours when ready. Once your travel plans are confirmed, you can easily use the Travel Voucher Code on the LivTours website to formally schedule your tours. You can find out more here.
BOOK NOW