Exclusive Private Walking Tour of Rome
---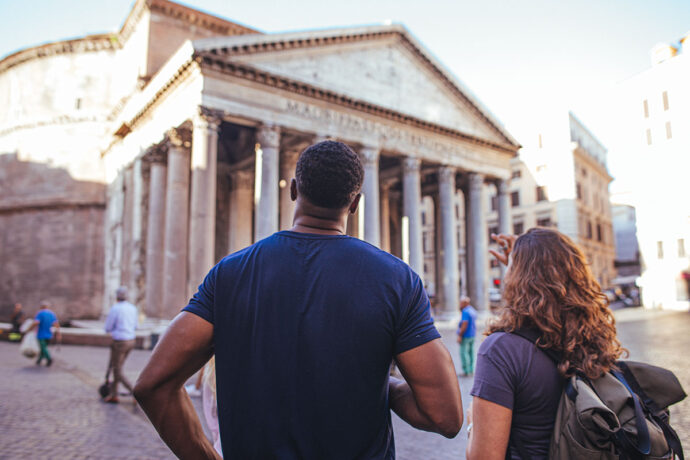 ---
Let your expert guide lead you down the enchanting winding streets of Rome on LivTours Private Walking Tour of Rome. On this tour, you will discover the powerful charm and beauty of Rome that has amazed travelers and visitors through the ages. No need to worry about getting lost or deciding how to organize your time, because your guide will take care of it all, so you are sure to discover the best of Rome.
This city is an alchemy of ancient, Medieval, Renaissance, and modern times. Discover history, culture, art, and architecture as you meander through cobblestone streets, piazzas, elegant shopping areas, and famous fountains. All the "must-sees" of the Eternal City that you find in the best travel guidebooks will be presented to you in a context that allows you to experience firsthand the Roman way of living – both past and present.
Witness the magnificence of iconic treasures such as the Spanish Steps, Trevi Fountain, and Pantheon. End your visit with the most beautiful and lively square in all of Rome – Piazza Navona. Have the luxury of choosing what time is most convenient for you to start – another perk of booking a private experience.
Many of the world's top museums are located in Rome, but perhaps Rome itself is the most interesting museum of them all. Decide for yourself with LivTours' Rome Private Walking Tour.
BOOK NOW
---
Set your map aside & let LivTours guide you through the Eternal City highlights

See the Eternal City with a local guide dedicated completely to you & your needs

Throw a coin in the Trevi Fountain & take a photo on the famous Spanish Steps

Look up in amazement inside the Pantheon & people watch at Piazza Navona

Do as the Romans do and take a break with a gelato or coffee
BOOK NOW
Exclusive private Tours and Experiences. Also offered in Spanish, French, Portuguese, Swedish and Russian
Our prices always include tickets and reservations fees (no waiting in lines!)
Our tour guides and staff are selected experts and speak perfect English
Easy to book and prepay your tours with our secure payment system
Eco-sustainable tourism, designed to respect and support local culture, art and traditions
---
Your Private Walking Tour of Rome will begin at Europe's widest staircase, the Spanish Steps. Did you know that the famous romantic poet John Keats spent the final months leading up to his death in a home just adjacent to the beautiful Spanish Steps? Today his home is preserved as a museum devoted entirely to English Romanticism. Your charismatic guide will explain why these steps have long attracted painters and poets.
Following your visit to the Spanish Steps, you will be led to the enchanting Trevi Fountain. Prepare to be amazed by the size and detail of Rome's most famous fountain. Almost every movie ever set in Rome features the Trevi Fountain. Do not forget to toss a coin in to ensure a return to la Città Eterna. If you are looking for love, then toss in a second coin to guarantee it. Feel free to be generous as every morning the coins are collected and donated to a charity that helps feed Rome's poor.
Your walking tour will now proceed towards what Romans consider the very heart of the Eternal City – Piazza Venezia. You are sure to have passed this circular piazza known for its chaotic traffic at some point during your stay in Rome. Four major roads meet in Piazza Venezia – a central hub of Rome – one being Via dei Fori Imperiali. The square is home to the Victor Emmanuel II Monument which has been coined the "wedding cake" monument due to its elaborate layered structure and notable white color.
Of course, no walking tour of Rome would be complete without a trip to the Pantheon, one of the best-preserved ancient monuments in Rome. There are not enough words to describe the majestic beauty of this 2,000-year-old monument. Look down and see the Pantheon's interior floor which is decorated with marbles from all around the world or gaze above you and take in the perfectly engineered dome with its famous circular opening. As you stand inside, it is hard to not consider the limitless potential the Roman Empire once held.
All of this walking certainly calls for a treat, so take a quick break from your Private Walking Tour and enjoy an authentic gelato or Italian coffee, two specialties which are daily staples in Italian life. Feel like a true local as you stop at the bar for a quick espresso or socialize in the nearby gelateria while enjoying some delicious Italian ice cream.
Your tour will end at the picture-perfect Piazza Navona, home of Bernini's Fountain of the Four Rivers. There are plenty of subtleties in Italian art and sculpture such as the figure representing the Nile on Bernini's fountain covering his face which represents the then mysterious source of the Nile River. These are the little things which makes Roman art so incredible to learn about and nearly impossible to decipher without a guide. By now you will have realized that Rome truly is an open-air museum and art floods every corner of the historic city center. Stand in the center of the piazza and take in the energy of people bustling, artists painting, and street performers entertaining those around.
There are several bars and restaurants near the piazza, many with outdoor seating. You may want to stay around after the completion of your tour, grab a bite to eat, or spend some time people-watching.
LivTours' Private Walking Tour of Rome will show you and a few of your friends or family the best parts of the city. You will spend none of your time fidgeting with maps and trying to understand where you are. LivTours is happy to guide you around the Eternal City!
BOOK NOW
---
Spanish Steps

Trevi Fountain

Pantheon

Piazza Navona

Numerous streets and Churches along the way

Traditional Italian Gelato or coffee
BOOK NOW
---
Offered in: English, French, Spanish, Portuguese, and Italian. Please specify under "Additional notes" if you wish to book the tour in a language other than English.

Comfortable walking shoes recommended.
BOOK NOW
---
LivTours' group size of max 6 participants is and always has been based on sustainable travel, and we are proud to be at the forefront of change and innovation in the industry.  LivTours is committed to providing travelers with truly sustainable tours with the lowest possible environmental impact, all while supporting the local industries and people of each unique destination. To learn more about how you can actively support sustainable tourism  and how LivTours is contributing, click here.
BOOK NOW
---
When you book a LivTours Private Tour or Experience, you are guaranteed a dedicated, expert guide that allows you the flexibility to start your tour at a time which is convenient for you, making planning easy. Our private tours ensure that you will get a tailored experience to meet all your needs so we go at your pace, perfect for families with younger children, elderly, or individuals with accessibility needs. Please be advised that all private tours begin at a base price starting at two people*. Prices are inclusive of entry tickets where applicable. *Some Ferrari private experiences are inclusive of one person only.
BOOK NOW
---
Make your day even more unique and comfortable by upgrading your tour with a customizable LivTours optional add on!
One Way Pick-Up Transfer Service
85 €
147.90 A$
79.05 £
100.30 $
BOOK NOW
---
A fantastic experience
"This was our first trip to Rome and words cannot adequately express how good we felt about our Private Walking tour with Livitaly. This is one of those rare cases where I wish it were possible to rate an experience above 5 stars! Our guide was Guilia and she was absolutely amazing, the perfect guide for us. She was kind, engaging, conversational, and incredibly knowledgeable about both the visual Rome we were experiencing as well as history behind it all. We booked the walking tour specifically for our first day in Rome to acquaint ourselves with the city and to set the stage for the remainder of our trip. This was just a fantastic experience and we would not hesitate to book this tour again when we find ourselves back in Rome."
Roger MacC - USA
---
BOOK NOW
---
By selecting Choose Dates Later / Buy as Gift at booking, any tour can be purchased without fixed dates. This is the perfect option if you want to purchase your tour as a gift for a loved one, or if you are in the pre-planning phase of your vacation. After booking, you will receive a Travel Voucher Code and full instructions on how to schedule your tours when ready. Once your travel plans are confirmed, you can easily use the Travel Voucher Code on the LivTours website to formally schedule your tours. You can find out more here.
BOOK NOW