Golf Cart Tour of Rome | Semi-Private Experience
---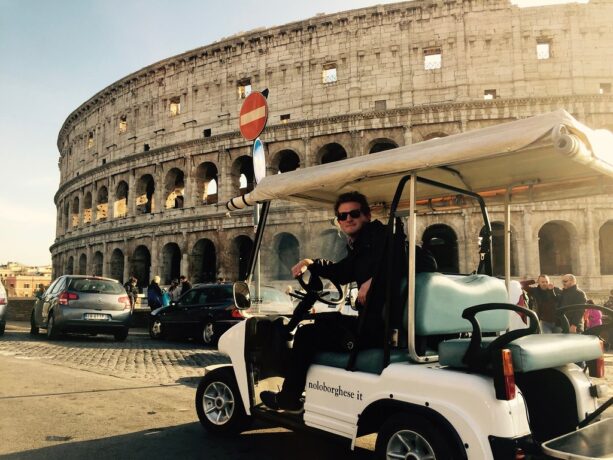 ---
LivTours Semi-Private Golf Cart Tour of Rome is a semi-private experience offering an alternative, and we think ingenious, way to see the Eternal City. Imagine seeing the main sites of Rome from the comfort of a cushioned seat in an eco-friendly golf cart. You will be able to see a vast amount of this capital city, without ever tiring, making this a very comprehensive tour. Your expert tour guide driver will take you around the city to some of the most popular attractions such as the Colosseum, Pantheon, Spanish Steps, and plenty of hidden gems along the way.
LivTours is a firm supporter of sustainable tourism efforts and this tour is the perfect example with our eco-friendly golf cart and semi-private groups of no more than six travelers. This not only helps maintain the ecological integrity of Rome, but also allows travelers to truly enjoy the content of their tour with like-minded fellow travelers. This Golf Cart Tour of Rome is the perfect way to see the city and with a small group size you will get to know the nooks and crannies of the city in a unique way.
Come join us for a unique experience and a comprehensive tour of the Eternal City!
BOOK NOW
---
Visit the major sites of Rome in a unique way in one comprehensive semi-private tour

Explore 6 neighborhoods of Rome & over 20 well-known landmarks in 3 hours

Save miles on your feet in the comfort of a golf cart with an expert local guide

Enjoy the best views of Rome without hiking up the hills
BOOK NOW
Semi-Private tours and experiences are guaranteed six participants max.
Our prices always include tickets and reservations fees (no waiting in lines!)
Our tour guides and staff are selected experts and speak perfect English
Easy to book and prepay your tours with our secure payment system
Eco-sustainable tourism, designed to respect and support local culture, art and traditions
---
Your LivTours Golf Cart Tour of Rome starts at a convenient location in Rome's city center, where your guide driver will be waiting for you. After a quick introduction to the city and each other, you will jump in your golf cart, buckle up and set off on your landmark-packed tour. In the company of your expert guide, you will see six neighborhoods of Rome. No need to consult Google Maps, just sit back and enjoy the entertaining stories and anecdotes of your guide as you see the sites of Rome. Your guide will stop at key sites along the way giving you the chance to snap a few photos.
This comprehensive overview is a great way to see most of Rome sites, allowing you to come back on your own to those which you would like to explore more in-depth. You will learn about the beautiful Piazza della Repubblica and you will have a chance to see a church designed by Michelangelo on a side street nearby, a hidden gem that few travelers get to explore. Not too far away, near Via Cavour, and you will soon see a wonderful surprise – the amazing historic Imperial Forum. The views, with the Colosseum in the background, will amaze you. Listen to stories about the nearby Palatine Hill once famous as a residential neighborhood for its political inhabitants of the Roman Empire. Your next stop is where the infamous Emperor Nero once held his famed chariot races, the Colosseum.
Continue on to see an ancient Egyptian style pyramid right in the middle of a residential neighborhood of Rome before arriving at the Mouth of Truth and learn the story behind this Roman legend!
Now it is on to the historic center of Rome where you and your semi-private group will walk the cobblestone streets to some of the most popular areas in town like Piazza Navona and other gems of the city. You will see the majestic Pantheon which is located in the heart of the historic center of Rome, the Trevi Fountain, the Spanish Steps, and more. This is the perfect comprehensive tour of Rome, perfect for visitors to find their 'sea legs' and also for returning visitors who want to maximize their time in Rome.
BOOK NOW
---
Piazza della Repubblica

Via Cavour

Colosseum (outside)

Arch of Constantine

Aventine Hill & keyhole

Pyramid & Testaccio

Jewish Ghetto

Mouth of Truth

Largo Argentina

Piazza Venezia

Pantheon (outside)

Trevi Fountain

Piazza Navona

Saint Peter's Basilica (outside)

Castel Sant'Angelo (outside)

Gianiculum Hill
BOOK NOW
---
LivTours' group size of max 6 participants is and always has been based on sustainable travel, and we are proud to be at the forefront of change and innovation in the industry.  LivTours is committed to providing travelers with truly sustainable tours with the lowest possible environmental impact, all while supporting the local industries and people of each unique destination. To learn more about how you can actively support sustainable tourism  and how LivTours is contributing, click here.
BOOK NOW
---
All LivTours Semi-Private Group Tours are limited to 6 guests per tour guide. Our commitment to maintaining our uniquely tiny group sizes can sometimes be a little tricky, mathematically speaking. For example, we want to ensure that traveling families and friends can tour together so on rare occasions we may add one or two guests in order to not split groups. On that same note, you may also find yourself on tour with less than six people! We thank you for your understanding and flexibility.
BOOK NOW
---
Great fun!
"We loved our Golf Cart tour. Julia was incredible! She was so kind and her knowledge blew us away. You're lucky to have her. I would 100% recommend your tour to anyone and will def do again when we come back with our kids!"
Nichole - USA
---
Wonderful introduction to Rome
"Rome was made special by this tour with Patrizio. It was our a good intro to the best places to see in Rome as it was our first full day in the city. He even brought us to places we wouldn't have thought of doing on our own, like the Garden of Oranges, the view was magnificent! Patrizio made sure we got nice photos knowing my husband had with him a big slr camera. He was very understanding and so hopeful. His perfect English coupled with his in-depth knowledge of Rome being a local is much appreciated. "
Julie Ann - Philippines
---
Really worthwhile
"So far we've taken two tours, golf cart tour with Simone, and the Vatican tour with Tania. In both cases we were really impressed with their energy, knowledge, and friendliness. I can't express to you how much we've enjoyed the tours and I hope that we cross paths with them again in the future! We are really looking forward to our remaining tours and might book a few more for our journey ahead. Thanks again to Tania and Simone, they really made our journey worthwhile. "
Ahmed - UK
---
BOOK NOW
---
By selecting Choose Dates Later / Buy as Gift at booking, any tour can be purchased without fixed dates. This is the perfect option if you want to purchase your tour as a gift for a loved one, or if you are in the pre-planning phase of your vacation. After booking, you will receive a Travel Voucher Code and full instructions on how to schedule your tours when ready. Once your travel plans are confirmed, you can easily use the Travel Voucher Code on the LivTours website to formally schedule your tours. You can find out more here.
BOOK NOW