Golf Cart Tour of Rome | Semi-Private Experience
---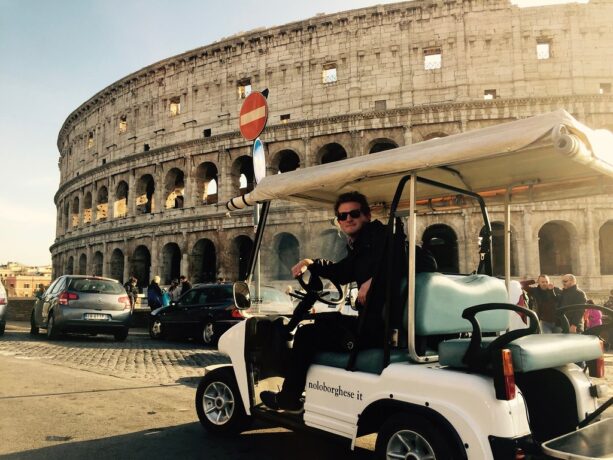 ---
LivTours Semi-Private Golf Cart Tour of Rome is a semi-private experience offering an alternative, and we think ingenious, way to see the Eternal City. Imagine seeing the main sites of Rome from the comfort of a cushioned seat in an eco-friendly golf cart. You will be able to see a vast amount of this capital city, without ever tiring, making this a very comprehensive tour. Your expert tour guide driver will take you around the city to some of the most popular attractions such as the Colosseum, Pantheon, Spanish Steps, and plenty of hidden gems as well along the way.
LivTours is a firm supporter of sustainable tourism efforts and this tour is the perfect example with our eco-friendly golf cart and semi-private groups of not more than six travelers. This not only helps maintain the ecological integrity of Rome but also allows travelers to truly enjoy the content of their tour with like-minded fellow travelers. This Golf Cart Tour of Rome is the perfect way to see the city and with a small group size you will get to know the nooks and crannies of the city in a unique way.
Come join us for a unique experience and a comprehensive tour of the Eternal City!
BOOK NOW
---
Visit the major sites of Rome in a unique way in one comprehensive semi-private tour

Explore 6 neighborhoods of Rome & over 20 well-known landmarks in 3 hours

Save miles on your feet in the comfort of a golf cart with an expert local guide

Enjoy the best views of Rome without hiking up the hills
BOOK NOW
Semi-Private tours and experiences are guaranteed six participants max.
Our prices always include tickets and reservations fees (no waiting in lines!)
Our tour guides and staff are selected experts and speak perfect English
Easy to book and prepay your tours with our secure payment system
Eco-sustainable tourism, designed to respect and support local culture, art and traditions
---
Your LivTours Golf Cart Tour of Rome starts at a convenient location in Rome's city center, where your guide driver will be waiting for you. After a quick introduction to the city and each other, you will jump in your golf cart, buckle up and set off on your landmark-packed tour. In the company of your expert guide, you will see six neighborhoods of Rome. No need to consult Google Maps, just sit back and enjoy the entertaining stories and anecdotes of your guide as you see the sites of Rome. Your guide will stop at key sites along the way giving you the chance to snap a few photos.
This comprehensive overview is a great way to see most of Rome sites, allowing you to come back on your own to those which you would like to explore more in-depth. You will learn about the beautiful Piazza della Repubblica and you will have a chance to see a church designed by Michelangelo on a side street nearby, a hidden gem that few travelers get to explore. Not too far away, near Via Cavour and you will soon see a wonderful surprise – the amazing historic Imperial Forum. The views, with the Colosseum in the background, will amaze you. Listen to stories about the nearby Palatine Hill once famous as a residential neighborhood for its political inhabitants of the Roman Empire. Your next stop is where the infamous Emperor Nero once held his famed chariot races, the Colosseum.
Continue on to see an ancient Egyptian style pyramid right in the middle of a residential neighborhood of Rome before arriving at the Mouth of Truth and learn the story behind this Roman legend!
Now it is on to the historic center of Rome where you and your semi-private group will explore the cobblestone streets to some of the most popular areas in town like Piazza Navona and other gems of the city. You will see the majestic Pantheon which is located in the heart of the historic center of Rome, the Trevi  Fountain, the Spanish Steps, and more. This is the perfect comprehensive tour of Rome, perfect for visitors to find their 'sea legs' and also for returning visitors who want to maximize their time in Rome.
BOOK NOW
---
Piazza della Repubblica

Via Cavour

Colosseum (outside)

Arch of Constantine

Aventine Hill & keyhole

Pyramid & Testaccio

Jewish Ghetto

Mouth of Truth

Largo Argentina

Piazza Venezia

Pantheon (outside)

Trevi Fountain

Piazza Navona

Saint Peter's Basilica (outside)

Castel Sant'Angelo (outside)

Gianiculum Hill
BOOK NOW
---
All LivTours Semi-Private Group Tours are limited to 6 guests per tour guide. Our commitment to maintaining our uniquely tiny group sizes can sometimes be a little tricky, mathematically speaking. For example, we want to ensure that traveling families and friends can tour together so on rare occasions we may add one or two guests in order to not split groups. On that same note, you may also find yourself on tour with less than six people! We thank you for your understanding and flexibility.
BOOK NOW
---
Fun and educational
"Our family booked this golf cart tour for our first time in Rome and we loved every minute of it. It's a great way to get around the city and learn where everything is located so that, if you want, you can go back and explore later on your own. Our kids not only loved the method of transportation but also loved not having to walk and walk and walk. Our guide John was a really smart and nice guy who connected immediately with the kids and made it that much more fun for them! Thanks, LivTours, for offering this really fun way to see the city."
Shawn - USA
---
Fun intro to Rome
"This is a GREAT way to see the city and learn all about the monuments and the vast history. The golf cart can get into the small cobblestone alleyways and back streets (where the hop.on, hop-off buses or other public transportation can't go) so you are able to see the "real" parts of the city without having to walk it. We got off and on as desired, enjoyed all the information that our guide had for us and got some really great pictures to help us remember this great time. We definitely recommend this tour as a great introduction to Rome!"
Berta - USA
---
Fun and interesting
"We had a blast on this tour! Our guide and driver, John, was the greatest guy! Very knowledgeable and also very charming. The kids immediately thought he was the best and hung on his every word. Zooming around the city on a golf cart is fun and comfortable -- certainly better than trying to walk with 2 kids in tow. We will tell everyone we know coming to Rome about this fun tour!"
Bruce and Kerry - USA
---
BOOK NOW
---
By selecting BUY AS A GIFT, you can purchase this tour as a gift for someone you care for. You will receive a gift card voucher that then can be redeemed by the person/people who will enjoy the tour.Date and Time are values that cannot be selected at the moment. You will in fact receive a gift card voucher with instructions on how to redeem the tour and then select date and time.You can create a shopping cart with multiple tours as gift cards. You may not compose a shopping cart of gift cards and actual tours with date and time.This option can also be used as an opportunity to book a tour open-dated for yourself, in case you are still in the pre-planning phase of your trip.For more information please read here.
BOOK NOW