As a tourist, you might sometimes want the comfort of the familiar: going to Starbucks while in a different country just feels "safe." But, we encourage you to step out of your comfort zone and try some of the food, drink, and snack places in Florence that are highly recommended by our guides and are less well known (and sometimes not as busy) as the spots that are right on the main piazzas.
Taking a few minutes to walk an extra block and trusting your sense of adventure will reward you with culinary delights that the "typical" visitor to Florence will miss. Check out our list of undiscovered food gems of Florence and please add more in the comments!
Il Caffè Le Logge
Via Porta Rossa, 44/R, 50123 Firenze Fl
A popular spot for local workers and vendors from the Mercato del Porcellino, 'Le Logge' is a great place to try different types of Italian cold coffees. The three most popular are cappuccino freddo, crema al caffé and caffé shakerato: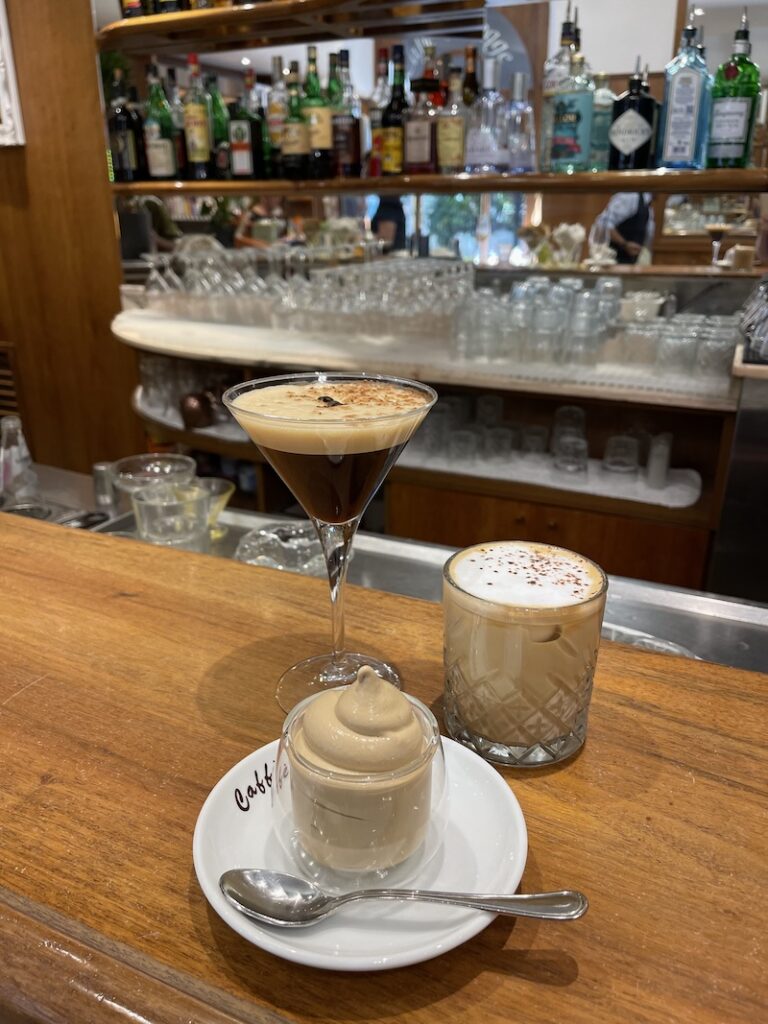 Cappuccino freddo is unsweetened espresso poured over ice and topped with cold milk: it's the most similar to American iced coffee. Don't want milk? Order a caffé freddo instead for just chilled coffee over ice.
Crema al caffé is sweetened cold espresso mixed with whipped cream and is mousse-like in texture.
Caffé shakerato is a mixture of espresso, sweetened or unsweetened, shaken in a cocktail mixer with ice, strained and served in a martini glass with cold milk foam on top. This drink is cold, but served without ice in the glass.
Mauro Frutta Primizie
Via dei Cerchi, 16rosso, 50122 Firenze FI
Florentines purchase fresh fruits and vegetables from a fruttivendolo: a fruit seller. Italians eat what's locally grown and in season, and these stands will have the best offerings available at great prices. This is a great spot for a quick, healthy snack or a side for your picnic.
Osteria Buongustai
Via dei Cerchi, 15/R, 50122 Firenze Fl
Located just across from Mauro Frutta is a teeny tiny restaurant known to locals as 'the sisters.' A favorite lunch spot for our tour guides, the restaurant is owned and operated by, you guessed it, two sisters. Only open from 12:00-15:30, and closed on Sundays: the food and atmosphere are as Florentine as it gets. Like lots of small, local businesses they are also closed for most of August for ferie (holidays), so plan accordingly.
Perché No!…
Via dei Tavolini, 19r, 50122 Firenze Fl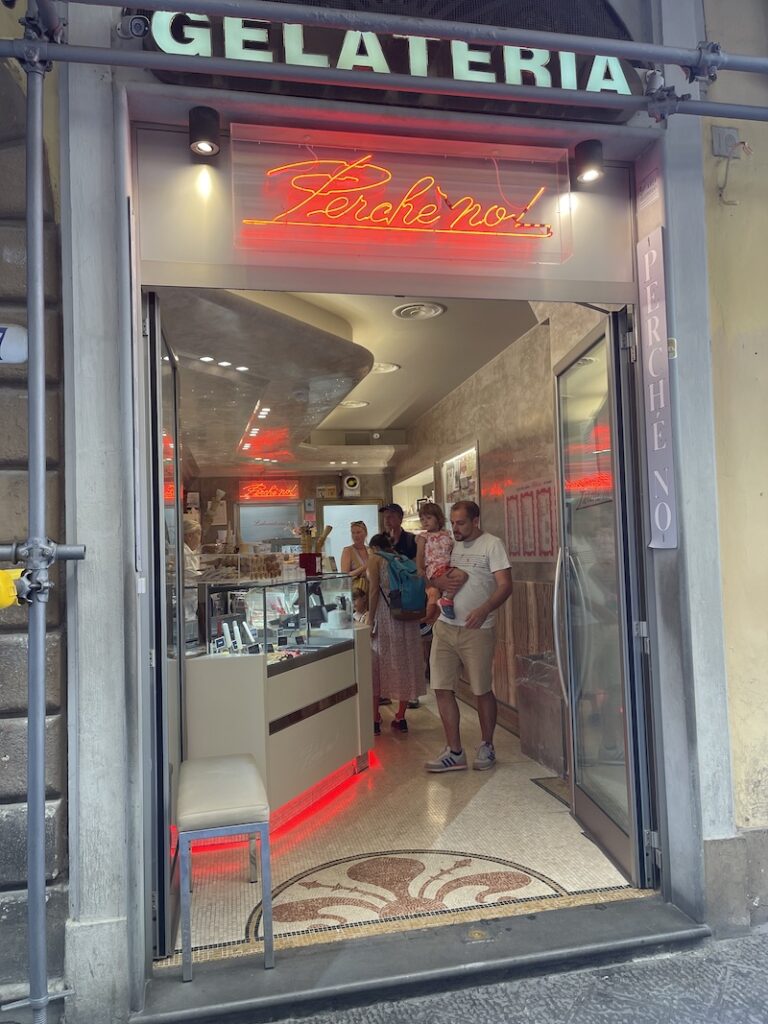 Between our meeting point in the Piazza della Signoria and the Duomo is Perché No!, a small gelateria offering frozen treats in traditional Italian flavors. Translated, perché no means 'why not', and we agree that it's always a good time to say 'yes' to gelato. They have plenty of offerings that are dairy free, including their Granite (pronounced gruh-nee-tuh). Think of it as the original slushy, made with only fresh frozen fruit, sugar, and water. Locals like to top their granite with a scoop of gelato or panna (cream), it's the best of both worlds! Why not?!
L'antico Trippiao
Piazza de Cimatori, 50122 Firenze Fl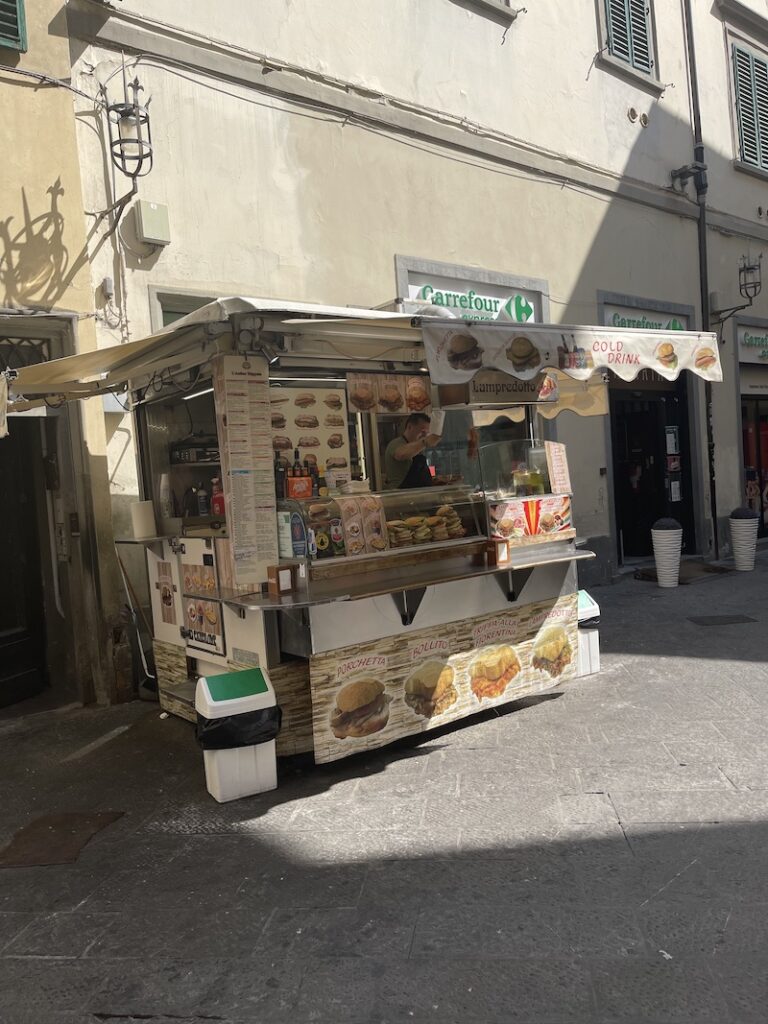 A great spot for more adventurous eaters, L'antico Trippiao is famous for its Florentine delicacies: lampredotto and trippa. Lampredotto is made from one of the four stomachs of a cow and trippa (tripe) is made from the stomach lining of the cow. Both are slow cooked in a broth of herbs and vegetables and served on a bread roll. A true Italian experience that can only be enjoyed in Florence!
Conad Sapori & Dintorni
Borgo S. Lorenzo, 15/17, 50123 Firenze Fl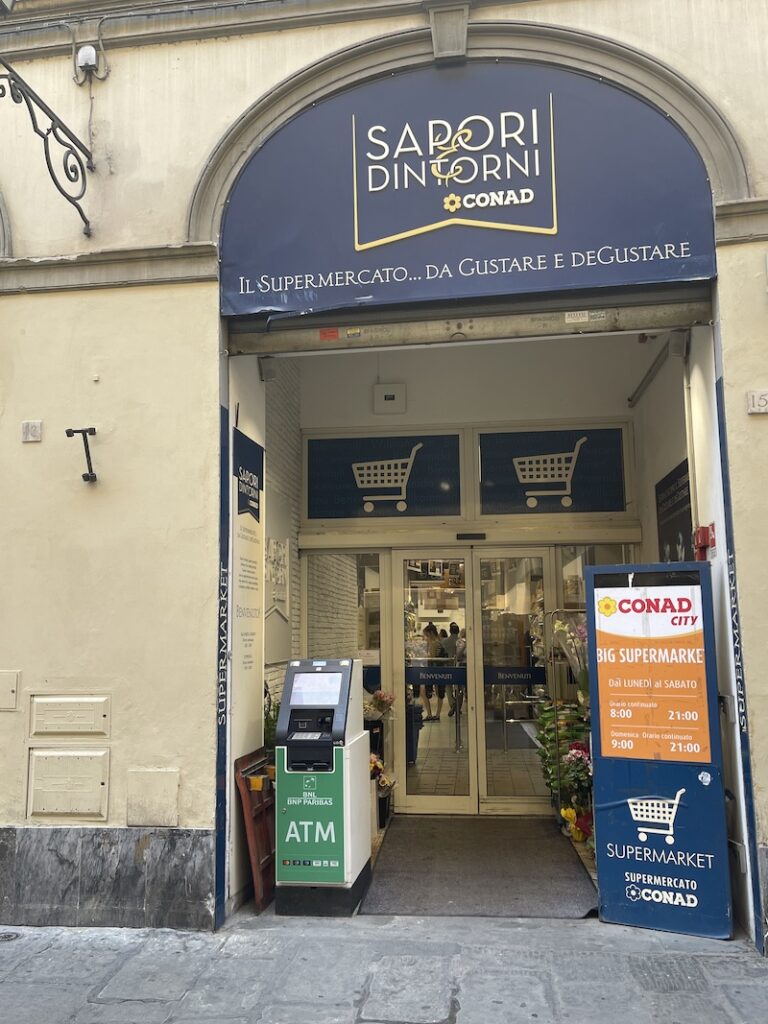 Don't let the size of the entrance fool you! Behind this unassuming door is one of the best and biggest grocery stores in the city center. Offering all of the essentials you would expect to find at a supermarket, as well as a wonderful bakery and deli offering ready-to-eat and grab-and-go items. For something fun, try the orange juice machine that fresh squeezes juice in front of your eyes. Pro tip: in Italian grocery stores you have to weigh your own fruits and vegetables. Just place them on the scale, select the item from the touch screen menu and a label will print for you to stick on your produce bag.
I Fratellini
Via dei Cimatori 38/r 50122 Firenze Fl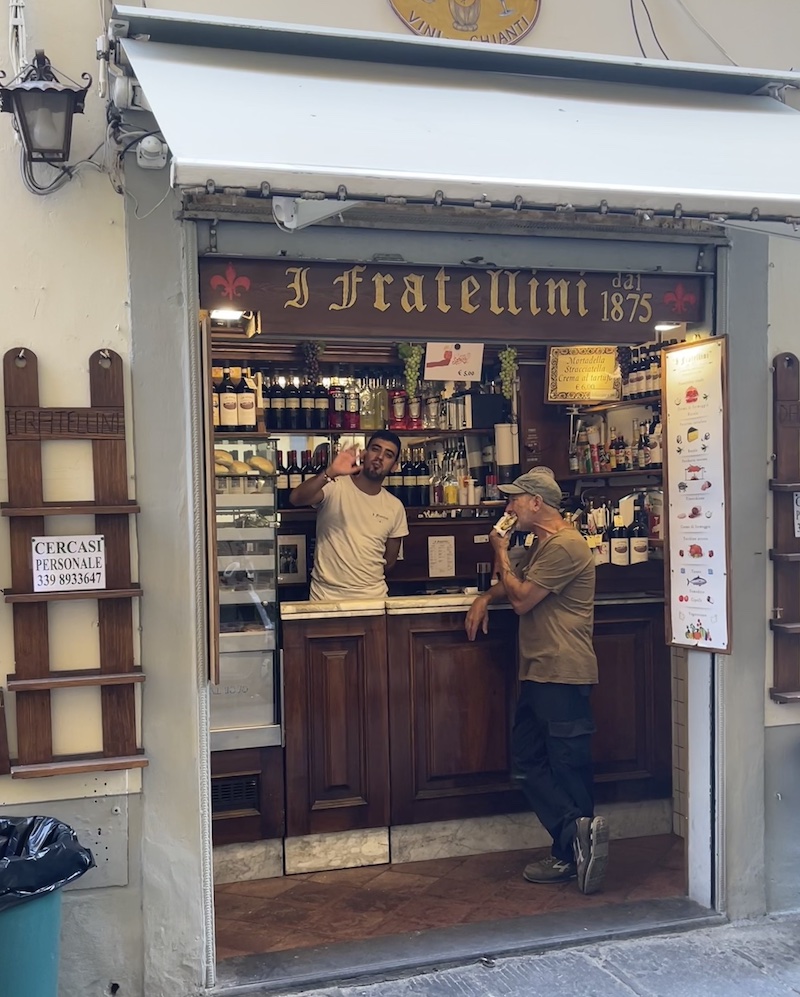 Social media has made sandwich shops like All'Antico Vinaio famous with tourists and therefore you will rarely, if ever, see locals there. For a more authentic experience we recommend I Fratellini. The panini are traditional and delicious and only five euros each. For an extra euro you can get your panino on schiacciata, a Tuscan focaccia bread–which we highly recommend.
Soaking up the History and Culture of Florence
If you're exploring the sandwich shops, corner markets, and gelato of the city, you might want to join us for a walking tour of the highlights of Florence. Our experienced, friendly guides will gladly share more restaurant recommendations with you!