No trip to Rome is complete without experiencing a staple of Roman food: "pizza al taglio." This dish originated in Rome and can be found on almost every street. "Pizza al taglio" is pizza by the slice, paid for by weight, and translates to "cut pizza." No worries if you don't speak Italian, you can complete your order solely with hand gestures, so don't be intimidated to step up to the counter and order your delectable, mouthwatering pizza al taglio.
Pizza al taglio is unique not only because it's cut to your liking but because there are a wide variety of options to choose from and it's ready to eat. This makes it a quick and affordable option. Bonus: quick meals mean you won't miss out on precious sightseeing time!
Pizza al Taglio Toppings
Pizza al taglio comes with a variety of toppings, making it a great choice for the whole family.
Pizza base options vary with some consisting of red sauce and mozzarella cheese, a classic, but other options will come with no sauce such as pizza bianca or red sauce with no cheese, pizza rosa, these are some of Italy's classics.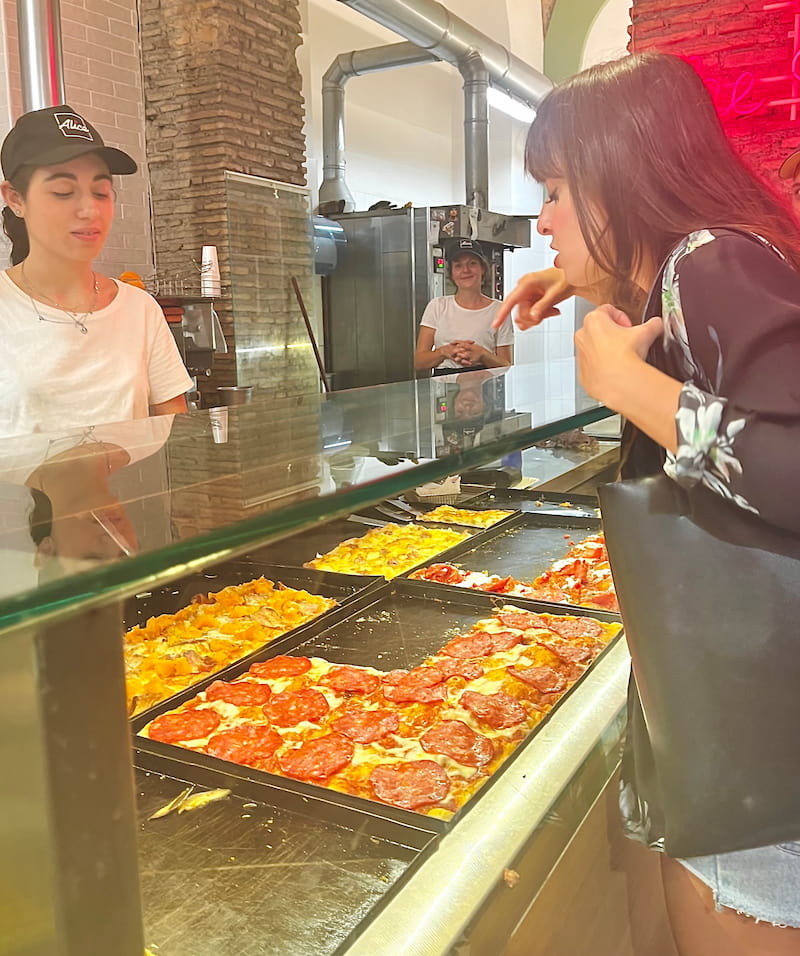 How to Order
Ordering pizza can be nerve-racking when ordering in a different language, luckily it doesn't take many words to successfully order a piece of pizza al taglio. When it comes to pizza al taglio, you can rely on hand gestures.After all, in Italy, hand gestures are key to communicating.
When entering the shop, saying "ciao" to greet the person behind the counter is a friendly way to start off and a good way to ensure that the person behind the counter sees you are there and ready for pizza.
When it is your turn, you can point to the type of pizza you would like and use "questo," which translates to "this one," and perhaps name one of the ingredients in Italian.
Here are some common pizza al taglio toppings and their translations:
mushrooms: "il fungo"
artichokes: "il carciofo"
sausage: "salsiccia"
ham: "prosicutto"
veggies: "la verduda"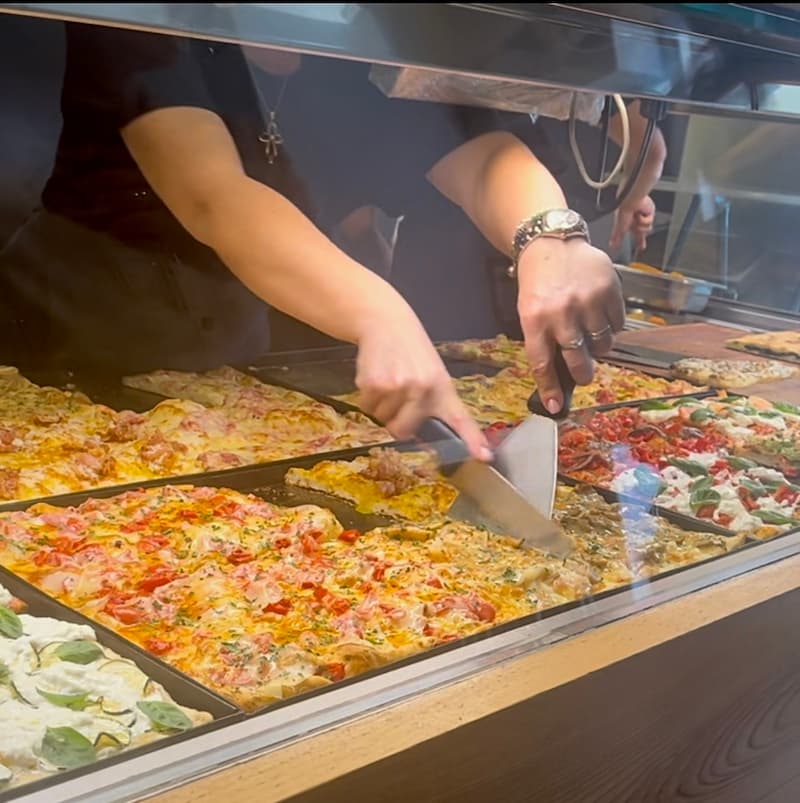 The pizza master, "pizzaiolo," will use their scissors or knife to section off a slice and will look to you to confirm the size slice you want. Once they've indicated the size you want, you can give a thumbs up and/or consider saying "perfecto!" and they will weigh it.
They will ask you if you want it "a caldo," which is "heated," and, while it's up to you, we recommend saying "si," "yes." They will ask how you're paying and if you are paying by credit card, which you most likely are, you can use the phrase: "con carte per favore." If that's too much, just hold up your credit card and they will understand.
The final question they might ask you is: "per qui o da portare via?" which means "for here or to go?" If you say "da portare via," they will package it in a neatly wrapped piece of paper on a plate ready to eat while taking in the sights and scenes of Rome!
Cost of Pizza al Taglio
Pizza al taglio is priced by the total weight of the slices, on average this will cost between 5 and 10 euros per person depending on how many slices you order and where you are eating. Since you are able to choose your desired amount, pizza al taglio is an easy and affordable personalized mid-day meal or snack.
Recommended Pizza al Taglio in Rome
Alice:
Alice has many pizza al taglio locations across Rome, ensuring you'll have a high chance of finding one near to you. This family-run business has been serving Romans since 1990 (and now Italians all over the country with their expanded locations). They even offer "accademia della pizza," a school to train "the future pizza chefs."
Da Tullio Pizza:
Da Tullio Pizza (or "DTP") is for bread lovers and purists. Located in the Balduina neighborhood, they are open every day except Monday. Their pizza features a fluffy, focaccia-like crust with fresh, seasonal, and inventive ingredients. They also sell fresh loaves of bread and roasted chickens. Their off-the-beaten path location means they are not frequented by many tourists in Rome but their pizza (pictured in our header image) is worth the trek!
Pantera:
Pantera might be Rome's newest hot pizza spot. Only a few weeks old, as of October 2023, word is spreading that Panterra is the place to go for pizza al taglio. Owned and operated by brothers Manuel and Nicolo Trecastelli, who are well-known in the culinary scene, Pantera is selling out daily. The brothers already own two successful restaurants in Rome. Their family-friendly atmosphere combined with their mouth-watering pizza is what has helped drive their success in just a few short weeks. They also make tasty suppli: a Roman dish composed of a ball of rice, tomato sauce, and mozzarella cheese.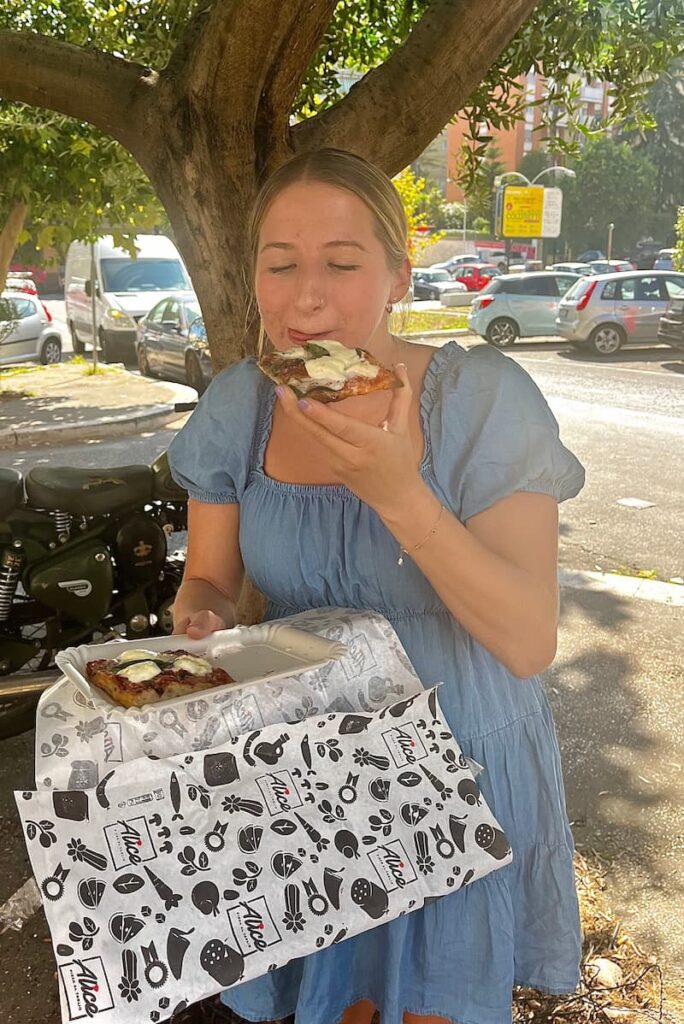 Other Places to Grab a Slice in Rome:
According to "Eating Europe," Pizzarium, Volpetti Piu, La Renella, Forno Camp de' Fiori, and Antico Forno Roscioli are other highly recommended pizza a taglio spots in the Eternal City. Whether you're looking for a healthier choice of pizza or a good pizzeria with a place to sit down, "Eating Europe" has you covered.
However, the best pizza is often the one that is right in front of you.. We encourage you to sample multiple pizza al taglio places while you are here.
If you're visiting Rome and you love food, consider joining us on one of our Rome Food Tours.
We explore the delights of the historic Jewish quarter, sampling some of Rome's staple foods, an antipasti and wine pairing, pasta and wine, pizza a taglio, and gelato all while being surrounded by historical Roman monuments.
Not only do you eat delicious Roman staple dishes but you will walk on the cobblestone streets of the Jewish Ghetto, learning about the lives of Jewish Romans who called that quarter home for over 2,000 years. Our hand-picked restaurants give you the experience of eating in anauthentic Italian restaurant, surrounded by locals who, like you, love Italian food.