St Peter's Basilica Tour with Dome Climb & Papal Tombs | Semi-Private
---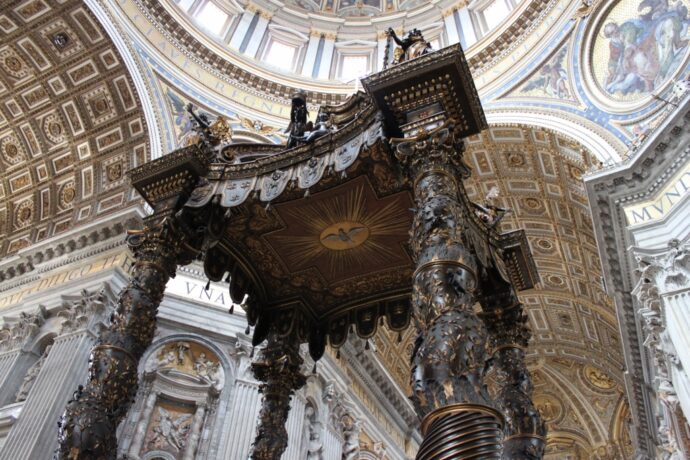 ---
LivTours' St. Peter's Basilica tour with Michelangelo's Dome and Papal Tombs is a semi-private tour of St. Peter's Basilica, the world's largest church, which holds the underground tombs of over ninety-one Popes and is home to one of the most stunning architectural works of the Renaissance, Michelangelo's Dome!  This tour is designed to take you through 2000 years of Christian history, while you enjoy a complete tour from the sacred papal tombs all the way to the top of majestic views from Michelangelo's dome.
Discover the elegance of one of Michelangelo's first sculptures, the Pietà (Piety).  A depiction of the Virgin Mary holding her lifeless son Jesus in her arms, which is considered to be a work of perfection and the only piece that Michelangelo signed.   Above the high altar you will find Bernini's Baldacchino, a huge bronze canopy, above the altar reserved for the Pope. The highlights of this tour are many, but what sets this tour apart from all others is entrance into the crypts below and a climb to the top of Michelangelo's dome. Gain an understanding of ancient Christian burial rituals and take in the extraordinary view from the tallest building in the Eternal City.
BOOK NOW
---
Visit the world's largest catholic church St Peter's Basilica on a semi-private tour

Enjoy a comprehensive tour of St. Peter's including tombs & dome with an expert guide

Reach the top of Michelangelo's Dome to enjoy the breathtaking Rome views

Discover the tombs of Popes from past centuries including John Paul II's

Marvel at the Baroque & Renaissance masterpieces by Michelangelo, Bernini & more
BOOK NOW
Semi-Private tours and experiences are guaranteed six participants max.
Our prices always include tickets and reservations fees (no waiting in lines!)
Our tour guides and staff are selected experts and speak perfect English
Easy to book and prepay your tours with our secure payment system
Eco-sustainable tourism, designed to respect and support local culture, art and traditions
---
Your LivTours'  St. Peter's Basilica Tour with Michelangelo's Dome and Papal Tombs is a semi-private tour that starts with a walk and a talk about one of the most charming squares of Rome – St Peter's Square. Your  expert guide will tell you all about the famous architects who were commissioned to work on this beautiful attraction. St Peter's Square was designed so that the colonnades were placed in a way that imitated a welcoming hug to the many pilgrims who visit Vatican City every year.  Now, enter the basilica named after the first Pope and saint who is said to be the keeper of the keys to heaven – St. Peter.
Your first stop is Michelangelo's dome. Your local guide will take you up the first 2/3 of of the dome via elevator. Where the elevator stops, the steps begin. Spend a moment enjoying  a whole new perspective of the inside of St. Peter's Basilica from above before climbing the stairs.  This is the perfect place to take a few very unusual photos, an ideal way to capture the light shimmering through the nearby stained glass. The view is stunning from this angle and it only gets better from here!
Your LivTours guide will provide you with all the information you need, then you're ready to climb the 281 steps which take you to the incredible views of St. Peter's Square and beyond. Once you have enjoyed the views, make your way down to meet up with your guide once again and your guide will lead you inside St Peter's. You will quickly realize why this is considered one of the most  stunning works of the Christian faith.
Michelangelo is often associated with Saint Peter's and the Sistine Chapel, your  expert guide will tell you the tales of his turbulent life and give you a look at his inspired artwork.  You will see the Pietà up close and admire the genius of a young Michelangelo, who was only 24 years old when creating this majestic piece from one solid block of marble.
Your guide will also make sure you see Bernini's Baldacchino altar. This 96-foot, altarpiece is made of 100,000 pounds of solid bronze and measures as high as a 3-story building. It is difficult to miss the elegance of this papal canopy. Bernini was commissioned to create this functional Baroque work of art as homage to St. Peter.
Christian pilgrimages have journeyed to papal tombs for centuries and you will be able to see them in the company of your guide.  Some of the most famous Popes, including the beloved tomb of John Paul II and countless other Popes from the fifth century to present day. Learn about the plans of Pope Julius II to have an enormous tomb created for him, a task which he commissioned Michelangelo to.
The basilica is full of priceless art and history, but LivTours has carefully selected highlights which will give you a comprehensive foundation to understand the basilica and its history from top to bottom, and inside out.
BOOK NOW
---
Fully guided Basilica tour, top to bottom

Climb Michelangelo's dome

St. Peter's square

Papal tombs

Bernini's altar canopy

Michelangelo's pieta

Panorama over the city
BOOK NOW
---
Comfortable walking shoes recommended.

Places of worship have strict dress code requirements for entry. All participants are required to have shoulders and knees covered (no tank tops or short dresses) to enter.
BOOK NOW
---
LivTours' group size of max 6 participants is and always has been based on sustainable travel, and we are proud to be at the forefront of change and innovation in the industry.  LivTours is committed to providing travelers with truly sustainable tours with the lowest possible environmental impact, all while supporting the local industries and people of each unique destination. To learn more about how you can actively support sustainable tourism  and how LivTours is contributing, click here.
BOOK NOW
---
All LivTours Semi-Private Group Tours are limited to 6 guests per tour guide. Our commitment to maintaining our uniquely tiny group sizes can sometimes be a little tricky, mathematically speaking. For example, we want to ensure that traveling families and friends can tour together so on rare occasions we may add one or two guests in order to not split groups. On that same note, you may also find yourself on tour with less than six people! We thank you for your understanding and flexibility.
BOOK NOW
---
Places of worship have strict dress code requirements for entry. All participants are required to have shoulders and knees covered (no tank tops or short dresses) to enter.
BOOK NOW
---
Thanks
"The tour was great. Silvia did a great job. She answered all our questions and provided interesting information about the Basilica. With a small group, she was able to pay attention to our needs (staying together; restroom breaks; allowing us to skip the dome climb but stay on the roof until she returned). We were able to go at a slower pace and take our time. It also gave us time to go to the souvenir shop on the roof. Thanks for a great tour."
Geroge - USA
---
Great tour of St Peter's Basilica
"Our guide Silvia did really great!!!! We enjoyed the St Peter's Basilica tour very much and we're sure that next time we visit Rome (and we will!) we will book another tour with this company and, if possible, with this guide (although for sure the other guides will be just as good). So thanks a lot, we had a great time!!!"
Magda and Lex - Netherlands
---
BOOK NOW
---
By selecting Choose Dates Later / Buy as Gift at booking, any tour can be purchased without fixed dates. This is the perfect option if you want to purchase your tour as a gift for a loved one, or if you are in the pre-planning phase of your vacation. After booking, you will receive a Travel Voucher Code and full instructions on how to schedule your tours when ready. Once your travel plans are confirmed, you can easily use the Travel Voucher Code on the LivTours website to formally schedule your tours. You can find out more here.
BOOK NOW