Private St Peter's Tour | Dome & Papal Tombs
---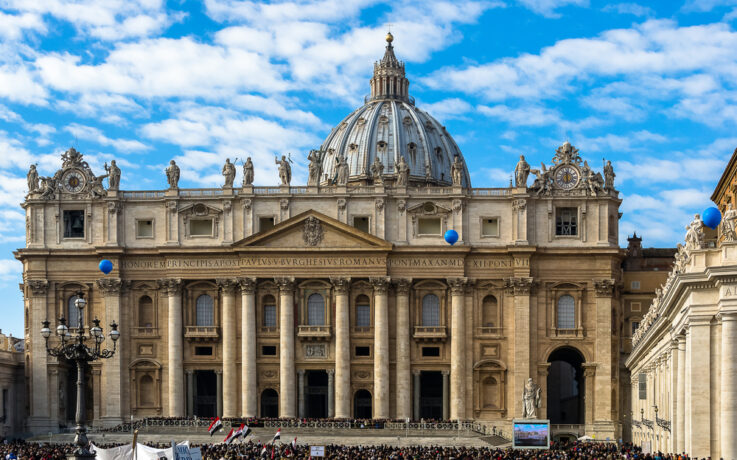 ---
LivTours Private St Peter's Basilica Tour will take you through 2000 years of religious history in the company of a top-rated private local guide. Your tour starts with a climb to the top of Michelangelo's Dome for magnificent views of Rome, before a guided visit through St Peter's Basilica and the Papal Tombs, located below the Basilica.
One of the most beautiful and artistically complex churches in the world, St Peter's is a haven for religious Renaissance art from artists like Michelangelo, Bernini, Bramante, Fontana and countless others and is well worth a tour.
BOOK NOW
---
Enjoy a complete tour of St Peter's including papal tombs & Michelangelo's dome

Visit one of the world's largest churches in the company of your expert private guide

Admire the breathtaking views of Rome from the top of Michelangelo's Dome

Marvel at the ornately decorated tombs of beloved former Popes including John Paul II

Discover the great works of art by Michelangelo, Bernini, Bramante and Raphael
BOOK NOW
Exclusive private Tours and Experiences. Also offered in Spanish, French, Portuguese, Swedish and Russian
Our prices always include tickets and reservations fees (no waiting in lines!)
Our tour guides and staff are selected experts and speak perfect English
Easy to book and prepay your tours with our secure payment system
Eco-sustainable tourism, designed to respect and support local culture, art and traditions
---
Your Private St. Peter's Basilica Dome Climb Tour begins in St. Peter's Square with an explanation of the magnificent columns encircling the square. It is here where thousands of believers from all around the world gather to hear the words of the Pope every Wednesday.
Your expert private guide will explain the renowned architects who were commissioned to work on what is now one of the most visited attractions of Rome, if not the world.  After the security check, you are ready to enter St. Peter's Basilica whose name derives from the first Pope, known as the gatekeeper of heaven.
Once inside, you will be escorted up a few flights to the interior ring of the dome, to access an elevator which will take you to the bottom of Michelangelo's dome. Where the elevator stops, the steps begin. You will be able to take in an aerial view of the basilica below, including the stunning bronze canopy over the high altar.  The view from this angle is gorgeous, but you will be happy to know it only gets better. Your LivTours guide will give you the information and materials you need to enjoy exploring the tallest building in Rome – the top of Michelangelo's dome! The only way up is via a climb of 281 steps which take you to the breathtaking views over St. Peter's Square and beyond. Once you have taken in the views, it is time to make your way down to meet up with your guide once more.
Then, it's straight into St. Peter's Basilica, your expert guide will lead you to see the most important highlights such as the extraordinary 96-foot tall bronze canopy over the High Altar design by Gian Lorenzo Bernini, used during papal masses. Soak up the stories about the elegant and pristine sculpture of the Virgin Mary holding Christ's lifeless body in Michelangelo's La Pietà, The Pity, sculpture.  Find out why it is encased behind bulletproof glass and why this is the only work of art signed by Michelangelo.
Your LivTours private expert guide will share with you the Statue of St Peter in Bronze. It is a ritual for travelers to touch or kiss his foot to honor him, which has left him with a worn-down right foot.  You will also see the beautiful Chapel of the Baptistery, a 17th-century design by Carlo Fontana which is still actively used to perform baptisms. See one of Bernini's last masterpieces – the Memorial of Alexander VII, a work depicting the pontiff's courage in the face of death with the aid of prayer.
Now you will head downstairs to explore the papal tombs, allowing you to see firsthand where some of the most famous popes have been laid to rest. In this sacred space, you'll also see where St Peter himself was buried.  One of Jesus' twelve apostles, his tomb is located directly below Bernini's Baldacchino altar.
BOOK NOW
---
Fully guided basilica tour, top to bottom

Climb Michelangelos dome

St Peters square

Papal tombs

Bernini's alter canopy

Michelangelo's pieta

Panorama over the city
BOOK NOW
---
Offered in: English, French, Spanish, Portuguese, and Italian. Please specify under "Additional notes" if you wish to book the tour in a language other than English.

Places of worship have strict dress code requirements for entry. All participants are required to have shoulders and knees covered (no tank tops or short dresses) to enter.
BOOK NOW
---
LivTours' group size of max 6 participants is and always has been based on sustainable travel, and we are proud to be at the forefront of change and innovation in the industry.  LivTours is committed to providing travelers with truly sustainable tours with the lowest possible environmental impact, all while supporting the local industries and people of each unique destination. To learn more about how you can actively support sustainable tourism  and how LivTours is contributing, click here.
BOOK NOW
---
When you book a LivTours Private Tour or Experience, you are guaranteed a dedicated, expert guide that allows you the flexibility to start your tour at a time which is convenient for you, making planning easy. Our private tours ensure that you will get a tailored experience to meet all your needs so we go at your pace, perfect for families with younger children, elderly, or individuals with accessibility needs. Please be advised that all private tours begin at a base price starting at two people*. Prices are inclusive of entry tickets where applicable. *Some Ferrari private experiences are inclusive of one person only.
BOOK NOW
---
Make your day even more unique and comfortable by upgrading your tour with a customizable LivTours optional add on!
One Way Pick-Up Transfer Service
75 €
130.50 A$
69.75 £
88.50 $
BOOK NOW
---
A good family experience
"LivItaly was very professional in their communication and booking with them was very easy and painless.. We did the St Peter's tour with Luca. He was extremely knowledgeable, friendly and flexible. Our teenage children loved his enthusiasm and really enjoyed the tour. The private tour was perfect for our family to have a personal experience and not have to worry about the crowds. The kids loved going to the top of the dome! Thank you LivItaly for making our visit perfect."
Freida - Germany
---
Well worth it
"This tour does skip the line and we were so happy it did! Seeing all of those people waiting to go through security so that they could enter into the church made us realize how fortunate we were to have chosen this tour. Our guide was super informative and fun and filled us with more details than we could ever remember. Up on the top of the dome, we had an awesome view and took tons of pictures. It was great to have a guide with us to point out the various monuments so that we knew what we were looking at. This is a great tour and well worth every cent!"
Stacy - USA
---
Just brilliant!
"My mother and I have both been to the Vatican museum so we decided to concentrate, this trip, on St. Peter's. Our tour with Rafaella was brilliant and it was everything we had hoped for. We met in the square and then entered easily into the church, despite the long lines of people waiting outside. Rafaella was full of history and great stories to share and we enjoyed every minute with her. She made this a highlight of our trip to Rome."
Phillipa - UK
---
BOOK NOW
---
By selecting Choose Dates Later / Buy as Gift at booking, any tour can be purchased without fixed dates. This is the perfect option if you want to purchase your tour as a gift for a loved one, or if you are in the pre-planning phase of your vacation. After booking, you will receive a Travel Voucher Code and full instructions on how to schedule your tours when ready. Once your travel plans are confirmed, you can easily use the Travel Voucher Code on the LivTours website to formally schedule your tours. You can find out more here.
BOOK NOW