Semi-Private Verona Tour | City Highlights
---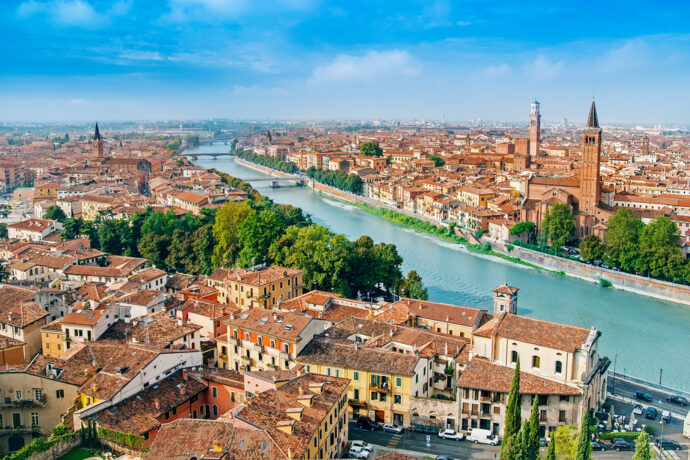 ---
LivTours' Small Group Tour of Verona is a comprehensive exploration of Italy's "City for Lovers". With a local, knowledgeable guide, you and your small group will cross centuries of landmarks and history over the course of 2 hours. Visit the legendary balcony where Shakespearean lovers Romeo and Juliet once met. Learn about the stories behind the ancient Verona Arena built in the 1st century AD, where gladiators once dueled.
Witness Verona's fascinating history as you see the city's many famous Piazzas with their frescoes, palaces, and statues. Walk in the footsteps of ancient travelers as you pass through the imposing Porta Borsari, the original gate to enter Verona during the Imperial Roman era. Take pictures of Verona's picturesque Ponte Pietra, or Stone Bridge, first built in 89 BC. Visit the Gothic style funerary monuments to the Scaligeri family and learn about this wealthy family's history. Admire the statue of the Floretine poet Dante and learn how it came to be placed in such an important square in Verona. Discover hidden treasures and local restaurants that are off the beaten path as you wander cobblestone streets with your guide.
BOOK NOW
---
Tour Verona in a semi-private group - maximum 6 people for an intimate experience

Explore this UNESCO Heritage City with an English-speaking, passionate guide

See Juliet's Balcony, the Scaligeri tombs, and major Piazza's during this 2 hour tour

Visit ancient Roman landmarks like the Verona Arena, Roman Theater, and Borsari Gate

Enjoy the picturesque views of Verona's oldest Stone Bridge and the Adige river
BOOK NOW
Semi-Private tours and experiences are guaranteed six participants max.
Our prices always include tickets and reservations fees (no waiting in lines!)
Our tour guides and staff are selected experts and speak perfect English
Easy to book and prepay your tours with our secure payment system
Eco-sustainable tourism, designed to respect and support local culture, art and traditions
---
Your LivTours' Verona Tour begins when you meet your expert guide and small group in Piazza Bra. This broad square and lively gathering place features pink marble and priceless monuments and buildings from many different periods of history. Here you'll learn about one of Verona's most impressive archaeological sites, the open-air Roman ampitheatre called Verona's Arena (outside). Completed in 30 AD, this was once a place where spectators watched gladiatorial combat. Discover many other ancient sites as your group wanders through Verona's lovely stone streets. Sit on the marble seats of the Roman Theater from the 1st century BC and walk through the awe-inspiring Borsari Gate. With your experienced guide and this surreal setting, you'll travel back through time and see what daily life in the ancient city was like!
Nearby you will see one of Verona's most famous landmarks, the Ponte Pietra or Stone Bridge. Offering the perfect panoramic view of Verona and the Adige river, this bridge has a fascinating story of construction, destruction, and reconstruction that spans centuries.
No visit to the Verona would be complete without seeing the Cappelletti family's courtyard which features a statue of Shakespeare's Juliet and a balcony where legends say her and Romeo once met. Touch the statue of Juliet for good luck and read the handwritten dedications underneath her balcony by thousands of romantic visitors.
In the heart of the Medieval city you will find impressive squares like Piazza dei Signori, with its castlelike Palace and statue of Dante Alighieri, the Florentine poet. Dante wrote parts of his famous Divine Comedy here in Verona where he found exile. In Piazza delle Erbe you'll see an impressive example of Gothic funerary art and architecture, the Scaligeri tombs. These remarkable funerary monuments are surrounded by strong iron gates and feature ornate spires and statues of this prestigious family's members who lay here.
Verona is among Italy's most beautiful UNESCO Heritage cities with a vibrant personality and breathtaking scenery. This intimate walking tour is the perfect way to explore the wonderful treasures it holds with a local guide who can't wait to share it with you.
BOOK NOW
---
Piazza Bra

Cappelletti courtyard

Balcony of Juliet

Ancient Roman Arena (outside)

Piazza delle Erbe

Porta Borsari

Ponte Pietra

Arche Scalighere
BOOK NOW
---
LivTours' group size of max 6 participants is and always has been based on sustainable travel, and we are proud to be at the forefront of change and innovation in the industry.  LivTours is committed to providing travelers with truly sustainable tours with the lowest possible environmental impact, all while supporting the local industries and people of each unique destination. To learn more about how you can actively support sustainable tourism  and how LivTours is contributing, click here.
BOOK NOW
---
All LivTours Semi-Private Group Tours are limited to 6 guests per tour guide. Our commitment to maintaining our uniquely tiny group sizes can sometimes be a little tricky, mathematically speaking. For example, we want to ensure that traveling families and friends can tour together so on rare occasions we may add one or two guests in order to not split groups. On that same note, you may also find yourself on tour with less than six people! We thank you for your understanding and flexibility.
BOOK NOW
---
Verona deserves a visit
"This small group walking tour of Verona was very well organized and set a comfortable pace so that we were able to see many of the most important parts of the city. There were only 6 of us in the group so personal interaction with the guide was possible, as well as with the other members of the group. The guide, Francesca, is a native of Verona and was very passionate about her city and its history. Her enthusiasm was contagious!"
Will Reed - UK
---
Definitely recommend this tour
"My wife and I were very happy we booked this walking tour while in Verona. The city is extremely interesting, with lots of layers of history and cultural signifigance and we were very pleased to have such a knowledgeable and entertaining guide to help us navigate the city and experience the best parts. "
Jacob - UK
---
A lovely day in Verona
"We were in Verona to see an opera production in the famous Arena. LivItaly's walking tour was a wonderful way to get to know the city and learn about its history. Our guide Simone was very fun and entertaining and we enjoyed every minute of our time together. Verona is a very beautiful city and worth a visit! Take this tour!!"
AnnL. - USA
---
BOOK NOW
---
By selecting Choose Dates Later / Buy as Gift at booking, any tour can be purchased without fixed dates. This is the perfect option if you want to purchase your tour as a gift for a loved one, or if you are in the pre-planning phase of your vacation. After booking, you will receive a Travel Voucher Code and full instructions on how to schedule your tours when ready. Once your travel plans are confirmed, you can easily use the Travel Voucher Code on the LivTours website to formally schedule your tours. You can find out more here.
BOOK NOW