Semi-Private Vatican Tour at Night | The Museums at Their Best
---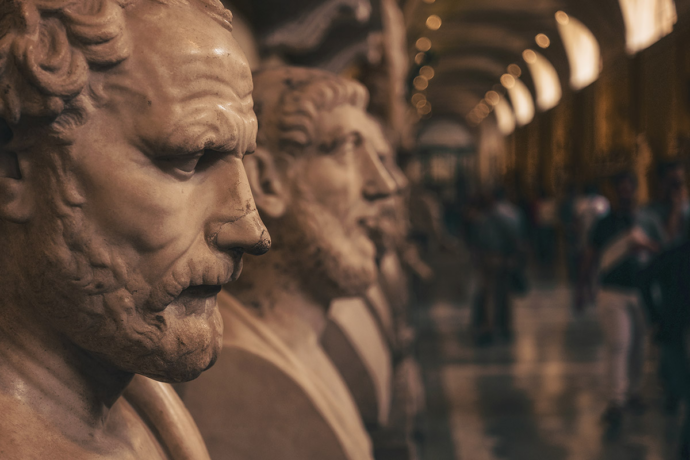 ---
LivTours Semi-Private Vatican Tour at Night is a unique and truly special way to experience the world-famous Vatican Museums and the magic of the Sistine Chapel. Beat the larger daytime crowds (and the heat) of Roman summers on this seasonal Vatican tour and enjoy the Museums with the lightness of the cool evening breeze. You and your small group of only 6 people will enter the Museums in the evening hours, long after afternoon crowds have left so you can relax while navigating the impressive papal collections, rich galleries, and beautiful rooms, all in the quiet of the early evening hours.
You will be led by a LivTours top-rated expert guide who will be your source of knowledge and fun for the evening. Thanks to the intimacy of our exclusive small group size of 6 or less, and the absence of the thousands of daytime visitors, you will have the time and space to ask any questions you might have and to truly take it all in. What a way to spend your evening!
BOOK NOW
---
Skip the Line and enjoy the Vatican Museums without the daytime crowds & heat

Enjoy the magic of the evening hours as your explore the Museums' collections

Marvel at the Sistine Chapel, one of Michelangelo's most famous masterpiece

Expect the professionalism of a 5 star guide to accompany you throughout
BOOK NOW
Semi-Private tours and experiences are guaranteed six participants max.
Our prices always include tickets and reservations fees (no waiting in lines!)
Our tour guides and staff are selected experts and speak perfect English
Easy to book and prepay your tours with our secure payment system
Eco-sustainable tourism, designed to respect and support local culture, art and traditions
---
Your Vatican Tour at Night includes all the highlights of the Vatican Museums incredible collections. Travel through time and art epochs as you marvel at the ancient Greek and Roman statues and delight in the beautiful and breathtaking Raphael Rooms. Walk down the impressive Gallery of Maps and listen carefully to all the stories behind the wall-to-wall topographical depictions of Italy that line the entire gallery. The amazing Gallery of Tapestries is sure to make you curious with its impressive collection of giant hand-woven tapestries, rich with optical illusions and unexpected visual effects.
Your LivTours guide will share magnificent stories with you about the history of the Vatican and all the intense rivalries between the artists whose works fill its hallways and rooms. Plus, you will also get to hear lively gossip about the Popes who lived within the splendor of the Vatican walls.
Curious for more? Your small group of only 6 people will allow you all the time and space to ask questions and dive more deeply into what sparks your curiosity.
Your Vatican Tour at Night will culminate at the Sistine Chapel, Michelangelo's masterpiece, the most famous ceiling in the world. Words never do its incredible beauty justice. Experience its magnificence as you look upward and around, an experience that is highlighted by the softness of evening light which brings to life interesting details which are not always as visible during the day. Your expert guide will end your visit inside the museums, so you can remain as long as you like.
BOOK NOW
---
Vatican Museums skip-the-line tickets

Fully guided experience

Pinecone courtyard

Octagonal Courtyard

Ancient Laocoon statue

Ancient Apollo of the Belvedere statue

Muses Room & Belvedere Torso

Greek Cross Room

Gallery of Candelabras

Gallery of Tapestries

Gallery of Maps

Raphael Rooms

Borgia Apartments

Sistine Chapel

Michelangelo's ceiling
BOOK NOW
---
Places of worship have strict dress code requirements for entry. All participants are required to have shoulders and knees covered (no tank tops or short dresses) to enter.
Please be aware that the Sistine Chapel is a Holy Place and talking during your visit inside is strictly forbidden, therefore your guide will give you an explanation of the Sistine Chapel beforehand during your tour, in order to give you a comprehensive explanation before entering the chapel.
No photos are allowed within the Sistine Chapel.
Backpacks are not permitted in the Museum.
Guests with wheelchair accessibility needs will find difficulty with this small group tour. In order to ensure a barrier-free tour with alternative routes, please book the private version of this tour.
Availability is limited. This tour is offered exclusively on Friday evenings from April-October.
BOOK NOW
---
LivTours' group size of max 6 participants is and always has been based on sustainable travel, and we are proud to be at the forefront of change and innovation in the industry.  LivTours is committed to providing travelers with truly sustainable tours with the lowest possible environmental impact, all while supporting the local industries and people of each unique destination. To learn more about how you can actively support sustainable tourism  and how LivTours is contributing, click here.
BOOK NOW
---
All LivTours Semi-Private Group Tours are limited to 6 guests per tour guide. Our commitment to maintaining our uniquely tiny group sizes can sometimes be a little tricky, mathematically speaking. For example, we want to ensure that traveling families and friends can tour together so on rare occasions we may add one or two guests in order to not split groups. On that same note, you may also find yourself on tour with less than six people! We thank you for your understanding and flexibility.
BOOK NOW
---
Unique experience
"This was a very special experience. This company offers a special entrance into the museums after normal visiting hours and believe me, it is well worth it! We felt we were able to really appreciate all of the masterpieces we were seeing and we learned so much from our expert guide, Davide. The tour just flew by and we were actually sorry when it was over, we were having such a great time! Do consider this night tour. It is something quite unique!"
Jackie - UK
---
Delightful night tour of the Vatican
"Davide was our tour guide on our Vatican by night tour and his tour was the best one we experienced. We were in Paris and Rome over a 10-day period and paid for 10 different tours. So when we say he was the best, we mean the best in both countries! My husband and I signed up for the night tour to experience the Vatican under slightly different circumstances than one would on a regular daytime tour. The whole experience just delightful and Davide a real gem."
Alice and Bob - USA
---
Great small group tour
"We had such a great time going around the Vatican after-hours with Max! He's like the Museum mayor—he knows everyone and everyone knows him, haha. Very knowledgeable about all things Vatican (answered every question I threw at him, and I ask a lot of questions) and a fantastic photographer, to boot! Definitely worth it to take a guided tour of the Vatican, as it's so big it can be overwhelming, and the small sized tour Livitaly offers was a great way to see it."
Marcie M. - USA
---
BOOK NOW
---
By selecting Choose Dates Later / Buy as Gift at booking, any tour can be purchased without fixed dates. This is the perfect option if you want to purchase your tour as a gift for a loved one, or if you are in the pre-planning phase of your vacation. After booking, you will receive a Travel Voucher Code and full instructions on how to schedule your tours when ready. Once your travel plans are confirmed, you can easily use the Travel Voucher Code on the LivTours website to formally schedule your tours. You can find out more here.
BOOK NOW