Semi-Private Picasso Tour in Barcelona
---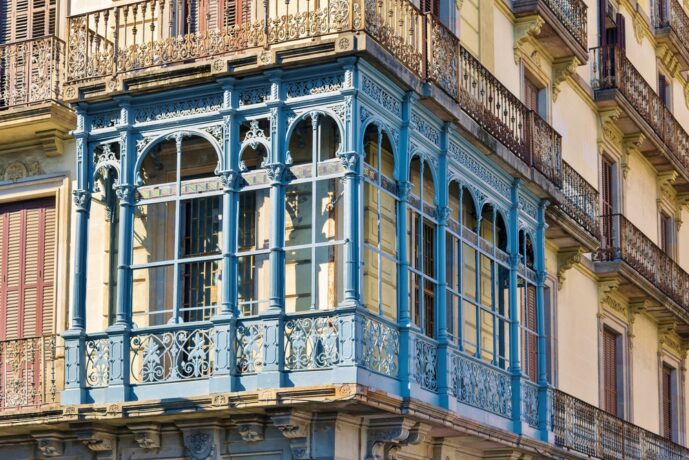 ---
LivTours Semi-Private Picasso Tour in Barcelona lets you walk in the footsteps of one of the greatest artists of the 20th century – Pablo Picasso. Though not originally from Barcelona, the artist grew up in Barcelona where he enjoyed his most formative years as an artist and a city that held a special place in his heart. Your semi-private group tour will take you and a maximum group of six through the Born neighborhood where Picasso lived and spent a great deal of time.
Your guide will give you an extensive walking tour of the neighborhood where Picasso lived, had studios, and studied before leaving to live in Paris. If you are a novice or an experienced art lover, this semi-private group tour is made for you!
BOOK NOW
---
Discover Pablo Picasso's life in Barcelona and Spain on this 2.5 hour art tour

Explore Picasso's origins and earliest works of art with an expert local guide

Visit the Picasso Museum, a donation from the artist, with skip the line tickets

Indulge in the luxury of a semi-private tour with a maximum of six people
BOOK NOW
Semi-Private tours and experiences are guaranteed six participants max.
Our prices always include tickets and reservations fees (no waiting in lines!)
Our tour guides and staff are selected experts and speak perfect English
Easy to book and prepay your tours with our secure payment system
Eco-sustainable tourism, designed to respect and support local culture, art and traditions
---
Your LivTours Semi-Private Picasso Tour in Barcelona begins in the charming el Born neighborhood, located just between the Gothic Quarter and Ciutadella Park where you will meet your expert local guide. After meeting your fellow travelers on your exclusive small group tour, your experienced guide will give you a comprehensive intro to Picasso's life as you meander through the eatery, art gallery, and boutique-lined streets – a perfect homage to the artist which once walked the same streets.
As you continue to stroll through El Born, your guide will begin prepping you for your first stop, the Picasso Museum. Learn how the son of a talented painter and professor at the Fine Arts School in Barcelona would soon outshine the very man who inspired him. Once inside the Museum, you will see some of Picasso's famous paintings such as his Las Meninas, donated to the museum by the artists himself. Among the collection, it is exciting to see the amazingly talented paintings from the artist's youth, through his time in Madrid, his start in Paris and works from his Blue Period.
If you are looking for a unique experience in Barcelona or a proper art pilgrimage for the Picasso lover in you, then LivTours Picasso Tour in Barcelona is the tour for you! The truly semi-private group of only six people allows for increased opportunity to interact with your top-rated tour guide that will educate and entertain you with anecdotes of the life of the 20th century's most beloved artist. Any lover of art would be well-advised to take this walk through the life of an artistic genius.
BOOK NOW
---
Walking tour of el Born neighborhood

Entrance tickets into the Picasso Museum

Fully guided experience
BOOK NOW
---
LivTours' group size of max 6 participants is and always has been based on sustainable travel, and we are proud to be at the forefront of change and innovation in the industry.  LivTours is committed to providing travelers with truly sustainable tours with the lowest possible environmental impact, all while supporting the local industries and people of each unique destination. To learn more about how you can actively support sustainable tourism  and how LivTours is contributing, click here.
BOOK NOW
---
All LivTours Semi-Private Group Tours are limited to 6 guests per tour guide. Our commitment to maintaining our uniquely tiny group sizes can sometimes be a little tricky, mathematically speaking. For example, we want to ensure that traveling families and friends can tour together so on rare occasions we may add one or two guests in order to not split groups. On that same note, you may also find yourself on tour with less than six people! We thank you for your understanding and flexibility.
BOOK NOW
---
Very unique experience
"We love Picasso so when we saw this tour in Barcelona to explore the artist's birthplace and early training, our curiosity was peaked. Our tour guide was very knowledgeable (he is an art historian, what more could you ask for on a Picasso tour??) and also very entertaining. Although we feel we know Picasso's life story pretty well, we learned things that we didn't know before. He also gave us wonderful insight into the artist's style and pointed out details in his works that we certainly wouldn't have seen otherwise. It was just the best experience we could have had and we can't compliment LivSpain enough for this unique opportunity!!"
Carly Jane - USA
---
Extremely interesting tour
"We were in a group of 4 on this very interesting tour dedicated to Picasso's beginnings in Barcelona. I have mostly thought of Paris when thinking Picasso but his early life and studies in Barcelona were very important to his devlopment into the artist we know. We saw the area he grew up in, the academy where he studied and several of his works in the museum there. The guide was an art historian with many facts and insights that he happily shared with us. Enjoyable and very educational!"
Leonard - USA
---
Picasso in Barcelona
"I knew that Picasso got his start in Barcelona although he is mostly known for his ties to Paris. On this tour we learned about his early years and the beginning of his artistic life. It's amazing what sorts of influences you can still see even in his later works. The tour was very comprehensive and the guide was easy to follow and entertaining. The time flew by and we were sorry when the tour ended."
Julie - USA
---
BOOK NOW
---
By selecting Choose Dates Later / Buy as Gift at booking, any tour can be purchased without fixed dates. This is the perfect option if you want to purchase your tour as a gift for a loved one, or if you are in the pre-planning phase of your vacation. After booking, you will receive a Travel Voucher Code and full instructions on how to schedule your tours when ready. Once your travel plans are confirmed, you can easily use the Travel Voucher Code on the LivTours website to formally schedule your tours. You can find out more here.
BOOK NOW