Private Picasso Walking Tour of Barcelona with Picasso Museum
---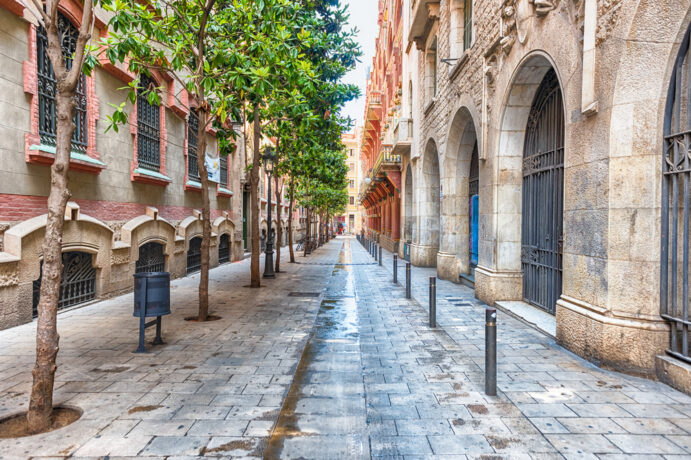 ---
LivTours Private Picasso Walking Tour of Barcelona is an amazing way to understand and appreciate one of the 20th century's most influential artists. Follow in his footsteps as your expert guide accompanies you on a journey through his personal and artistic life. Though not originally from Barcelona, Picasso spent his formative years in this vibrant Mediterranean city.
On your private tour you get to enjoy skip-the-line tickets to the Picasso Museum which houses thousands of his paintings, ceramic works, and drawings – all donated by the artist himself during his lifetime. You will explore the neighborhood where Picasso lived, had studios, and studied before leaving to live in Paris. This private tour is ideal for knowledgeable art lovers or novices alike.
BOOK NOW
---
Dive into a full immersion tour of insight into Picasso's life & art

Stroll through Picasso's former neighborhood with your experienced local guide

Admire Picasso's earlier works as your guide tells you the inspiration behind each

Enjoy a comprehensive private tour dedicated to Picasso's life, art & studies
BOOK NOW
Exclusive private Tours and Experiences. Also offered in Spanish, French, Portuguese, Swedish and Russian
Our prices always include tickets and reservations fees (no waiting in lines!)
Our tour guides and staff are selected experts and speak perfect English
Easy to book and prepay your tours with our secure payment system
Eco-sustainable tourism, designed to respect and support local culture, art and traditions
---
LivTours Private Picasso Walking Tour of Barcelona begins in the charming medieval neighborhood, el Born, where Picasso spent a great deal of time and where you will meet your experienced private guide. Dedicated only to you, your guide will share with you the intricacies of Picasso's life as you meander through the charming streets on your way to your first stop. A perfect homage to the artist who once walked the same streets.
Your next stop is at the Picasso Museum, home to 4000 works of art by this prolific artist from the many phases of his life, all dedicated by the artist himself or his family. Your expert guide will make the most of your time in the Museum with explanations of the highlights while connecting them to the artist's life. Highlights include Picasso paintings from his childhood, his formative years at college, his time in Paris, some of his Blue Period work, and his entire Las Meninas series. While seeing these amazing paintings, you will learn how the son of a talented painter and professor at the Fine Arts School in Barcelona would soon outshine the very man who inspired him.
This unique experience is a proper art pilgrimage for the Picasso lover in you. This private tour allows for exclusive interaction with your top-rated tour guide that will educate and entertain you with anecdotes of the life of the 20th century's most beloved artist. The museum tour and the personal stories of Picasso's life make this tour an absolute must to any visit to lovely Barcelona.
BOOK NOW
---
LivTours' group size of max 6 participants is and always has been based on sustainable travel, and we are proud to be at the forefront of change and innovation in the industry.  LivTours is committed to providing travelers with truly sustainable tours with the lowest possible environmental impact, all while supporting the local industries and people of each unique destination. To learn more about how you can actively support sustainable tourism  and how LivTours is contributing, click here.
BOOK NOW
---
When you book a LivTours Private Tour or Experience, you are guaranteed a dedicated, expert guide that allows you the flexibility to start your tour at a time which is convenient for you, making planning easy. Our private tours ensure that you will get a tailored experience to meet all your needs so we go at your pace, perfect for families with younger children, elderly, or individuals with accessibility needs. Please be advised that all private tours begin at a base price starting at two people*. Prices are inclusive of entry tickets where applicable. *Some Ferrari private experiences are inclusive of one person only.
BOOK NOW
---
Make your day even more unique and comfortable by upgrading your tour with a customizable LivTours optional add on!
110 €
191.40 A$
102.30 £
129.80 $
BOOK NOW
---
Picasso's early life
"My wife and I had not realized how important Barcelona was to Picasso's early life and artistic style. After this very interesting tour, we both felt we went away with renewed admiration for all that contributed to this artist's works. This is a great tour for veteran and novice Modern Art lovers alike."
Jackson - USA
---
Picasso
"Picasso is one of my favorite artists so I couldn't resist the Picasso walking tour in Barcelona offered by LivSpain. It was so inspiring to see where this artist grew up, to visit the academy where he studied, to learn all about his life (even many facts that I didn't know) and the events and people who influenced his works. My guide was a art historian but talked about Picasso not in a boring, academic way but as if he were recounting stories and insights about an old friend. I enjoyed every minute of this tour and will definitely recommend it to everyone I know."
Darleen - USA
---
5 star tour
"My partner and I are art students so, of course, we couldn't pass up the chance to learn about Picasso in his early years and experience the atmosphere in which he grew up. We were also very impressed with this tour company and with the guide (art history professional) that they have doing this tour. Definitely recommend."
Ron - USA
---
BOOK NOW
---
By selecting Choose Dates Later / Buy as Gift at booking, any tour can be purchased without fixed dates. This is the perfect option if you want to purchase your tour as a gift for a loved one, or if you are in the pre-planning phase of your vacation. After booking, you will receive a Travel Voucher Code and full instructions on how to schedule your tours when ready. Once your travel plans are confirmed, you can easily use the Travel Voucher Code on the LivTours website to formally schedule your tours. You can find out more here.
BOOK NOW