Semi-Private Early Morning Vatican Tour
---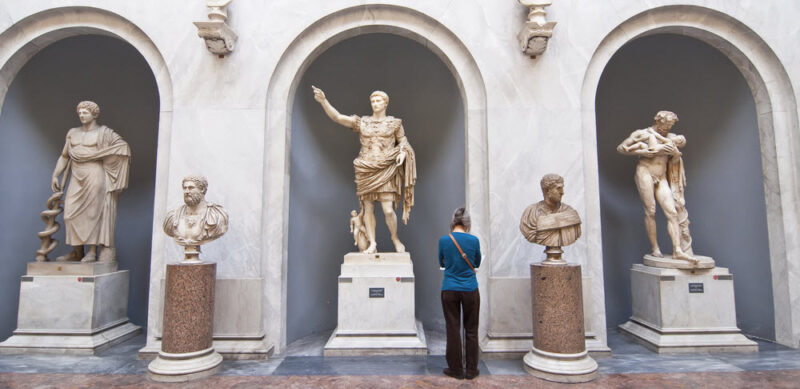 ---
LivTours' Semi-Private Early Morning Vatican Tour is ideal for travelers who want to get an early start to their day exploring one of the most time-honored destinations in the world. Join LivTours' Early Morning Vatican Tour and enjoy a true VIP experience by entering the Vatican Museums a full hour before they open to the general public with skip-the-line Vatican access!
See the magnificent Sistine Chapel with fewer crowds. Stand in awe beneath Michelangelo's famous frescoes as your expert guide brings these masterpieces to life with details of the past that are sure to amaze. Witness Raphael's stunning artwork in the Raphael Rooms and discover the unexpected masterpieces of the Vatican Museum's. Skip the queues at St. Peter's Basilica, the world's most impressive church and home to Michelangelo's Pietà and Bernini's incredible alter canopy.
By getting a head start to your day, you can see the Vatican's many treasures with your local, expert guide navigating the way. A nine-mile long museum could be overwhelming to explore on your own. Join LivTours' semi-private group tour, with a maximum of six people, for a once-in-a-lifetime experience.
BOOK NOW
---
Enter the Vatican Museums one hour before it opens to the general public

Be one of the first of the day to visit the Sistine Chapel & Raphael Rooms

Enjoy a VIP tour of the Vatican Museums, Sistine Chapel & St. Peter's Basilica

Get a personalized semi-private tour with a maximum of six people guaranteed

Get an overview of hundreds of years of art history in just one tour
BOOK NOW
Semi-Private tours and experiences are guaranteed six participants max.
Our prices always include tickets and reservations fees (no waiting in lines!)
Our tour guides and staff are selected experts and speak perfect English
Easy to book and prepay your tours with our secure payment system
Eco-sustainable tourism, designed to respect and support local culture, art and traditions
---
Your Semi-Private Early Morning Vatican Tour will begin near the Vatican Museums' entrance. Here you will meet your professional and charismatic tour guide. The first site you will visit upon entrance is the world-renowned Sistine Chapel, Michelangelo's masterpiece. Since this Chapel is the number one attraction inside the Vatican, LivTours believes it is important to give guests the time and space they need to fully appreciate it. Stand in amazement as you gaze onto Michelangelo's awe-inspiring ceiling frescoes. Wonder over the breathtaking "The Last Judgement" before the major surge of crowds.
Your guide will be sure to make the most of this first hour by also granting you exclusive access to the Raphael Rooms before they open to the general public. Guests will be privy to some of the most important works of art in the entire museum – all without the rush of crowds around them. The sixteenth-century Raphael Rooms were painted by Raphael and his students for Pope Julius II to adorn the walls of his apartment within the Vatican. With your tour guide by your side, you'll learn all of the intriguing stories behind the composition of these great works of Western art.
After you're finished learning all about Michelangelo's masterpiece and the major works by Raphael, your guide will loop your semi-private group back to the beginning of the Vatican Museums to begin to delve into this amazing art collection. Feel confident that your highly experienced guide will take you to the highlights of the museum. Stop in the Pinecone Courtyard and Octagonal Courtyard. Learn about the greatest statues of antiquity, from the mysterious composition of the Greek statues of the Laocoon to the Apollo Belvedere to the inspiring Belvedere Torso. Your semi-private Vatican Tour will then walk up the stairs to enjoy the amazing galleries. Be amazed by the beauty of the Candelabra, the Tapestries, and the Gallery of the Maps.
Once you're done visiting the highlighted sites inside the museums, your guide will take you through the Sistine Chapel one more time before heading directly into St. Peter's Basilica. This VIP access saves time and allows you to skip-the-line. Once inside, you'll be greeted by the breathtaking space which is the largest Catholic church in the entire world. A few of the glorious works of art that you will get to see up close include Michelangelo's "Pietà" and Bernini's "Baldacchino Altar". Before you leave St. Peter's Basilica, your guide will tell you about the Papal Tombs, the Memorial of Pope Alexander VII, and share how to access the dome of St. Peter's. Conclude your Early Morning Vatican Tour by walking around Bernini's celebrate Piazza San Pietro Square and taking in the grandeur that is St. Peter's.
BOOK NOW
---
Skip-the-lines into the Vatican

Fully guided experience

Pinecone courtyard

Octagonal Courtyard & Belvedere Palace

Round Room

Muses Room & Belvedere Torso

Lacoon statue

Apollo Belevedere statue

Gallery of Candelabra

Gallery of Maps

Gallery of Tapestries

Raphael Rooms

School of Athens painting

Sistine Chapel

Michelangelos ceiling

St Peters Basilica

Berninis bronze alter canopy

St Peters square
BOOK NOW
---
Places of worship have strict dress code requirements for entry. All participants are required to have shoulders and knees covered (no tank tops or short dresses) to enter.

There is no photography allowed in the Sistine chapel, and all other artwork can only be photographed without flash.

St. Peter's Basilica is an active church and can be closed unexpectedly for liturgical ceremonies. If closed, the time inside the Vatican Museums will be extended.

Saint Peter's Basilica is closed on most Wednesdays mornings due to the weekly Papal Audience. If you book this tour for a Wednesday the time inside the Vatican Museums will be extended.

Please be aware that the Sistine Chapel is a Holy Place and talking during your visit inside is strictly forbidden, therefore your guide will give you an explanation of the Sistine Chapel beforehand during your tour, in order to give you a comprehensive explanation before entering the chapel.

Backpacks are not permitted in the Museum.

Due to these unprecedented times and ongoing safety and regulation changes, some sites may have limited accessibility if the venue can not guarantee social distancing which may lead to unforeseen tour modifications. Thank you for your understanding.

LivTours' group size of max 6 participants is and always has been based on sustainable travel and especially in these new times, we are proud to be at the forefront of the innovation, changes, and challenges that are presented to us during this post-pandemic time. At the moment, due to COVID-19 safety regulations, the museums and sites visited on this tour require wearing a mask while on the site. Please bring one for every participant over 6 years of age.
BOOK NOW
---
All LivTours Semi-Private Group Tours are limited to 6 guests per tour guide. Our commitment to maintaining our uniquely tiny group sizes can sometimes be a little tricky, mathematically speaking. For example, we want to ensure that traveling families and friends can tour together so on rare occasions we may add one or two guests in order to not split groups. On that same note, you may also find yourself on tour with less than six people! We thank you for your understanding and flexibility.
BOOK NOW
---
Covid-19
All of our tours and experiences are in compliance with the latest local Covid-19 safety protocols. More information can be found in the voucher you will receive upon booking your tour/s.
---
BOOK NOW
---
Only way to see the Vatican museums
"My girlfriend and I visited Rome for the first time and decided to book the Early Morning Vatican tour because we feel a guided tour gives you background information and depth that you just would not get when walking the enormous Vatican city on your own. LivItaly's Early Morning Vatican tour certainly delivered on this expectation. Our guide Claudio was very knowledgable and provided great information. Because we chose the morning tour and travelled in a small 6 person group we could take in all the highlights without being hindered by massive crowds. After the museum opened to the general public, it became gradually more crowded, but at this point we had already visited most of the main attractions. All in all, we had a great experience and can definitely recommend this tour."
Michael - Ireland
---
Early morning Vatican tour
"We used LivItaly Tours for an early morning very small group tour of the Vatican. The tour is designed to miss the large crowds which you find later in the day. There are still many tourists but our guide Laura made good use of the unavoidable wait time by sharing information on the history of the Vatican. The tour was well planned to start with the Sistine Chapel, which gave us quiet and relaxed time in this beautiful space. Laura's background is in art history and she was able to share much information and interesting perspectives on the art we saw. Definitely a great experience."
Lynn - UK
---
Excellent tour and tour company
"We had Laura for this tour and she was awesome! We met at 7:30 for a good reason. Even in early May the Vatican was packed before 8. This is not a skip the line tour but because you're there at 7:30 it goes pretty quick. Laura pointed out interesting stories about certain things but didn't bore us with dry facts. We focused a lot on the cultural history and how it was represented in the Vatican. If we had any questions she was great at answering them. Around 10:30 it was super busy in the museum but Laura had already taken us through the most important parts! It was great. You're still going to find yourself moving through crowds of people but it's just how it is. After, we headed over to St Peters church and again Laura was great at pointing out key facts. Overall, an excellent choice and guide."
Matt D. - USA
---
BOOK NOW
---
By selecting BUY AS A GIFT, you can purchase this tour as a gift for someone you care for. You will receive a gift card voucher that then can be redeemed by the person/people who will enjoy the tour.Date and Time are values that cannot be selected at the moment. You will in fact receive a gift card voucher with instructions on how to redeem the tour and then select date and time.You can create a shopping cart with multiple tours as gift cards. You may not compose a shopping cart of gift cards and actual tours with date and time.This option can also be used as an opportunity to book a tour open-dated for yourself, in case you are still in the pre-planning phase of your trip.For more information please read here.
BOOK NOW