Semi-Private Early Morning Vatican Tour
---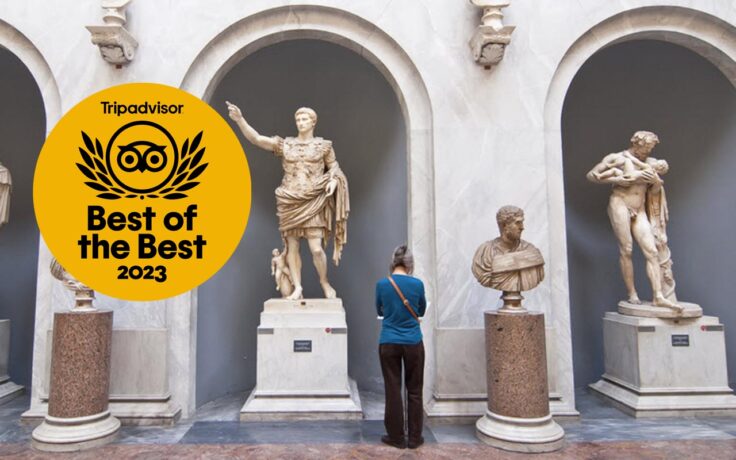 ---
LivTours'
Semi-Private Early Morning Vatican Tour
is ideal for travelers who want to get an early start to their day. Once you've seen the crowds during the day, you'll understand that entering the Vatican Museums in the early morning is always a great idea!
---
If this tour is unavailable on your dates of travel, we highly recommend the
| | |
| --- | --- |
| | This tour was awarded "Best of the Best" by TripAdvisor in 2023. Reviews from millions of TripAdvisor travelers place this experience in the top 1% of things to do in Italy. |
BOOK NOW
---
Enter the Vatican Museums in the early morning hours

Be amongst the first of the day to visit the Sistine Chapel & Raphael Rooms*

Enjoy a comprehensive tour of the Museums, Sistine Chapel & St. Peter's Basilica*

Get a personalized semi-private tour in a small group of 6

Get an overview of hundreds of years of art history in just one tour
BOOK NOW
Semi-Private tours and experiences are guaranteed six participants max.
Our prices always include tickets and reservations fees (no waiting in lines!)
Our tour guides and staff are selected experts and speak perfect English
Easy to book and prepay your tours with our secure payment system
Eco-sustainable tourism, designed to respect and support local culture, art and traditions
---
Your Semi-Private Early Morning Vatican Tour will begin near the Vatican Museums' entrance. Here you will meet your professional and charismatic tour guide.
The tour will begin with the Pinecone Courtyard and Octagonal Courtyard. Learn about the greatest statues of antiquity. From the mysterious composition of the Greek statue of the Laocoon, to the Apollo Belvedere and the Belvedere Torso, which despite it's ruined state, inspired generations of artists. Then, stop to admire the art and decoration of the Gallery of the Maps and the Gallery of the Tapestries.
Then, onto to the world-renowned Sistine Chapel, Michelangelo's masterpiece. Because this Chapel is the number one attraction inside the Vatican, LivTours believes it is important to give guests the time and space they need to fully appreciate it. Stand in amazement as you gaze onto Michelangelo's awe-inspiring ceiling frescoes. Wonder over the breathtaking "The Last Judgement" before the major surge of crowds.
Your tour will continue by visiting the Raphael Rooms* before it is open to the general public. Guests will be privy to some of the most important works of art in the museum – all without the rush of the usual crowds around them. With your tour guide by your side, you'll learn about the intriguing stories and meaning behind the paintings that adorn the walls of the pope's private apartments.
Once you're done, you'll head directly into St. Peter's Basilica*. This VIP access saves time and allows you to skip-the-line. Once inside, you'll be greeted by the breathtaking space, which is the largest Catholic church in the world. Two of the glorious works of art that you will get to see up close include Michelangelo's Pietà and Bernini's Baldacchino. Before you leave St. Peter's Basilica, your guide will tell you about the Papal Tombs and share how to access the dome of St. Peter's. Conclude your Early Morning Vatican Tour by walking around Piazza San Pietro Square and taking in the grandeur that is St. Peter's.
BOOK NOW
---
Fully guided experience

Pinecone courtyard

Octagonal Courtyard & Belvedere Palace

Muses Room & Belvedere Torso

Lacoon statue

Apollo of the Belvedere statue

Gallery of Candelabra

Gallery of Maps

Gallery of Tapestries

Raphael Rooms*

School of Athens painting

Sistine Chapel

Michelangelo's ceiling

St. Peter's Basilica*

Bernini's bronze altar canopy

St. Peter's square
BOOK NOW
---
*Access to the Raphael Rooms is contingent upon crowd conditions, timing constraints, and guard-regulated routes. Including them may not always be feasible. In these cases, your tour guide will exercise discretion to adjust the itinerary, ensuring a high-quality experience
*St. Peter's Basilica is an active church and can be closed unexpectedly for liturgical ceremonies. If closed, your guide will provide a revised itinerary including more of the Vatican Museums. No compensation is granted in these circumstances.
*Saint Peter's Basilica is closed on most Wednesdays mornings due to the weekly Papal Audience. If you book this tour for a Wednesday the time inside the Vatican Museums will be extended.

Places of worship have strict dress code requirements for entry. All participants are required to have shoulders and knees covered (no tank tops or short dresses) to enter.

Vatican management maintains the right to delay the opening of the Sistine Chapel for religious reasons, in this case the guide will modify the itinerary and extend your visit of the museums to ensure you make the most of your time before access to the Sistine Chapel is permitted.

There is no photography allowed in the Sistine chapel, and all other artwork can only be photographed without flash.

Please be aware that the Sistine Chapel is a Holy Place and talking during your visit inside is strictly forbidden. Therefore your guide will give you an explanation of the Sistine Chapel beforehand to give you a comprehensive understanding before entering the chapel.

Backpacks are not permitted in the Museum.

ABOUT OUR 6 PEOPLE SMALL GROUP POLICY
When you book a LivTours semi-private tour, you are guaranteed one tour guide per group of 6 people. Please bear in mind though that in order to accommodate traveling families and friends, we do on rare occasion make the exception of adding an additional one to two guests in order not to split groups who are traveling together. On that same note, you may find yourself on tour with less than six people. As we accept bookings in multiples of six, math doesn't always work in our favor to help accommodate individual travelers and their families when on the same tour. We hope you understand and apologize for any inconvenience this may cause.
Guests with wheelchair accessibility needs will find difficulty with this small group tour. In order to ensure a barrier-free tour with alternative routes, please book the private version of this tour.
BOOK NOW
---
LivTours' group size of max 6 participants is and always has been based on sustainable travel, and we are proud to be at the forefront of change and innovation in the industry.  LivTours is committed to providing travelers with truly sustainable tours with the lowest possible environmental impact, all while supporting the local industries and people of each unique destination. To learn more about how you can actively support sustainable tourism  and how LivTours is contributing, click here.
BOOK NOW
---
All LivTours Semi-Private Group Tours are limited to 6 guests per tour guide. Our commitment to maintaining our uniquely tiny group sizes can sometimes be a little tricky, mathematically speaking. For example, we want to ensure that traveling families and friends can tour together so on rare occasions we may add one or two guests in order to not split groups. On that same note, you may also find yourself on tour with less than six people! We thank you for your understanding and flexibility.
BOOK NOW
---
Thank you Patrizia
"We really enjoyed Patrizia on our tour this morning. Excellent work, she was aware that I had difficulty hearing her immediately and got me to move closer & asked the people behind to keep back. She shared so much history and information without it feeling like she was lecturing.. I enjoyed her and her tour very much and will happily recommend LivTours to everyone I know."
R. Mac - USA
---
don't hesitate to book this tour
"We couldn't have been happier with our tour at the Vatican. Laura Sensi was our guide. She was very detailed and made it fun and informative. Got so much more out of it than we would have done on our own. Don't hesitate to do this one!"
Nathan P. - USA
---
Great tour, great guide
"We booked the small group tour of the Vatican with LivTours. Luisa was the best guide we have ever had. Her knowledge of the Vatican was fantastic and she made our experience a 10/10."
Sean - Ireland
---
BOOK NOW
---
By selecting Choose Dates Later / Buy as Gift at booking, any tour can be purchased without fixed dates. This is the perfect option if you want to purchase your tour as a gift for a loved one, or if you are in the pre-planning phase of your vacation. After booking, you will receive a Travel Voucher Code and full instructions on how to schedule your tours when ready. Once your travel plans are confirmed, you can easily use the Travel Voucher Code on the LivTours website to formally schedule your tours. You can find out more here.
BOOK NOW