Private Early Morning Vatican Tour
---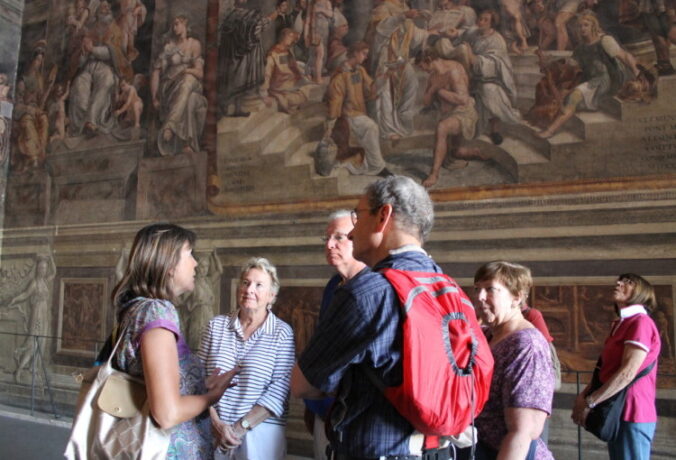 ---
LivTours Private Morning Vatican Tour will allow you to experience real luxury while seeing one of the most exquisite collections of art and antiquities. Enter the breathtaking Vatican Museums in the early morning before the rush of crowds and visit the renowned Sistine Chapel before the major surge of crowds. It is estimated that up to 30,000 people a day may visit the Vatican Museums, the Sistine Chapel, and St. Peter's Basilica*.
This private tour allows you to skip the line and stay a step ahead while making the most of your time. You and your tour guide will enter with skip-the-line access , and your private tour will ensure a stress-free and informative experience.
LivTours is a proud Vatican Museums Collaborator, giving us access to restricted areas such as the Bramante Staircase. This is generally closed off to the public, making it an exclusive add-on ideal for curious tourists.
---
If this tour is unavailable on your dates of travel, we highly recommend the
BOOK NOW
---
Skip-the-lines with direct access into the Vatican Museums

Enter the majestic Sistine Chapel and be amongst the first of the day

Enjoy Vatican highlights with an expert LivTours private tour guide

Witness the great masterpieces of artists like Michelangelo and Raphael

Visit St. Peter's Basilica with VIP entrance and without waiting in line
BOOK NOW
Exclusive private Tours and Experiences. Also offered in Spanish, French, Portuguese, Swedish and Russian
Our prices always include tickets and reservations fees (no waiting in lines!)
Our tour guides and staff are selected experts and speak perfect English
Easy to book and prepay your tours with our secure payment system
Eco-sustainable tourism, designed to respect and support local culture, art and traditions
---
They say the early bird catches the worm and you will see why on this Early Morning Vatican Tour with entry into the museum before the rush of tourists with visits to both the museum's highlights and the Sistine Chapel.
Discover the incredible collection of Roman & Greek Statues that are housed within the museum. Walk through to the heavily decorated Gallery of the Candelabra, enjoy the trompe l'oeil in the Gallery of the Tapestries and learn about the impressive Gallery of the Maps. With your private LivTours guide, you can tailor your visit to include the highlights that interest you the most. You will not only learn the vibrant history of Christianity's most powerful Popes, but will also hear a bit of gossip about the daily lives and lesser-known stories of the men and women behind the Vatican history.
Now, enter into the Sistine Chapel and look up and see one of the most replicated depictions in modern history – the divine hand of God reaching for that of Adam's, in the ever famous depiction of the Creation of Adam. Look straight ahead and you will see Michelangelo's famous fresco of the Last Judgment, as Christ decides the fate of both the damned and blessed. Let yourself be transported back in time or stay ever-present in the splendor that is within these silent walls.
This Private Morning Vatican Tour also features the impressive Raphael Rooms*. The Raphael Rooms, which are made up of 4 rooms, are some of the most precious treasures of the Vatican Palaces. They contain a stunning collection of frescoes painted by the famous painter and his students between 1508 and 1524 for Pope Julius II. Visit the Raphael Rooms and the Sistine Chapel, two of the most important Vatican highlights, before the museum even opens!
Your Early Morning Vatican Tour concludes with VIP entrance directly into St. Peter's Basilica*, the largest Catholic church in the world. As you walk around the Basilica, you will learn the secrets of the magnificent and ornate decorations from your private guide. Visit Michelangelo's "La Pieta" and admire the magnificence of the building. Since your tour ends here, please feel free to stay inside and continue to explore on your own. LivTours recommends exploring the Papal tombs and climbing up to Michelangelo's dome.
UPGRADE YOUR TOUR & UNLOCK A VATICAN SECRET ROOM
LivTours is a proud Vatican Museums Collaborator, which allows us access to hidden rooms of the Vatican which very few visitors get to see.
Guests of the Early Morning Vatican Tour can upgrade to add on a visit to the Bramante Staircase. The Bramante Staircase is one of the most iconic sites of the Vatican Museums, so get your cameras ready! Your private guide will lead you to this Renaissance staircase designed by Donato Bramante for Pope Julius II. Its double-helix formation gives it a stunning visual effect. This is an exclusive secret room, closed off to the general public
BOOK NOW
---
Early Morning Entry into the Vatican Museums

Raphael Rooms*

Sistine Chapel

Pinecone courtyard

Octagonal Courtyard

Muses Room

Round Room

Gallery of the Candelabra

Gallery of Tapestries

Gallery of Maps

Borgia Apartments

Saint Peter's Basilica & Square*
BOOK NOW
---
*Access to the Raphael Rooms is contingent upon crowd conditions, timing constraints, and guard-regulated routes. Including them may not always be feasible. In these cases, your tour guide will exercise discretion to adjust the itinerary, ensuring a high-quality experience
*St. Peter's Basilica is an active church and can be closed unexpectedly for liturgical ceremonies. If closed, your guide will provide a revised itinerary including more of the Vatican Museums. No compensation is granted in these circumstances.
*Saint Peter's Basilica is closed on most Wednesdays mornings due to the weekly Papal Audience. If you book this tour for a Wednesday the time inside the Vatican Museums will be extended.

Offered in: English, French, Spanish, Portuguese, and Italian. Please specify under "Additional notes" if you wish to book the tour in a language other than English.

Places of worship have strict dress code requirements for entry. All participants are required to have shoulders and knees covered (no tank tops or short dresses) to enter.

There is no photography allowed in the Sistine Chapel, but allowed without flash in other areas of the museum.

Please be aware that the Sistine Chapel is a Holy Place and talking during your visit inside is strictly forbidden. This tour will begin with the first 30 minutes of the tour held outside of the Vatican Museums in order to give you a comprehensive explanation before entering the chapel.

Backpacks are not permitted in the Museum.
BOOK NOW
---
LivTours' group size of max 6 participants is and always has been based on sustainable travel, and we are proud to be at the forefront of change and innovation in the industry.  LivTours is committed to providing travelers with truly sustainable tours with the lowest possible environmental impact, all while supporting the local industries and people of each unique destination. To learn more about how you can actively support sustainable tourism  and how LivTours is contributing, click here.
BOOK NOW
---
When you book a LivTours Private Tour or Experience, you are guaranteed a dedicated, expert guide that allows you the flexibility to start your tour at a time which is convenient for you, making planning easy. Our private tours ensure that you will get a tailored experience to meet all your needs so we go at your pace, perfect for families with younger children, elderly, or individuals with accessibility needs. Please be advised that all private tours begin at a base price starting at two people*. Prices are inclusive of entry tickets where applicable. *Some Ferrari private experiences are inclusive of one person only.
BOOK NOW
---
Make your day even more unique and comfortable by upgrading your tour with a customizable LivTours optional add on!
Add VIP Visit to the Bramante Staircase
375 €
652.50 A$
348.75 £
442.50 $
One Way Pick-Up Transfer Service
85 €
147.90 A$
79.05 £
100.30 $
BOOK NOW
---
Wonderful Vatican tour
"We were really satisfied with this tour and our guide Massimo was really great! I would do this tour anytime again and we will also recommend it to all our friends and family. Thank you LivItaly!"
Nicole - USA
---
Perfect Vatican tour
"An excellent tour. Davide was just great, super knowledgeable, warm, and ran the tour at a great pace. Definitely 5+ stars!"
Degan - UK
---
Excellent private tour
"We booked a private Vatican tour with Franco. We began quite early and Franco took us quickly through several exhibits so that we arrived in the Sistine Chapel ahead of the mobs! In fact, we could even SIT DOWN on the side benches and marvel at the artwork without hassle. By mid-morning, the crowds were so thick you could barely move, but we had already seen most of what needs to be seen, and arrived at St. Peter's by late morning, before the heavy crowding caught up! Franco's knowledge was phenomenal, and he guided us expertly throughout. The tour was a little over 3 hours, and he made sure that our physical limitations were considered to maximize our visit. He dealt with the challenge of the crowds marvelously! This tour couldn't have been better - we recommend LivItaly without reservation."
Kelly A. - USA
---
BOOK NOW
---
By selecting Choose Dates Later / Buy as Gift at booking, any tour can be purchased without fixed dates. This is the perfect option if you want to purchase your tour as a gift for a loved one, or if you are in the pre-planning phase of your vacation. After booking, you will receive a Travel Voucher Code and full instructions on how to schedule your tours when ready. Once your travel plans are confirmed, you can easily use the Travel Voucher Code on the LivTours website to formally schedule your tours. You can find out more here.
BOOK NOW