Private Vatican Breakfast Tour | VIP Experience
---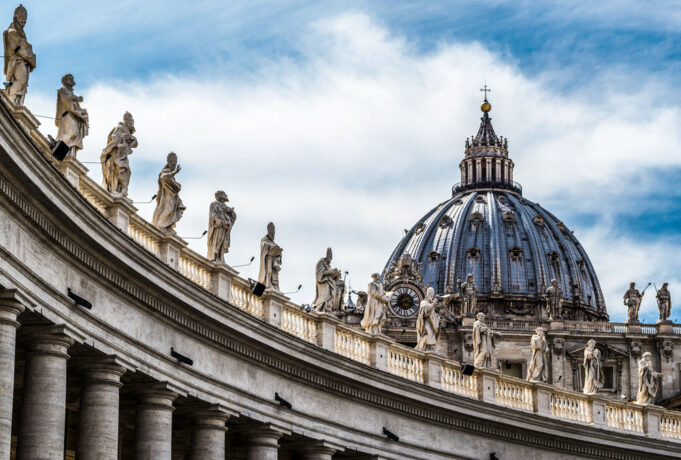 ---
Enjoy the most important meal of the day in one of the most important places in Rome, the Vatican Museums. LivTour's Private Vatican Breakfast Tour begins with exclusive VIP direct entrance into the Vatican Museums even before they have opened to the general public! This service is only reserved for Vatican Silver Level Collaborators like LivTours, giving you VIP service and access to start your day in style.
After entering, your experienced tour guide will escort you to the Pinecone Courtyard, aptly named after the 4-meter tall bronze pine statue which once stood beside the Pantheon from Ancient Rome.  LivTour's VIP access allows you to enjoy the serenity of the early morning and the silence of the courtyard while enjoying your papal buffet breakfast with some treats made exclusively for the Vatican, which you can find nowhere else! The breakfast includes morning favorites such as eggs, pancakes, Italian pastries, cappuccino and much more. The luxury of VIP access allows you to avoid the crowds of the 20,000 daily visitors.
BOOK NOW
---
Savor a VIP buffet breakfast in the Vatican Pinecone Courtyard with no crowds

Enjoy exclusive direct access into the Vatican with skip-the-line entrance tickets

Experience Vatican highlights with an expert dedictaed private guide at your side

See famous works of art by Michelangelo, Raphael and other great Italian artists

Marvel at Michelangelo's Sistine Chapel - one of Rome's most enchanting highlights
BOOK NOW
Exclusive private Tours and Experiences. Also offered in Spanish, French, Portuguese, Swedish and Russian
Our prices always include tickets and reservations fees (no waiting in lines!)
Our tour guides and staff are selected experts and speak perfect English
Easy to book and prepay your tours with our secure payment system
Eco-sustainable tourism, designed to respect and support local culture, art and traditions
---
Your Private Vatican Breakfast Tour with meeting your expert tour guide who will facilitate direct access to the museums and take you through a quick security check.  Along with your private guide, you will make your way to the Pinecone courtyard where you will be seated to enjoy a scrumptious breakfast buffet. As you savor your cappuccino, you can enjoy a hearty selection of farm to table dairy products – coming directly from the papal livestock!  Surprisingly these products, produced on papal estate farms, are exclusive to Vatican City and cannot be found elsewhere.
After an enjoyable and unforgettable breakfast, your private guide will take you on a complete tour of the Vatican Museums. Your tour will include all of the Vatican highlights and a few added extras. The Vatican Museums is the fifth largest museum in the world, so there is a lot to see, which is why LivItaly curates our tours in a way that you see the best of what this art and history museum has to offer.
In the Courtyard of Statues, you will see the celebrated 15th-century state of Belvedere Torso, considered to have the perfect form, and artists have used it for centuries as inspiration, even Michelangelo!  The tragic story of the city of Troy is depicted in the masterpiece statue of Laocoön.  As your expert guide leads you past other Vatican treasures, such as Emperor Nero's lavish bath which was once housed in the Golden Palace. Your LivTours guide will also share with you the wonders of the Gallery of the Candelabra, Gallery of Tapestries, and the renowned Gallery of Maps – a Renaissance version of Google Maps.
Of course, no visit to the Vatican would be complete without visiting the Raphael Rooms, part of the papal apartments of Pope Julius II. Enjoy the elegant Raphael frescoes that have been recently restored.
Now it is on to the admire the fresco which took Michelangelo four years to finish, the Sistine Chapel. This was once a private chapel, close to the size of a standard basketball court, it can very easily fill up with travelers who have come to experience the beauty of this majestic work in person. Your private guide will explain to you how Michelangelo's passion for sculpting influenced his painting, leaving us with the depiction of the human form in a new three dimensional way.
Lastly, it is on to visit the largest Catholic church in the world, Saint Peter's Basilica. One of the most important landmarks for Christians, the burial site of one of Jesus' apostles and the keeper of the keys to Heaven, Saint Peter. Your private guide will share with you the awe-inspiring works of art such as Michelangelo's sculpture of the Pieta and Bernini's Baldacchino Altar canopy made of solid bronze. Before leaving, your guide will tell you about the Papal Tombs and give you instructions for climbing to the to of the Dome if you wish to do so after the tour.
BOOK NOW
---
Early Vatican entrance tickets

Delicious breakfast buffet

Fully guided experience

Pinecone courtyard

Raphael Rooms

Sistine Chapel

Octagonal Courtyard

Muses Room

Round Room

Gallery of the Candelabra

Gallery of Tapestries

Gallery of Maps

Borgia Apartments

Saint Peter's Basilica & Square
BOOK NOW
---
Places of worship have strict dress code requirements for entry. All participants are required to have shoulders and knees covered (no tank tops or short dresses) to enter.

There is no flash photography inside the museums, and no photography allowed inside the Sistine Chapel.

St. Peter's Basilica is an active church and can be closed unexpectedly for liturgical ceremonies. If closed, the time inside the Vatican Museums will be extended.

Please be aware that the Sistine Chapel is a Holy Place and talking during your visit inside is strictly forbidden, therefore your guide will give you an explanation of the Sistine Chapel beforehand during your tour, in order to give you a comprehensive explanation before entering the chapel.

Backpacks are not permitted in the Museum.

Guests with wheelchair accessibility needs will find difficulty with this itinerary proposed in this tour. In order to ensure a barrier-free tour with alternative routes, please book the private version of this tour.

LivTours is proud of our collaboration with the Vatican Museums, which allows us access one entire hour before the museums are open to the general public. We are however aware that the Vatican Museums are selling at maximum capacity to accommodate an extremely high demand in what is already high season. We have absolutely no control or insight into the number of collaborations the Vatican Museums deals with nor how many people it chooses to give early entrance to. Access into the museums a full hour before entry during high season is nevertheless highly recommended considering the immeasurable crowd sizes admitted once the doors open to the public.
BOOK NOW
---
LivTours' group size of max 6 participants is and always has been based on sustainable travel, and we are proud to be at the forefront of change and innovation in the industry.  LivTours is committed to providing travelers with truly sustainable tours with the lowest possible environmental impact, all while supporting the local industries and people of each unique destination. To learn more about how you can actively support sustainable tourism  and how LivTours is contributing, click here.
BOOK NOW
---
When you book a LivTours Private Tour or Experience, you are guaranteed a dedicated, expert guide that allows you the flexibility to start your tour at a time which is convenient for you, making planning easy. Our private tours ensure that you will get a tailored experience to meet all your needs so we go at your pace, perfect for families with younger children, elderly, or individuals with accessibility needs. Please be advised that all private tours begin at a base price starting at two people*. Prices are inclusive of entry tickets where applicable. *Some Ferrari private experiences are inclusive of one person only.
BOOK NOW
---
Make your day even more unique and comfortable by upgrading your tour with a customizable LivTours optional add on!
Add VIP visit to Cabinet of the Masks
Add VIP Visit to the Bramante Staircase
One Way Pick-Up Transfer Service
BOOK NOW
---
Excellent Vatican tour
"We truly enjoyed our tour at the Vatican with Nadia! Her emmense knowledge was shared so well, and we were so appreciated of her help to truly take in what we were seeing. Her pace was perfect, not rushed, as there is so much to absorb! Wonderful experience! We will absolutely recommend LivTours for others we know looking for good tours to take when in Rome."
Tracey - Canada
---
Breakfast tour
"Emma was great and we really enjoyed her tour at the Vatican! We have recommended LivTours to our friends who will be in Rome in May. Emma was an excellent representative of your company"
Greg G. - USA
---
Thanks LivTours!
"We took four wonderful tours from your company during our visit to Rome in September. We started with a great tour of the Colosseum and Roman Forum that would have been hard to beat, it was so much fun. After that, we took a tour of Ostia Antica, the Borghese Gallery, and our favorite tour of all, a private tour of the Vatican with breakfast. I very much wanted to leave an exceptional review for our Vatican tour guide, Luca, who is an absolutely fabulous tour guide. We travel quite regularly, and all four of us felt he was one of the best guides we've ever had. Super friendly and kind, knowledgeable and passionate about the subject, and just a pleasure to tour with. I will recommend LivItaly Tours to anyone looking for an exceptional tour company. Thank you again! "
Karen Barber - USA
---
BOOK NOW
---
By selecting Choose Dates Later / Buy as Gift at booking, any tour can be purchased without fixed dates. This is the perfect option if you want to purchase your tour as a gift for a loved one, or if you are in the pre-planning phase of your vacation. After booking, you will receive a Travel Voucher Code and full instructions on how to schedule your tours when ready. Once your travel plans are confirmed, you can easily use the Travel Voucher Code on the LivTours website to formally schedule your tours. You can find out more here.
BOOK NOW