Semi-Private Barcelona Walking Tour | City Highlights
---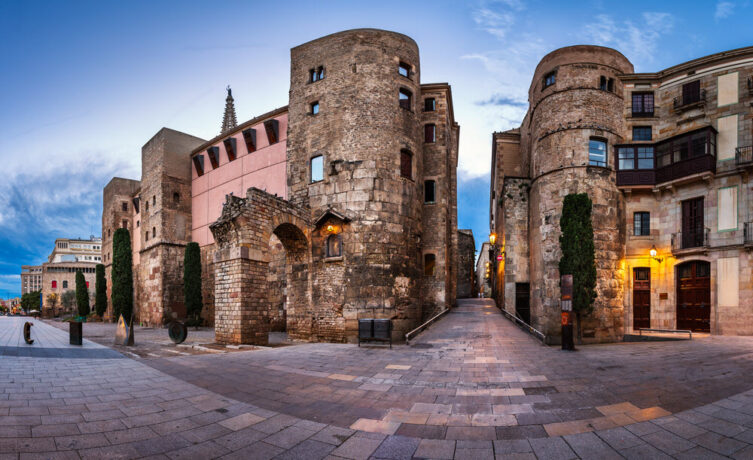 ---
LivTours Semi-Private Barcelona Walking Tour will take you through the winding labyrinth of streets and hidden squares steeped in history from Roman ruins to Medieval buildings, all with a thousand stories to tell. Started by the Romans over 2,000 years ago, this neighborhood is also home to Barcelona's former Jewish quarter – one of the largest in Europe! This neighborhood has always been the religious and governmental epicenter of daily life for the inhabitants of Barcelona.
Get your cameras ready to explore the picturesque streets as your expert guide brings this must-see district alive with LivTours' lively, knowledgeable walking tour of this district. Your Barcelona Walking Tour will end by savoring the local pastry of churros dipped in rich hot chocolate. Come and experience old Barcelona with its rich history on this exclusive small group tour!
BOOK NOW
---
Enjoy a stroll through history-filled Medieval streets in a small 6 person group

Savor Spain's most famous sweet treat of freshly made churros & hot chocolate

Marvel at the architectural wonders left by the Romans that we still enjoy today

Immerse yourself in the history of ancient façades with your expert guide

Learn of the origins of Barcelona on this expertly led city center tour
BOOK NOW
Semi-Private tours and experiences are guaranteed six participants max.
Our prices always include tickets and reservations fees (no waiting in lines!)
Our tour guides and staff are selected experts and speak perfect English
Easy to book and prepay your tours with our secure payment system
Eco-sustainable tourism, designed to respect and support local culture, art and traditions
---
Your LivTours Barcelona Walking Tour starts in the heart of the city center with the 12th Century Cathedral of Barcelona as the backdrop. This district, known as the Gothic Quarter, is one of three neighborhoods in the city's Old Town, referred to locally as the Ciutat Vella. A stroll through this neighborhood is like walking through a pop-up history book!
Along with your small group of six, you will start off your tour by admiring a mural designed by the city's adopted artist, Pablo Picasso. Created in the 1960s, these three enormous murals are unique depictions of the typical traditions of this region. From there you and your small group will set off to explore the charming, narrow streets and hidden squares while your expert guide shares colorful stories of the district's history, as you are transported back in time along its cobblestone streets.
One of your next stops is the heart of Barcelona's former Jewish Quarter and home to one of Europe's oldest synagogues, nowadays a museum where you will learn about the history of this thriving, tight-knit community for 700 years before the Papal Inquisition of 1391. Navigating the tangled web of history-rich streets in the company of your local guide allows you to see all the highlights easily; allowing you to make the most of your time in Barcelona.
Just a stone's throw away is the charming Plaza Sant Felip Neri,  a hidden gem of calm in the bustling quarter, where you will hear the story of how a medieval Baroque-style church survived the bombings of the Spanish Civil War. The war has helped shape Spain's current style of government and constitution which was only written in the 1970s.
Next, your local guide will lead you through the streets to Plaza Sant Jaume, the heart of the city and state government whose majestic buildings flank this open square.  Once the heart of the Roman settlement, Barcino, which later became known as Barcelona.  Just around the corner is the Temple of Augustus, built during the time of the Ancient Roman Emperor of the same name. Stretching 30 feet into the air, these columns are as old as the city itself and were part of the Roman Forum.
Before enjoying the delicious treat of churros and chocolate with your guide, you will explore the city's amazing Gothic architecture of Barcelona's Cathedral with its soaring arched ceiling and colorful stained glass windows.  Before leaving, you will have a chance to experience an oasis of green calm in the cloister courtyard, host to 13 white geese in honor of Barcelona's former patron saint, Saint Eulalia before stopping at Plaza del Rei, the square dedicated to King Ferdinand and Queen Isabel and where they met Christopher Columbus after the first of his three voyages to the New World under the Spanish flag.
BOOK NOW
---
Guided tour of historic gothic quater

Cathedral of Barcelona

Plaza del Rei

The Gothic Quarter

Plaza Sant Felip Neri

Plaza Sant Jaume

Temple of Augustus

Churros and chocolate
BOOK NOW
---
No entry tickets are included in this tour.

Comfortable walking shoes recommended.

Places of worship have strict dress code requirements for entry. All participants are required to have shoulders and knees covered (no tank tops or short dresses) to enter.

Due to these unprecedented times and ongoing safety and regulation changes, some sites may have limited accessibility if the venue can not guarantee social distancing which may lead to unforeseen tour modifications. Thank you for your understanding.
LivTours' group size of max 6 participants is and always has been based on sustainable travel and especially in these new times, we are proud to be at the forefront of the innovation, changes, and challenges that are presented to us during this post-pandemic time. At the moment, due to COVID-19 safety regulations, the museums and sites visited on this tour require wearing a mask while on the site. Please bring one for every participant over 6 years of age.
BOOK NOW
---
All LivTours Semi-Private Group Tours are limited to 6 guests per tour guide. Our commitment to maintaining our uniquely tiny group sizes can sometimes be a little tricky, mathematically speaking. For example, we want to ensure that traveling families and friends can tour together so on rare occasions we may add one or two guests in order to not split groups. On that same note, you may also find yourself on tour with less than six people! We thank you for your understanding and flexibility.
BOOK NOW
---
Covid-19
All of our tours and experiences are in compliance with the latest local Covid-19 safety protocols. More information can be found in the voucher you will receive upon booking your tour/s.
---
BOOK NOW
---
LivTours walking tour in Barcelona
"Great tour - fascinating architecture and history - enjoyable guide - not too strenuous walk."
Petra - Germany
---
Great to be in a small group tour!
"We chose LivTours because they came so highly recommended and because they offered small group tours. The walking tour we booked in Barcelona was precisely what we were hoping it would be. A great way to get a "feel" for the city, a comfortable and relaxed stroll with a super-intelligent and entertaining guide and to be in a small group (ours was only 5 people) so that we could get that personalized attention, ask all the questions we wanted and have a chance to meet new people. We will definitely book other LivTours tours whenever we visit the cities that they service!"
Billy - USA
---
Excellent introduction to Barcelona
"This was our family's first visit to Barcelona. We booked the walking tour and were very happy that we did. The guide Jorge was very friendly and knowledgeable about the city and shared wonderful facts, stories and insights as we strolled through the various sites. He was very good with our teenagers and kept them interested and entertained throughout the tour. This tour helped us to see which places we wanted to come back to later to explore on our own. It provided us with a great introduction to the city and gave us lots of background information which we refered to throughout the rest of our stay in Barcelona. Highly recommend."
Tyler - USA
---
BOOK NOW