Private Walking Tour of Barcelona | City Highlights
---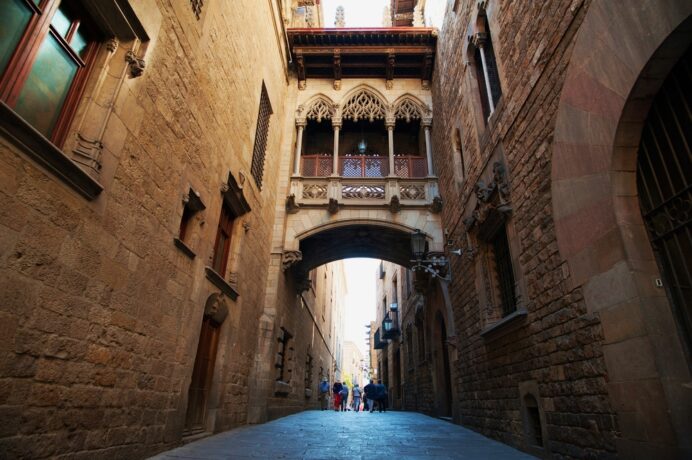 ---
LivTours Private Walking Tour of Barcelona takes you back in time through Barcelona's most historic district.  Your private expert guide will entertain you with stories and anecdotes from the past as you explore the narrow cobbled stone streets and hidden squares. This two hour morning tour is a great way to start your day and your time in Barcelona as it gives you insights into the start of this vibrant port city. During your tour, your local guide will make sure you explore Roman ruins, Medieval buildings, and walk on the roof of a 12th-century church offering amazing views across the city! Barcelona was originally founded by the Romans over 2,000 years ago, leaving behind fascinating history.
The Gothic Quarter is also home to Barcelona's former Jewish quarter which was one of the largest Jewish communities in Europe and hosts the Antique Synagogue. The Gothic Quarter has always been the religious – both Jewish and Christian – and governmental epicenter of daily life for the inhabitants of Barcelona. In the company of your private guide, you will explore the charming, history-filled streets hearing the stories behind the facades in a district with a thousand stories to tell. Come experience the oldest district in Barcelona on this exclusive private tour!
BOOK NOW
---
Marvel at the architectural wonders from past to present, from Roman times to now

Learn the millennial old history of Barcelona on this expertly led city center tour

Ask your guide as many questions as you like on your Private Barcelona Tour

Soak up the history of this Medieval quarter's ancient façades & structures
BOOK NOW
Exclusive private Tours and Experiences. Also offered in Spanish, French, Portuguese, Swedish and Russian
Our prices always include tickets and reservations fees (no waiting in lines!)
Our tour guides and staff are selected experts and speak perfect English
Easy to book and prepay your tours with our secure payment system
Eco-sustainable tourism, designed to respect and support local culture, art and traditions
---
Your LivTours Private Walking Tour of Barcelona begins with the impressive 12th Century gothic Cathedral of Barcelona as the backdrop. Set in the heart of this picture book neighborhood, this area is known as the Gothic Quarter. Set in the core of what locals refer to as the Ciutat Vella, Old Town. The Old Town was all that existed of Barcelona until the 1860s when the city tore down the city walls and expanded, building the Eixample district.  Managing the maze of history-rich streets in the company of a local private guide means a hassle-free morning and allows you to make the most of your time in Barcelona.
Your private tour starts by admiring a mural created in the 1960s that adorns the headquarters for Catalan architects and was designed by the city's adopted artist, Pablo Picasso. Three larger than life murals that depict everyday Catalan life. Your guide will share with you all the details about how Picasso almost missed his chance to participate in this project! Turn 180 degrees and you will be faced with some of the city's most well preserved Roman ruins. Your guide will take you for a closer look and explain these incredible feats of engineering that have been standing for over 2,000 years.
Next, it is off to discover the Gothic architecture of the city's cathedral with its soaring arched ceiling and colorful stained glass windows. You will take an elevator to the rooftop which offers the most jaw-dropping views of the city from mountains to sea! Before leaving your guide will take you to an oasis of green calm in the cloistered courtyard, which hosts 13 white geese. Your guide will explain the history of the 13 geese as you stroll around the 12th-century cloister.
Just next door is the Plaza del Rei, dedicated to what is considered the first king and queen of Spain, Queen Isabella and King Ferdinand. Barcelona was originally the capital of Ferdinand's expansive kingdom that controlled most of the western Mediterranean. Queen Isabella's kingdom was all land and not trading routes until she funded Christopher Columbus' voyages to the Americas in the late 1400s.  Enjoy a visit to their palace where the agreements with Christopher Columbus are now kept.
In the very heart of this quarter lies Barcelona's former Jewish Quarter. This tight-knit community existed for 700 years before the Papal and Spanish inquisitions. Exploring this neighborhood with a guide is essential to understanding the myriad of stories and history behind one of Europe's oldest synagogues.
A short stroll will take you to Plaza Sant Felip Neri. This charming square has a darker history as it was one of the many sites of Civil War bombings across Barcelona. You will see the medieval Baroque-style church that survived the bombings and understand how the war influenced Spain's current style of government and constitution; which was only written and signed in 1978!
Then it is off to Plaza Sant Jaume, where the Roman forum was thought to be. This bustling square is the heart of the city and state government whose elegant buildings flank this open square.  Down a small side street, your private guide will lead you to the Temple of Augustus. These columns rocket 30 feet in the air and were the columns of the main building in any Roman town, the Temple. Built during the times of the Ancient Roman Emperor.
BOOK NOW
---
Guided tour of historic gothic quater

Tickets to Cathedral of Barcelona

Plaza del Rei

The Gothic Quarter

Plaza Sant Felip Neri

Plaza Sant Jaume

Temple of Augustus
BOOK NOW
---
Offered in: English, French, Spanish, Portuguese, and Italian. Please specify under "Additional notes" if you wish to book the tour in a language other than English.



Comfortable walking shoes recommended.


Places of worship have strict dress code requirements for entry. All participants are required to have shoulders and knees covered (no tank tops or short dresses) to enter.
BOOK NOW
---
LivTours' group size of max 6 participants is and always has been based on sustainable travel, and we are proud to be at the forefront of change and innovation in the industry.  LivTours is committed to providing travelers with truly sustainable tours with the lowest possible environmental impact, all while supporting the local industries and people of each unique destination. To learn more about how you can actively support sustainable tourism  and how LivTours is contributing, click here.
BOOK NOW
---
When you book a LivTours Private Tour or Experience, you are guaranteed a dedicated, expert guide that allows you the flexibility to start your tour at a time which is convenient for you, making planning easy. Our private tours ensure that you will get a tailored experience to meet all your needs so we go at your pace, perfect for families with younger children, elderly, or individuals with accessibility needs. Please be advised that all private tours begin at a base price starting at two people*. Prices are inclusive of entry tickets where applicable. *Some Ferrari private experiences are inclusive of one person only.
BOOK NOW
---
Make your day even more unique and comfortable by upgrading your tour with a customizable LivTours optional add on!
90 €
156.60 A$
83.70 £
106.20 $
BOOK NOW
---
Highly recommend
"We are happy to give this walking tour of Barcelona the full 5 star rating! We felt the tour was well paced, covered all of the highlights and included an expert guide who we thoroughly enjoyed getting to know. Customer service was prompt and friendly. We definitely recommend this tour AND this tour company."
Kennith - USA
---
Perfect tour
"With just a day available to see Barcelona, this walking tour of the city was perfect for us. Our guide, Maria, was very enjoyable and made the entire tour a complete pleasure. She molded the tour to our interests and our necessities and was always very accommodating and friendly and easy to understand. There is alot of walking but you get a much better "feel" of the city and its people this way."
Joyce and Jack - USA
---
Very satisfying and enjoyable
"We strongly recommend LivSpain's walking tour of Barcelona. It is well organized and set at a relaxed pace. Our guide Jorge was a wonderful guide and very attentive to our particular needs and comfort. The tour felt like it had flown by but, at the same time, we saw all of the most important places in the city. "
Wyatt - Belgium
---
BOOK NOW
---
By selecting Choose Dates Later / Buy as Gift at booking, any tour can be purchased without fixed dates. This is the perfect option if you want to purchase your tour as a gift for a loved one, or if you are in the pre-planning phase of your vacation. After booking, you will receive a Travel Voucher Code and full instructions on how to schedule your tours when ready. Once your travel plans are confirmed, you can easily use the Travel Voucher Code on the LivTours website to formally schedule your tours. You can find out more here.
BOOK NOW