Express Early Viewing Sistine Chapel Tour | Semi-Private
---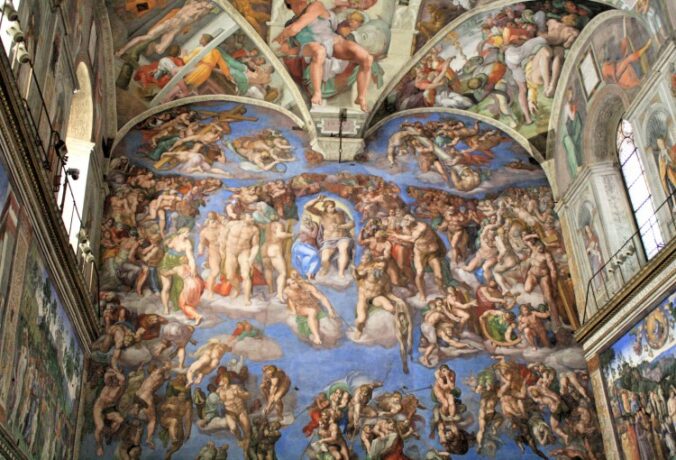 ---
2022 NEWS:
Thanks to a very special and profound partnership signed by LivItaly Tours LLC (LivTours) and the Vatican Museums for 2022, we are proud to offer clients a very unique and exclusive 8AM first entry into the Museums' doors, guaranteed to be reserved only to a handful of other collaborating tour operators. This special entry and tour are designed to guarantee you access and viewing of the Raphael Rooms and the Sistine Chapel 30 minutes before other operators and one hour before the general public. We are proud to be able to serve such impressive and extraordinary experience and share it with our clients.
---
LivTours Early Viewing Sistine Chapel Tour is designed for travelers looking to make the most of their time in Rome with LivTours' special priority access that allows you to get ahead of the crowds and enjoy Raphael's frescoes and Michelangelo's Sistine Chapel bright and early in the morning. Guests will go directly to the apartments of Julius II and Michelangelo's Sistine Chapel, bypassing the Vatican Museums.
This early morning tour is an ideal way to see the Sistine Chapel before the general public is allowed into the museums. You and your semi-private group of no more than six travelers will be given direct access to the holy Apostolic Palace a full hour before it is opens to the public, that means no waiting in lines or practicing your dance moves to get a good view of Michelangelo's masterpiece!
Enjoy the privilege of taking a tour with one of the Museums' partners.
BOOK NOW
---
Admire Michelangelo's masterpiece, the Sistine Chapel, in the soft morning light

Appreciate an intimate experience in a semi-private tour of no more than 6 people

Get exclusive skip the line access into the museums before general public entry

Get intimate with Raphael's frescoes before the crowds

Enjoy exclusive access to the Sistine Chapel one hour ahead of the crowds
BOOK NOW
Semi-Private tours and experiences are guaranteed six participants max.
Our prices always include tickets and reservations fees (no waiting in lines!)
Our tour guides and staff are selected experts and speak perfect English
Easy to book and prepay your tours with our secure payment system
Eco-sustainable tourism, designed to respect and support local culture, art and traditions
---
Your LivTours guide will meet you and your semi-private group by the entrance to the Vatican Museums. Your tour will start with a taste of Michelangelo Buonarroti's background and will tell you how a sculptor from Florence ended up being commissioned to paint a fresco for Pope Julius II, a notoriously difficult pope. Your guide will tell you stories of how Michelangelo considered himself more of a sculptor than a painter, and had little desire to paint what is now considered a Renaissance masterpiece – the Sistine Chapel.
Now on the move, your expert guide will take you directly to Raphael Rooms and the Sistine Chapel without making any stops in the museums. The tour is designed to take you straight to these masterpieces Sistine Chapel that attract over 25,000 visitors a day!
Thanks to this experience you will be able to get up close to Raphael frescoes, enjoy its beauty and newly remodeled paintings and appreciate the intimacy of his work.
Once inside the small chapel, with only a few other partners tour groups around you, fully enjoy the detailed intellectual and emotional depictions as the soft morning light seeps through the windows. Michelangelo chose some of the most prominent stories to tell from the Book of Genesis such as the famous The Flood, the Creation of Adam, and The Fall. Looking straight ahead and you will see the stunning portrayal of The Last Judgement, where Christ is surrounded by sinners and believers. The Sistine Chapel covering over 8,000 square feet of the ceiling was never meant to be an ordinary fresco, but a religious and political statement of the times, leaving us with an incredibly intricate view of the Renaissance world.
After your Early Viewing Sistine Chapel Tour you have the possibility to continue through the Museums' galleries on your own or head over to Saint Peter's Basilica: one of the largest Christian churches in the world. Visit the Basilica at your own leisure and enjoy the extraordinary 96-foot tall bronze canopy over the High Altar design by Gian Lorenzo Bernini which is used during papal mass. Don't miss the pristine sculpture of the Virgin Mary holding Christ's lifeless body in Michelangelo's La Pietà, The Pity, sculpture.
While you are inside on your own, take a moment to look skywards to the dome, designed by Michelangelo, and has given Rome its signature skyline. Once your tour is over, feel free to continue exploring St Peter's Basilica or the top of Michelangelo's Dome!
Having come this far to see one of the world's greatest works of art, so do your tour right with LivTours and allow all our expertise, knowledge, and timing make your visit to this capital city great!
BOOK NOW
---
Early entry into the Vatican Museums

Walk through Galleries

Raphael Rooms (before the crowds)

Sistine Chapel (before the crowds)
BOOK NOW
---
Places of worship have strict dress code requirements for entry. All participants are required to have shoulders and knees covered (no tank tops or short dresses) to enter.

There is no photography is allowed inside the Sistine Chapel.

Please be aware that the Sistine Chapel is a Holy Place and talking during your visit inside is strictly forbidden, therefore your guide will give you an explanation of the Sistine Chapel beforehand during your tour, in order to give you a comprehensive explanation before entering the chapel.

Backpacks are not permitted in the Museum.

Guests with wheelchair accessibility needs will find difficulty with this small group tour. In order to ensure a barrier-free tour with alternative routes, please book the private version of this tour.

LivTours is proud of our collaboration with the Vatican Museums, which allows us to access one entire hour before the museums are open to the general public and 30 minutes before other tour operators.
BOOK NOW
---
All LivTours Semi-Private Group Tours are limited to 6 guests per tour guide. Our commitment to maintaining our uniquely tiny group sizes can sometimes be a little tricky, mathematically speaking. For example, we want to ensure that traveling families and friends can tour together so on rare occasions we may add one or two guests in order to not split groups. On that same note, you may also find yourself on tour with less than six people! We thank you for your understanding and flexibility.
BOOK NOW
---
This tour was perfect for us
"We didn't have much time at our disposal but we just couldn't miss the Sistine Chapel while in Rome. This tour was perfect for us and answered all our needs (timewise) and desires. Our guide was very expert with perfect English. We were in a group of only 4 people and the morning access gave us an incredible opportunity to see the Chapel without the crowds and to be able to stay and admire as long as our hearts desired! If you can't do the whole 3+ hour Vatican tour, you won't go wrong with this one!"
Bernard - Germany
---
Sistine Chapel
"We didn't have enough time for a long visit to the Vatican museum but didn't want to miss the opportunity to see the Sistine Chapel so chose this tour. We had a wonderful tour guide who delivered an informative and interesting experience. It was precisely what we were looking for. Would definitely refer people to use this company and Davide specifically."
Miranda - UK
---
Small group's the best
"Great tour especially since we had only limited time in Rome. Alessandro was very knowledgable and lots of fun. Loved the small group. Would definitely recommended to anyone."
Quentin - UK
---
BOOK NOW
---
By selecting BUY AS A GIFT, you can purchase this tour as a gift for someone you care for. You will receive a gift card voucher that then can be redeemed by the person/people who will enjoy the tour.Date and Time are values that cannot be selected at the moment. You will in fact receive a gift card voucher with instructions on how to redeem the tour and then select date and time.You can create a shopping cart with multiple tours as gift cards. You may not compose a shopping cart of gift cards and actual tours with date and time.This option can also be used as an opportunity to book a tour open-dated for yourself, in case you are still in the pre-planning phase of your trip.For more information please read here.
BOOK NOW