Express Early Sistine Chapel Private Tour
---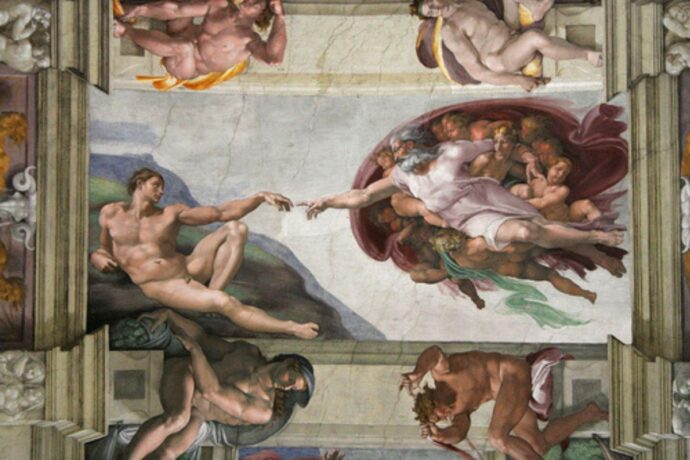 ---
Thanks to a very special collaborative agreement between LivTours and the Vatican Museums, our clients have access to an exclusive 8AM first entry into the Museums.
Reserved for only a select number of other tour operators, this privileged entry guarantees you access to the Raphael Rooms and the Sistine Chapel before the general public and before other tour operators. This extraordinary experience is not to be missed! 
---
LivTours Express Early Sistine Chapel Tour takes you into the Vatican Museums, Michelangelo's Sistine Chapel, and Raphael's Julius II Apartments an entire hour before it opens to the general public and 30 minutes before other tour operators. This allows you to enjoy your tour in maximum comfort with less crowds.
Enjoy the morning light streaming through the chapel windows, gently illuminating the frescoes and bringing out the lush color palette used by Michelangelo. Seeing the Sistine Chapel is a once in a lifetime experience—seeing it with the Raphael Rooms early in the morning is an exceptional experience.  Your private expert guide will share with you anecdotes and stories which give meaning to works of art that have shaped countless interpretations over the past five centuries.
You have come this far to see one of the world's greatest works of art, so maximize your time in Rome by letting LivTours guide you!
BOOK NOW
---
Admire the more than 8,000 square feet of Sistine Chapel painted by Michelangelo

Enjoy early priority access into the Sistine Chapel. No lines. No wait.

Marvel at Raphael's frescos of the Apartments of Julius II

Explore Michelangelo's awe-inspiring Sistine Chapel with a private expert guide
BOOK NOW
Exclusive private Tours and Experiences. Also offered in Spanish, French, Portuguese, Swedish and Russian
Our prices always include tickets and reservations fees (no waiting in lines!)
Our tour guides and staff are selected experts and speak perfect English
Easy to book and prepay your tours with our secure payment system
Eco-sustainable tourism, designed to respect and support local culture, art and traditions
---
Your LivTours Express Early Sistine Chapel Tour starts in front of the Vatican Museums where you will be greeted by your private expert guide. Your tour starts immediately with a look into the life and genius of Michelangelo Buonarroti, the mastermind behind the Sistine Chapel ceiling frescoes.  You will even learn why this world renown fresco almost wasn't painted!
Once inside the Museums, you will be given a brief tour of the collection. You will then make your way to the Raphael Rooms and the Sistine Chapel, where you will marvel at Raphael and Michelangelo's works an hour before the general public. Spanning just over 8611 square feet, the realistic depictions of important Biblical stories include the Creation of Adam, Original Sin, The Flood, The Last Judgement, and the second coming of Christ.
Afterwards, enjoy the apartments of Julius II and admire the marvelous fresco work; get close to the paintings and fully appreciate the intimacy of this work.
Once you are ready to move on from the Sistine Chapel,  we encourage you to go on your own to St. Peter's Basilica.  This Renaissance church's highlights include the 95 foot tall bronze decorative canopy which stands over the Papal Altar above St. Peter's tomb.  Another masterpiece you will not want to miss is Michelangelo's only signed work La Pieta, made from Carrara marble.  Known for its pristine beauty and portrayal of a suffering mother holding her deceased child – Jesus Christ – this piece is sure to move you.
BOOK NOW
---
Offered in: English, French, Spanish, Portuguese, and Italian. Please specify under "Additional notes" if you wish to book the tour in a language other than English.

LivTours is proud of our collaboration with the Vatican Museums, which allows us access one entire hour before the museums are open to the general public and 30 minutes before other tour operators. 

Vatican management maintains the right to delay the opening of the Sistine Chapel for religious reasons, in this case the guide will modify the itinerary and extend your visit of the museums to ensure you make the most of your time before access to the Sistine Chapel is permitted.
No photography is allowed inside the Sistine Chapel.
The Sistine Chapel is a Holy Place and talking while inside is strictly forbidden. LivTours' Express Early Sistine Chapel Private Tour begins at 7.30AM.  However, please keep in mind that the first 30 minutes of the tour are held outside of the Vatican Museums in order to give you a comprehensive explanation before entering the Chapel.

Backpacks are not permitted in the museum.
BOOK NOW
---
LivTours' group size of max 6 participants is and always has been based on sustainable travel, and we are proud to be at the forefront of change and innovation in the industry.  LivTours is committed to providing travelers with truly sustainable tours with the lowest possible environmental impact, all while supporting the local industries and people of each unique destination. To learn more about how you can actively support sustainable tourism  and how LivTours is contributing, click here.
BOOK NOW
---
When you book a LivTours Private Tour or Experience, you are guaranteed a dedicated, expert guide that allows you the flexibility to start your tour at a time which is convenient for you, making planning easy. Our private tours ensure that you will get a tailored experience to meet all your needs so we go at your pace, perfect for families with younger children, elderly, or individuals with accessibility needs. Please be advised that all private tours begin at a base price starting at two people*. Prices are inclusive of entry tickets where applicable. *Some Ferrari private experiences are inclusive of one person only.
BOOK NOW
---
Make your day even more unique and comfortable by upgrading your tour with a customizable LivTours optional add on!
One Way Pick-Up Transfer Service
75 €
130.50 A$
69.75 £
88.50 $
BOOK NOW
---
Good tour to do if on limited time
"My wife and I had one day in Rome during our Mediterranean cruise. LivItaly's express tour of the Sistine Chapel was perfect for us. We met our guide Raf at the entrance to the museum and she expertly navigated our way to the Sistine Chapel, pointing out highlights along the way. She gave us a wonderful introduction to the Chapel and Michaelangelo so that we knew exactly what to look for once inside. We will definitely come back again and leave more time to see the entire museum and more of this fantastic city but this was a perfect "antipasto" just to whet our appetites!"
Roland - USA
---
Five-plus star rating
"My parents and I will never forget how wonderful our early morning express Sistine Chapel tour was. This was truly a 5 star experience. We essentially had the place to ourself walking through the fast track to the Sistine chapel. Our guide Mara was incredibly knowledgeable and a lovely person. This company came highly recommended to us and we very happily pass that recommendation on!"
Jill L. - USA
---
BOOK NOW
---
By selecting Choose Dates Later / Buy as Gift at booking, any tour can be purchased without fixed dates. This is the perfect option if you want to purchase your tour as a gift for a loved one, or if you are in the pre-planning phase of your vacation. After booking, you will receive a Travel Voucher Code and full instructions on how to schedule your tours when ready. Once your travel plans are confirmed, you can easily use the Travel Voucher Code on the LivTours website to formally schedule your tours. You can find out more here.
BOOK NOW