Dark Past of London Walking Tour | Semi Private
---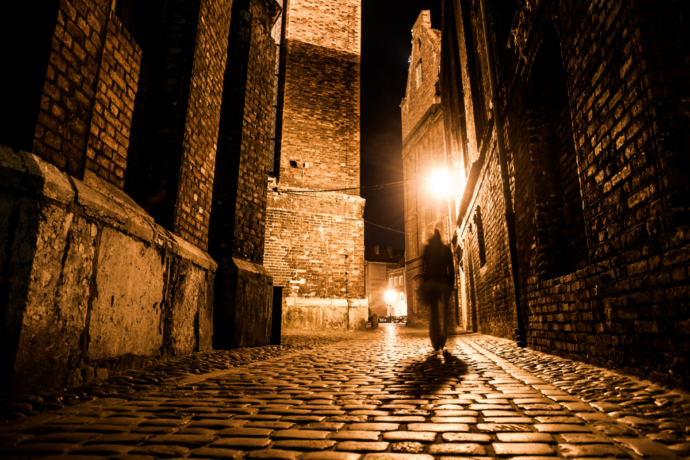 ---
On your Livtours Dark Past of London Walking Tour, join a local and stroll through London's darker side and discover tales of murder and misery in the capital. Wander through the dim dingy and narrow alleyways of the East End. London's iconic East End is home to some of the most infamous Londoners real and fictitious. Now a cosmopolitan and hip neighborhood, it was once described as the "Hell of Poverty" a foggy and filthy stain on the face of the capital of England where the police dared not go. lying in the shadows of Saint Paul's this former gigantic slum is now one of the trendiest and multinational parts of the city with a small group tour of less than 6. Join a Londoner and explore the people that make this iconic neighborhood so fascinating and the grim past they endured.
Uncover tales of the Black Death, find where some of the largest Plague Pits in Europe were located, follow the footsteps of Jack the Ripper, and unearth London in times of famine, war, and superstition. This walking tour will get you off the beaten path and reveal the fascinating dark heart of London city that most tour guides never speak about. Follow your local guide around London's East end for a gothic glimpse into London's dark past. Visit an area full of historic murder locations, ww2 bombsights, and neighborhoods once terrorized by gangs. Your 2.5-hour evening stroll tour takes you around the East End, a trendy and young area once famed for poverty, sin, and salacious behavior, a den of vice and villainy, immortalized, and glamorized in pop culture and film.
BOOK NOW
---
Travel back in time with an expert guide to a world of murder & misery

Follow in the footsteps of murderers, gangsters, villians and heros of old

Learn more about the East Enders, Londons most famous Londoners

Follow an expert guide on the trail of plague, war, fire and murder

Enjoy the stories and anecdotes with a maximum of 6 people in your group
BOOK NOW
Semi-Private tours and experiences are guaranteed six participants max.
Our prices always include tickets and reservations fees (no waiting in lines!)
Our tour guides and staff are selected experts and speak perfect English
Easy to book and prepay your tours with our secure payment system
Eco-sustainable tourism, designed to respect and support local culture, art and traditions
---
Your Livtours Semi-Private Dark Past of London Walking Tour will take you around the characterful East End. A neighborhood so distinct from the rest of the city, it has its secret language, created by the market traders and criminal gangs of this poverty-stricken former slum. From its origins as a sewer ditch to the stinking city of London, the East End became a dumping ground for new groups of immigrants shunned by the city, who formed their own unique identity, producing some of the most famous Londoners' fictitious and real from Jack the Ripper, The Kray Twins, Oliver Twist to Michael Cane. Just outside the ancient city walls this area was unpoliced, unregulated, and left to rot. Gangs patrolled the dimly lit streets and murderers prowled the prostitute-ridden alleyways and alehouses.
Start your tour by central Liverpool street station and wind through hundreds of years of London's real history, far away from the glitz and glamour of the west end. Learn how the poorest underclass was forced to live while London was the capital of the wealthiest empire in the world. Hear real-life stories of horror and destruction as thousands of bombs fell on the industrial heartland of the city. Imagine what life was like during the greatest outbreak of plague in the city's history as you stand on the largest plague pit in the country, and cover your eyes as you walk the very streets as London legend Jack the Ripper. With groups of under 6, this atmospheric tour will take you to one of the most exciting and eclectic parts of the city to see a slice of the real dark side of London.
BOOK NOW
---
Private walking tour of East End

Follow Jack the Rippers murderous trail

Hear stories of WWII blitz

Learn about Londons plague pits

Fully guided storytelling tour
BOOK NOW
---
LivTours' group size of max 6 participants is and always has been based on sustainable travel, and we are proud to be at the forefront of change and innovation in the industry.  LivTours is committed to providing travelers with truly sustainable tours with the lowest possible environmental impact, all while supporting the local industries and people of each unique destination. To learn more about how you can actively support sustainable tourism  and how LivTours is contributing, click here.
BOOK NOW
---
All LivTours Semi-Private Group Tours are limited to 6 guests per tour guide. Our commitment to maintaining our uniquely tiny group sizes can sometimes be a little tricky, mathematically speaking. For example, we want to ensure that traveling families and friends can tour together so on rare occasions we may add one or two guests in order to not split groups. On that same note, you may also find yourself on tour with less than six people! We thank you for your understanding and flexibility.
BOOK NOW
---
Fantastic walking tour
"Enchanting, fascinating, unique, thought-provoking, imaginative, educational, unforgettable!"
Keith C. - USA
---
Best London tour
"I met my brothers in London for a week of tourism and fun. We booked this walking tour since it sounded intriguing. It was definitely a unique experience and a tour we can recommend to you. Very interesting and entertaining. "
Brook - Netherlands
---
Highly recommend
"Unique and creative walking tour. Guide was excellent. Great communicative powers and very warm and friendly. Small group as promised. 5 stars."
Darwin - Australia
---
BOOK NOW
---
By selecting Choose Dates Later / Buy as Gift at booking, any tour can be purchased without fixed dates. This is the perfect option if you want to purchase your tour as a gift for a loved one, or if you are in the pre-planning phase of your vacation. After booking, you will receive a Travel Voucher Code and full instructions on how to schedule your tours when ready. Once your travel plans are confirmed, you can easily use the Travel Voucher Code on the LivTours website to formally schedule your tours. You can find out more here.
BOOK NOW