Hidden London Walking Tour | Private
---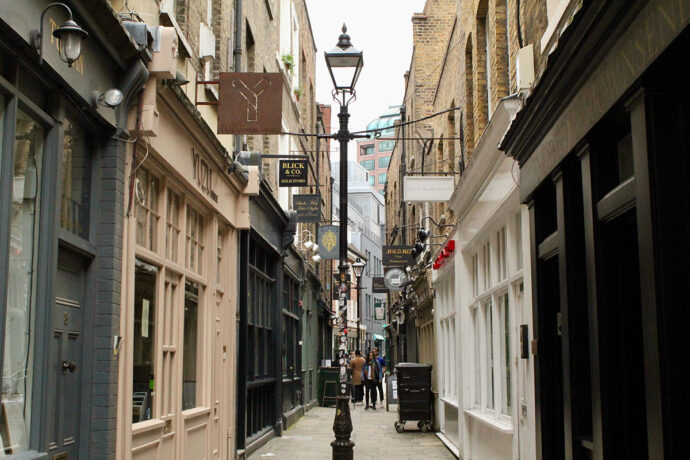 ---
Your Livtours Private Hidden London Walking Tour will explore the darker side of London's history. London is a city of Royal beauty, financial power, and once the Capital of the world. Yet its past is often a dark one, with the poorest Londoners crammed into foul conditions in the shadow of the gleaming city, Londons East is a fascinating area full of old stories of plague, murder, misery, and gangland. With your very own private London guide at your side, venture into the now trendy and cosmopolitan East End to uncover the grisly past of London of Old.
Wind through the narrow always in the footsteps of Jack the Ripper and stand on the sight of Europe's largest plague pit, where the unfortunate victims of the black death were thrown in to be forgotten. Amble through the brick housed lanes of a neighborhood terrorized by the sound of air raid sirens have nazi planes rained down fire from above. Drink in pubs frequented by some of the 20th centuries most famous suited and booted gangsters. The East End is home to the most famous Londoners real and fictitious. Learn about how they shaped this iconic area, how this distinct neighborhood is so different it has its own slang/language, and most importantly the grim and dark tales that shape London's past.
BOOK NOW
---
Hear tales of the grim and the gothic, murder and misery with a private london expert

Wind through the dark lamp lit streets of East London on a 2.5 hour private tour

Follow in the footsteps of London's most infamous visiting crime scenes & plague pits

Discover the London of the most famous Londoners in this unique district
BOOK NOW
Exclusive private Tours and Experiences. Also offered in Spanish, French, Portuguese, Swedish and Russian
Our prices always include tickets and reservations fees (no waiting in lines!)
Our tour guides and staff are selected experts and speak perfect English
Easy to book and prepay your tours with our secure payment system
Eco-sustainable tourism, designed to respect and support local culture, art and traditions
---
Livtours Private Hidden London Walking Tour is the perfect way to properly explore the infamous East End of London with your very own personal London expert at your side. Now a fashionable and trendy area packed full of historic pubs, hipster cafes, and street art covered co-working spaces, the East End has a dark and troublesome past. Behind the young and fun facades are a world of dark alleyways, brick streets, and grisly tales of London's dark past. Once just outside the city walls, The East End was an open sewer where the poorest of the poor scraped a living, vilified by the city dwellers and forced to live in terrible conditions, this area became popular with new immigrants arriving in London. The working classes of this area formed their own identity out of their misery and are a famous type of Londoner known as the Cockney or East Ender. Follow their struggles from times of plague, religious persecution, torture, execution, to the making of a modern murderer.
Follow a local expert on your private tour to see the most out of this fascinating neighborhood and even grab a beer at a local East End pub. Start your tour just next to Liverpool Street station and wind down the alleyways once stalked by some of the biggest names in British Crime, passing former plague pits and victorian market places, uncover the secrets and legends of some of the darkest chapters in London's history. See real-life murder locations of the infamous East Ender Jack the Ripper, learn about the Ganglords of 1960s London the Kray Twins. There is no better way to learn about the myths, legends, and real-life horror of the past than with your very own personal London Expert with you on your very own private Hidden London Walking Tour.
BOOK NOW
---
Private walking tour of East End

Follow Jack the Rippers murderous trail

Hear stories of WWII blitz

Learn about Londons plague pits

Fully guided storytelling tour
BOOK NOW
---
When you book a LivTours Private Tour or Experience, you are guaranteed a dedicated, expert guide that allows you the flexibility to start your tour at a time which is convenient for you, making planning easy. Our private tours ensure that you will get a tailored experience to meet all your needs so we go at your pace, perfect for families with younger children, elderly, or individuals with accessibility needs. Please be advised that all private tours begin at a base price starting at two people*. Prices are inclusive of entry tickets where applicable.
*Our Tuscan motorcycle tour and some Ferrari private experiences are inclusive of one person only.
BOOK NOW
---
Make your day even more unique and comfortable by upgrading your tour with a customizable LivTours optional add on!
Select your Pickup Option
BOOK NOW
---
Unique walking tour
"A very interesting and educational tour. Tour guide Thomas made it even better. A unique experience we won't soon forget."
Davida - Greece
---
Learned so much
"Amazing tour that reveals so much of London's history. We loved every minute and will tell all our friends and family."
Wilma - USA
---
Can definitely recommend this tour
"My wife and I felt that this tour was very creative and unique. There is quite a lot to learn about London which isn't right there in front of your eyes, or even in the tour books for that matter. Our guide Mary was very professional but also a wonderful story teller and she had us enticed from the beginning to the end. We learned many new facts about London and the many important people who have influenced the history of the city. This tour was definitely the highlight of our stay in London."
William T. - Netherlands
---
BOOK NOW
---
By selecting BUY AS A GIFT, you can purchase this tour as a gift for someone you care for. You will receive a gift card voucher that then can be redeemed by the person/people who will enjoy the tour.Date and Time are values that cannot be selected at the moment. You will in fact receive a gift card voucher with instructions on how to redeem the tour and then select date and time.You can create a shopping cart with multiple tours as gift cards. You may not compose a shopping cart of gift cards and actual tours with date and time.This option can also be used as an opportunity to book a tour open-dated for yourself, in case you are still in the pre-planning phase of your trip.For more information please read here.
BOOK NOW