Baroque Masterpieces: Borghese Gallery Tour | Semi-Private
---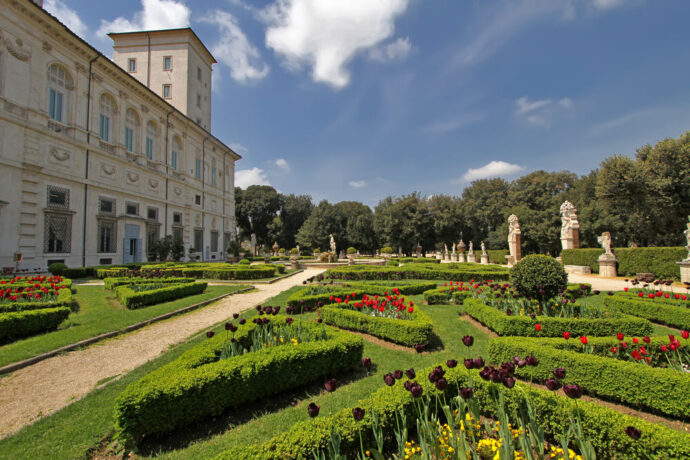 ---
Experience the wonder of the Borghese Gallery, one of the world's greatest private art collections, on LivTours Borghese Gallery Tour. This magnificent art museum truly merits a guided visit – it is not something that you want to miss out on. LivTours guarantees that you and your semi-private group of 6 people max will leave the tour feeling utterly impressed by the works of art housed inside this museum.
The Borghese Gallery Museum is located inside the majestic Borghese Gardens in the heart of Rome. On this tour, you will enjoy a guided explanation of the main masterpieces held inside the museum, and find many of Italy's most beloved and respected artwork including that of Bernini, Caravaggio, Canova, and Raphael.
An intimate museum such as the Borghese Gallery deserves to be enjoyed in a private, intimate setting. Feel confident in the fact that you and your group have booked a semi-private guided tour which limits its group size to only six people. Spend a peaceful and inspiring afternoon at the Borghese Gallery with LivTours.
BOOK NOW
---
Enjoy one of Rome's most stunning art collections in a small group of 6 people

See works by world renowned artists such as Bernini, Raphael, Caravaggio & more

Marvel Caravaggio's David with the Head of Goliath up close & how it was inspired

Get priveleged direct access into the Borghese Gallery with no waiting in lines

Listen to the stories & anecdotes of the past from one of our 5 star LivTours guides
BOOK NOW
Semi-Private tours and experiences are guaranteed six participants max.
Our prices always include tickets and reservations fees (no waiting in lines!)
Our tour guides and staff are selected experts and speak perfect English
Easy to book and prepay your tours with our secure payment system
Eco-sustainable tourism, designed to respect and support local culture, art and traditions
---
The Borghese Gallery is located in a beautiful villa in one of Rome's largest parks. The Villa was commissioned by the nephew of Pope Paul V, the Cardinal Scipione Borghese, in the early 17th century. It was used to house his impressive art collection. Stand in front of the Galleria Borghese and be amazed at the architectural wonder that it is.
There is quite a demand to visit the intimate and luxurious Borghese Gallery and for good reason. Ticket availability is extremely limited and it can be difficult to purchase tickets last minute. LivTours will take care of the logistics! You simply need to enjoy the centuries of art this museum holds. Show up on the day of your tour and head directly inside the museum with us, without any waiting on line.
Your passionate LivTours guide will share secret stories and facts about the artists and their pieces that you will find inside the museum. Stories and facts that would be difficult to know without a professional, local guide by your side. As you walk through the beautiful large rooms, you will be amazed and intrigued by all of the history and facts that live behind each piece. Take your time to admire works such as Bernini's Apollo and Daphne statue, Caravaggio's famous depiction of David with Goliath's Head, and Raphael's stunning The Deposition. Prepare to be amazed by stories that you would never have known if you had visited the Borghese Gallery on your own.
You will enter the Borghese Gallery at a time when the museum is generally less crowded – a decision LivTours has made to optimize your visit. LivTours Borghese Gallery Tour will give you a comprehensive overview of centuries of Italian art from marble sculptures, frescoes, mosaics, and paintings, all in one tour.
BOOK NOW
---
Guided tour of Borghese Gallery

Prereserved entrance tickets

Berninis Rape of Proserpina

Bernini's Daphne & Apollo

Ancient sculpture collection

Canovas Paolina Borghese Bonaparte

Raphaels Young Woman with Unicorn

Caravaggios Head of Goliath

Titians Sacred and Profane Love

Caravaggios Boy with a Basket of Fruit
BOOK NOW
---
Tickets are very limited and reservations are mandatory. We recommend you book this tour well in advance (minimum one week) to secure your spot.

Due to these unprecedented times and ongoing safety and regulation changes, some sites may have limited accessibility if the venue can not guarantee social distancing which may lead to unforeseen tour modifications. Thank you for your understanding.
LivTours' group size of max 6 participants is and always has been based on sustainable travel and especially in these new times, we are proud to be at the forefront of the innovation, changes, and challenges that are presented to us during this post-pandemic time. At the moment, due to COVID-19 safety regulations, the museums and sites visited on this tour require wearing a mask while on the site. Please bring one for every participant over 6 years of age.
BOOK NOW
---
All LivTours Semi-Private Group Tours are limited to 6 guests per tour guide. Our commitment to maintaining our uniquely tiny group sizes can sometimes be a little tricky, mathematically speaking. For example, we want to ensure that traveling families and friends can tour together so on rare occasions we may add one or two guests in order to not split groups. On that same note, you may also find yourself on tour with less than six people! We thank you for your understanding and flexibility.
BOOK NOW
---
LivItaly tours. The best!
"We were so pleased with all of the small tours that we did with LivItaly. We didn't have to wait to gain entry anywhere, and all of our guides, with their art history and/or archeological backgrounds, were extremely knowledgeable and passionate about Rome and their subject areas. On the Borghese Gallery tour, our guide Gio brought the art and scuptors alive and made our visit particularly memorable. I have been to Rome many times, and these tours are by far the best that I have experienced. Thanks LivItaly!"
Ornella - UK
---
Borghese Gallery tour
"We decided to see the Borghese Gallery with a guide in order to get the most out of our visit. Dario was just a fantastic tour guide and we felt very lucky to have spent the morning with him. Great personality and very knowledgable and we felt we were really able to appreciate the wonderful art and sculptures in this fabulous gallery ! We had taken several small group tours during the week and all were good but Dario made this tour the very best. Thanks Dario"
Keith Kelly - USA
---
Borghese gallery tour
"Our guide, Babara from LivItaly Tours, was fantastic. The five of us agreed that she made our trip to the Borghese Gallery much more interesting and enjoyable than if we had tried to do it on our own. Barbara is very personable and knowledgable and we would highly recommend her. Grazie, Barbara!"
Daniel - Australia
---
BOOK NOW
---
By selecting BUY AS A GIFT, you can purchase this tour as a gift for someone you care for. You will receive a gift card voucher that then can be redeemed by the person/people who will enjoy the tour.Date and Time are values that cannot be selected at the moment. You will in fact receive a gift card voucher with instructions on how to redeem the tour and then select date and time.You can create a shopping cart with multiple tours as gift cards. You may not compose a shopping cart of gift cards and actual tours with date and time.This option can also be used as an opportunity to book a tour open-dated for yourself, in case you are still in the pre-planning phase of your trip.For more information please read here.
BOOK NOW