Baroque Masterpieces: Private Borghese Gallery Tour
---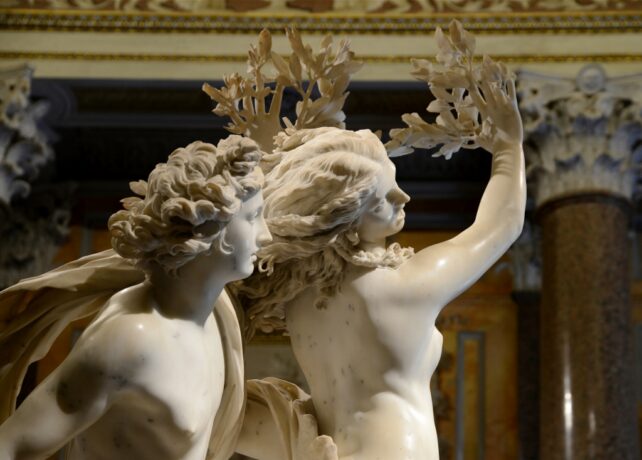 ---
LivTours Private Borghese Gallery Tour gives you the privilege of spending 2 hours touring inside one of the most magical museums in Rome. The Galleria Borghese may be a smaller museum, but it holds the largest treasures. One of the greatest and most beautiful collections of paintings and sculptures  lie within these villa walls.
LivTours would love for you to come and see what is considered one of the greatest collections of Bernini and Canova in the world. Admire priceless paintings by Raphael, Caravaggio, Dossi, and Rubens with your own expert, private tour guide at your side.
Gain direct access to the Borghese Gallery with skip-the-line tickets. Eliminate the stress of finding entry tickets that are more often than not sold out! LivTours will take care of everything for you from skip-the-line tickets, entry fees, and a knowledgeable tour guide to make your time in the galleries worth every minute. Travel planning should be enjoyable, so allow LivTours to ease your worries and arrange all of the details for you.
BOOK NOW
---
Visit the beautiful Borghese Gallery nestled in the stunning Borghese Park

Enjoy the luxury of a private tour guide talking you through masterpieces

Experience renowned Renaissance and Baroque masterpieces first hand

See artwork by Bernini, Caravaggio, Canova and many more Italian greats

Gain privileged direct access to the Borghese Gallery - no waiting in lines
BOOK NOW
Exclusive private Tours and Experiences. Also offered in Spanish, French, Portuguese, Swedish and Russian
Our prices always include tickets and reservations fees (no waiting in lines!)
Our tour guides and staff are selected experts and speak perfect English
Easy to book and prepay your tours with our secure payment system
Eco-sustainable tourism, designed to respect and support local culture, art and traditions
---
The Borghese Gallery is a true gem located in a 17th-century palace. The villa, itself, is worthy of a visit for its architectural design and décor alone. By simply taking a step inside the villa, you will be left speechless by its beauty.
To help maintain the museum's luxury and prestige, the number of travelers allowed inside at a time is limited. As a result, tickets can sometimes be hard to find and purchase. Do not worry, though, as LivTours handles everything – skip-the-line tickets are included in all of our tours. As soon as you meet your private, highly experienced guide outside of the stunning Borghese Gallery, you will enter directly into the museum. There will be no waiting in long lines.
As your Private Borghese Gallery Tour begins and you have the chance to take in the majesty of the museum, prepare to be amazed at some of the most prestigious art you are about to encounter. On the Private Borghese Gallery Tour, you will not only learn about the outstanding art, but you will also learn about the important stories behind the pieces too.
Visit the Bernini and Canova sculptures and learn from your private tour guide some of the intriguing stories behind the designs. The Borghese Gallery's magnificent collection of sculptures includes the Apollo and Daphne, the David (by Bernini), the Ratto di Proserpina and the Paolina Borghese. Treat yourself to a private guided visit to this incredible art collection!
BOOK NOW
---
Guided tour of Borghese Gallery

Prereserved entrance tickets

Berninis Rape of Proserpina

Bernini's Daphne & Apollo

Ancient sculpture collection

Canovas Paolina Borghese Bonaparte

Raphaels Young Woman with Unicorn

Caravaggios Head of Goliath

Titians Sacred and Profane Love

Caravaggios Boy with a Basket of Fruit
BOOK NOW
---
Tickets are very limited and reservations are mandatory. We recommend you book this tour well in advance (minimum one week) to secure your spot.

Offered in: English, French, Spanish, Portuguese, and Italian. Please specify under "Additional notes" if you wish to book the tour in a language other than English.

There is no flash photography allowed in the museum.
Water bottles and bags are not permitted inside the museum. Secure locker facilities are available.
Due to these unprecedented times and ongoing safety and regulation changes, some sites may have limited accessibility if the venue can not guarantee social distancing which may lead to unforeseen tour modifications. Thank you for your understanding.
L

ivTours' is and always has been based on sustainable travel and especially in these new times, we are proud to be at the forefront of innovation, change, and challenges that are presented to us during this post-pandemic time. At the moment, due to Covid-19 safety regulations, museums and sites visited on this tour require wearing a mask while on site. Please bring one for every participant over 6 years of age.
BOOK NOW
---
When you book a LivTours Private Tour or Experience, you are guaranteed a dedicated, expert guide that allows you the flexibility to start your tour at a time which is convenient for you, making planning easy. Our private tours ensure that you will get a tailored experience to meet all your needs so we go at your pace, perfect for families with younger children, elderly, or individuals with accessibility needs. Please be advised that all private tours begin at a base price starting at two people*. Prices are inclusive of entry tickets where applicable.
*Our Tuscan motorcycle tour and some Ferrari private experiences are inclusive of one person only.
BOOK NOW
---
Make your day even more unique and comfortable by upgrading your tour with a customizable LivTours optional add on!
BOOK NOW
---
Amazing tour of amazing sculptors and paintings
"This gallery is my most favorite place in the world! Bernini's statues take your breath away -- you keep asking yourself, is that really marble?? -- it looks sooo real! The paintings are fantastic too. The decorations and afrescos in the villa are enough just in themselves. I was however VERY happy to have Giorgio with me to really give me the history and stories behind each masterpiece that we looked at. This tour was one of the best I've ever taken and definitely made my visit to the Borghese Gallery one I will always remember."
Yvonne - USA
---
BOOK NOW
---
By selecting BUY AS A GIFT, you can purchase this tour as a gift for someone you care for. You will receive a gift card voucher that then can be redeemed by the person/people who will enjoy the tour.Date and Time are values that cannot be selected at the moment. You will in fact receive a gift card voucher with instructions on how to redeem the tour and then select date and time.You can create a shopping cart with multiple tours as gift cards. You may not compose a shopping cart of gift cards and actual tours with date and time.This option can also be used as an opportunity to book a tour open-dated for yourself, in case you are still in the pre-planning phase of your trip.For more information please read here.
BOOK NOW