Women of Seville Private Tour | Queens, Nuns & Courtesans
---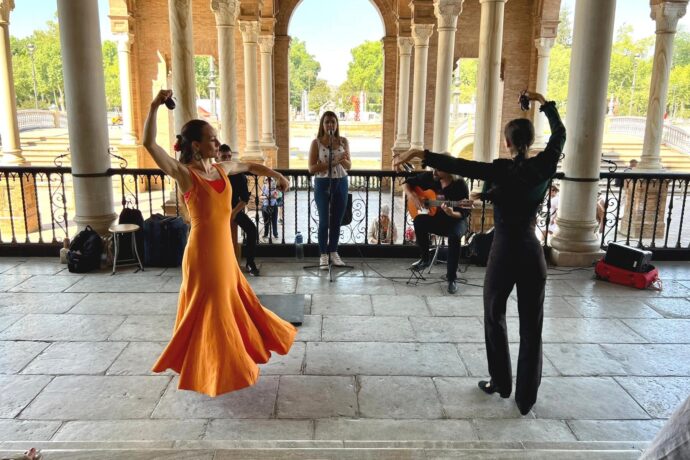 ---
Discover the lives and stories of some of the famous women of Seville on this historic three-hour tour of the charming Santa Cruz district. Enjoy a guided tour of the stunning Alcazar Real, a UNESCO World Heritage site. Visit the lovely Jardines de Murillo and beautiful Jardines del Prado de San Sebastian, wander through the exquisite botanical Maria Luisa Park to the spectacular Plaza de Espana with its semi-circular buildings, impressive moat, fountain and bridges. On this specially curated tour you will learn the HERSTORY of Seville's women, from the devout Queen Isabella, to the scandalous Maria de Padilla – mistress to King Peter the Cruel.
BOOK NOW
---
Discover the lives of Seville's historic women on this three hour private tour.

Enjoy priority access to the Alcázar Real, Europe's oldest working royal palace.

Stroll the charming streets, and soak up the relaxed atmosphere of Santa Cruz.

Visit the Jardines de Murillo and Jardines del Prado de San Sebastian.

End at the magnificent Plaza de Espana.
BOOK NOW
Exclusive private Tours and Experiences. Also offered in Spanish, French, Portuguese, Swedish and Russian
Our prices always include tickets and reservations fees (no waiting in lines!)
Our tour guides and staff are selected experts and speak perfect English
Easy to book and prepay your tours with our secure payment system
Eco-sustainable tourism, designed to respect and support local culture, art and traditions
---
Learn the stories of Seville's women while wandering through some of the most beautiful gardens, monuments and quaintly cobbled streets of this historic city. Enjoy a fully guided three hour tour of the historic Santa Cruz area,  with priority access to the Alcazar, the 1000 year Renaissance-Moorish palace. Your tour will focus on the stories of several women of Seville whose lives are commemorated in some way – from a royal chapel to a humble tile. 
Your tour will begin with the guide meeting you at your hotel, after which you will head to Alcazar! On your tour through the magnificent Alcazar, you will be shown the Oratory: the private chapel of Queen Isabella of Castile. Together with her husband, King Ferdinand of Aragon they completed the Spanish Reconquista with the conquest of Granada, the last Muslim stronghold in the south. They became known as the Catholic Monarchs. 
Beneath this ancient castle, you'll find the baths made famous by Dona Maria de Padilla, a 14th century noblewoman and mistress of King Peter the Cruel. Peter was married to Blanche de Boulogne but totally besotted with Maria, with whom he had three children. She set up her own court in the Alcazar, and would flaunt her dazzling beauty by walking through the palace to the baths entirely naked, causing quite the scandal! 
Discover the secrets behind the name of the Maria Luisa Park – Seville's most beautiful botanical gardens, filled with water features and statues. Admire a colourful tiled portrait of Catalina de Ribera embedded in the fountain in the Murillo gardens. A wealthy Renaissance noblewoman, she built the Casa de Pilatos and Palacio de Dueñas, but her greatest legacy is her founding of the 16th Century Hospital of the Five Wounds for plague victims and the poor. 
Along your tour, you will learn of the lives of other non-royal women such as Angela of the Cross, who despite her impoverished upbringing in the late 1800s and poor health founded the Sisters of the Cross, an institute to help the homeless and sick. She was made a saint in 2003. 
Hear the tragic story of a daughter's betrayal of her Jewish father at a small tile with a portrait of La Susona, hidden in a roundabout in the Maria Luisa park. Jews were persecuted in the middle ages and Diego Suson, along with other Jewish conspirators plotted insurrection. His daughter Susana took fright and reported the plan to the authorities. Her father was executed. Wracked with guilt she retired to a convent. To mark her remorse she asked that her head hang outside her door in Santa Cruz. It is now a tile with an image of her skull. 
There are many other hidden stories of illustrious and lesser known women hidden in plain sight in the great sights and monuments of the city. This tour really peels back the layers of history – to reveal herstory! 
BOOK NOW
---
Private expert tour guide with pick up from hotel

Tickets and tour of Alcazar

Santa Cruz district

Jardines de Murillo

Jardines del Prado de San Sabastian

Plaza di Espana

Focus on female historical characters
BOOK NOW
---
LivTours' group size of max 6 participants is and always has been based on sustainable travel, and we are proud to be at the forefront of change and innovation in the industry.  LivTours is committed to providing travelers with truly sustainable tours with the lowest possible environmental impact, all while supporting the local industries and people of each unique destination. To learn more about how you can actively support sustainable tourism  and how LivTours is contributing, click here.
BOOK NOW
---
When you book a LivTours Private Tour or Experience, you are guaranteed a dedicated, expert guide that allows you the flexibility to start your tour at a time which is convenient for you, making planning easy. Our private tours ensure that you will get a tailored experience to meet all your needs so we go at your pace, perfect for families with younger children, elderly, or individuals with accessibility needs. Please be advised that all private tours begin at a base price starting at two people*. Prices are inclusive of entry tickets where applicable. *Some Ferrari private experiences are inclusive of one person only.
BOOK NOW
---
By selecting Choose Dates Later / Buy as Gift at booking, any tour can be purchased without fixed dates. This is the perfect option if you want to purchase your tour as a gift for a loved one, or if you are in the pre-planning phase of your vacation. After booking, you will receive a Travel Voucher Code and full instructions on how to schedule your tours when ready. Once your travel plans are confirmed, you can easily use the Travel Voucher Code on the LivTours website to formally schedule your tours. You can find out more here.
BOOK NOW