Underground Rome Catacombs Tour | Semi-Private Experience
---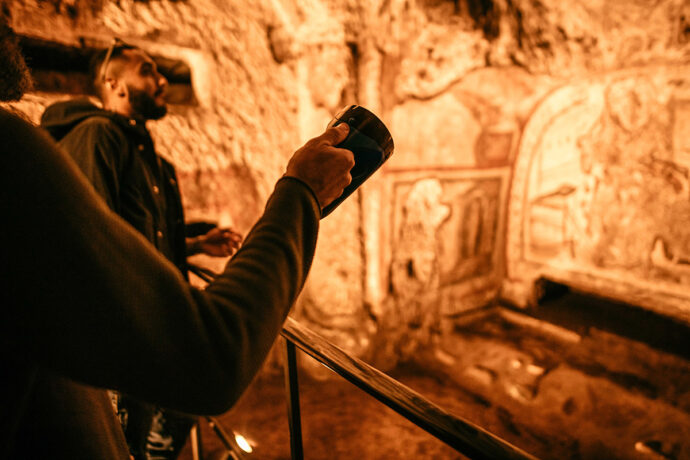 ---
Enjoy a fully guided semi-private tour of the mysteries of underground Rome with maximum 6 people, and an expert guide. Discover how Rome was built in layers at the fascinating Basilica of St Clement; a medieval basilica with stunning gold Byzantine mosaics that was built on top of a 4th century church, on top of a 2nd century pagan temple to Mithras on top of a late 1st century Roman house! Next adventure to the ancient Christian catacombs, a labyrinth of miles of tunnels for graves and burials, dug by and for the very first illegal Christians – an awe-inspiring experience!
BOOK NOW
---
Learn the secrets of subterranean Rome with an expert guide

Discover the labyrinthine tunnels of the ancient Christian catacombs

Hear stories of the heroic saints and martyrs during Roman persecution

Visit the fascinating multi-layered Basilica San Clemente with a pagan temple

Travel between sites and back to the center of Rome in a comfortable taxi service
BOOK NOW
Semi-Private tours and experiences are guaranteed six participants max.
Our prices always include tickets and reservations fees (no waiting in lines!)
Our tour guides and staff are selected experts and speak perfect English
Easy to book and prepay your tours with our secure payment system
Eco-sustainable tourism, designed to respect and support local culture, art and traditions
---
Rome – the Eternal City, wasn't built in a day! Nor is what you see today the whole city. So much of it is… underground. On this tour you will discover how Rome was really built: in layers over several hundred years. Due to the damage caused by wars, fires, floods and other disasters, Rome was rebuilt upon itself time and again. 
Your tour begins at the fascinating Basilica San Clemente, where you'll uncover the mysteries of subterranean Rome.  San Clemente is a medieval basilica with stunning gold mosaics – in itself a true treasure. But hidden below is another church, built on a pagan temple – built on a Roman house! You'll see frescos that have survived since the 8th century and learn about the early church and the martyrs depicted on the walls. You'll hear why so many churches in Rome were built on top of Pagan temples. You'll learn all about the mysterious cult of Mithras in the eerie temple beneath, and see the surviving altar piece of Mithras and the Bull. Your guide will walk you through the first century Roman apartment and tell you all about a day in the life of an ancient Roman! 
Returning to the surface, you'll head outside the ancient city walls to one of the largest catacomb complexes – the ancient burial grounds of the illegal, persecuted Christians in Rome. You'll descend into this dark maze of galleries lined with hundreds of rectangular graves – now empty niches thanks to the Barbarian raids. You'll learn all about the burial rituals and decode the secret messages in the frescos and carvings on the terracotta and marble gravestones. You'll see the tiny oil lamps by which the gravediggers worked and see their pick axe marks and scrapes in the soil and tufa rock around you. A truly unique, fascinating and awe-inspiring experience. 
Then you'll return to the surface, be driven back to the city center to enjoy the hustle and bustle of daily life in modern Rome – with the knowledge that another three cities exist beneath your feet! 
BOOK NOW
---
Expert English-speaking guide

Semi-private group of 6 people

St Clement Church visit & tickets

Ancient catacomb visit & tickets

Private transfer between sites
BOOK NOW
---
All LivTours Semi-Private Group Tours are limited to 6 guests per tour guide. Our commitment to maintaining our uniquely tiny group sizes can sometimes be a little tricky, mathematically speaking. For example, we want to ensure that traveling families and friends can tour together so on rare occasions we may add one or two guests in order to not split groups. On that same note, you may also find yourself on tour with less than six people! We thank you for your understanding and flexibility.
BOOK NOW
---
Incredible and exclusive!
"I can really just say that your tour are INCREDIBILE and perfect!!! And the fact of offering 6 persons group it's really exclusive and the best way to really enjoy the expérience. Thanks a lot! We'll sure contact you for next trip!"
Cristina
---
Rome catacombs
"We enjoyed our first visit to the catacombs tremendously. The experience was made even better by Marie with her friendliness and very good knowledge of the history of these sites. She is the guide to get if you do these visits."
Rudolf - Germany
---
Ask for Mike
"I went alone to the Catacombs tour since my partner was sick. Our small tour guide, Mike was awesome though! He was crazy knowledgeable, kind and hilarious. Highly recommend the tour and ask for Mike :)"
Gary - USA
---
BOOK NOW
---
By selecting Choose Dates Later / Buy as Gift at booking, any tour can be purchased without fixed dates. This is the perfect option if you want to purchase your tour as a gift for a loved one, or if you are in the pre-planning phase of your vacation. After booking, you will receive a Travel Voucher Code and full instructions on how to schedule your tours when ready. Once your travel plans are confirmed, you can easily use the Travel Voucher Code on the LivTours website to formally schedule your tours. You can find out more here.
BOOK NOW