Underground Rome Catacombs Tour | Semi-Private Experience
---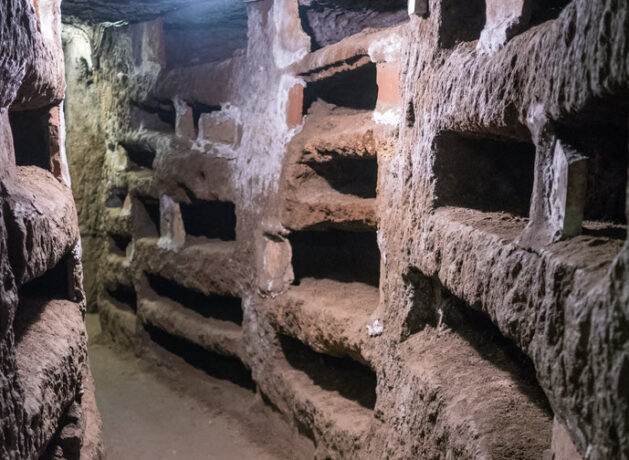 ---
LivTours Rome Catacombs Tour is a semi-private tour with no more than six travelers and a dedicated expert local guide bringing history to life! This is an excellent way to learn about ancient history by exploring the underground. During the past few centuries, underground exploration has pleasantly revealed a glimpse into our past with a vast number of sites that range from cult Pagan temples to Christian catacombs.
This exclusive semi-private tour takes you to visit two amazing sites and your expert local guide will share with you the secrets about the many layers of Rome.
The surprising archeological site of St Clement Church, that never fails to amaze it's visitors with the unexpected secrets it holds under the church floor, and the ancient Christian catacombs. Being outside the city walls, you and your guide will take a vehicle 20 minutes to arrive at the catacombs site where you will be descend and explore the ancient burial sites of the paleo-Christians of Roman times.
Both sites are enshrouded in a surprising peace, wonder and mystery and the visual and historic nature of this tour makes it perfect for families!
So come take a peek (and a walk) back in time with your expert LivTours guide!
BOOK NOW
---
Discover one of the largest Catacombs in Rome on a semi-private tour with your guide

See for yourself the fascinating layers underneath the San Clemente Basilica

Travel between sites and back to the center of Rome in a comfortable taxi service

Learn about Medieval popes and secret Pagan rituals admiring artistic masterpieces
BOOK NOW
Semi-Private tours and experiences are guaranteed six participants max.
Our prices always include tickets and reservations fees (no waiting in lines!)
Our tour guides and staff are selected experts and speak perfect English
Easy to book and prepay your tours with our secure payment system
Eco-sustainable tourism, designed to respect and support local culture, art and traditions
---
Your LivTours Rome Catacombs Tour starts at the well preserved Basilica of San Clemente. This unassuming neighborhood church has evolved from a private house where Christian services were performed in secret in the 2nd century AD to the beautiful golden mosaic decorated interior of today.  With your expert guide and your semi-private group of no more than six travelers, you will descend four stories underground to explore the many layers of this surprising archeological site.
After you have finished exploring the historical layers underneath San Clemente Basilica, a taxi will take your semi-private group and your guide to the next stop of the tour, one of the most well-known burial sites in the world, the Catacombs of Rome! Descend to this ancient Christian burial ground into the narrow tunnels filled with empty graves and tombs. Your expert local guide will put to rest the stories that people believed true about these history rich hallways. Your exclusive semi-private tour is perfect for history lovers, and ideal for travelers looking to dig a bit deeper into Rome's past.
At the end of your tour, your guide will accompany you via taxi back to the center of Rome.
BOOK NOW
---
Fully guided experience

St Clement Church visit & tickets

Ancient catacomb visit & tickets

Taxi transfer between sites
BOOK NOW
---
There is no photography allowed in St Clement Church or in the Catacombs.

In order to book this experience, you must be at least 2 participants.

LivTours' group size of max 6 participants is and always has been based on sustainable travel and especially in these new times, we are proud to be at the forefront of the innovation, changes, and challenges that are presented to us during this post-pandemic time. At the moment, due to COVID-19 safety regulations, you are required to wear a mask for the entire duration of the tour. Please bring one for every participant over 6 years of age.

Due to these unprecedented times and ongoing safety and regulation changes, some sites may have limited accessibility if the venue can not guarantee social distancing which may lead to unforeseen tour modifications. Thank you for your understanding.
BOOK NOW
---
All LivTours Semi-Private Group Tours are limited to 6 guests per tour guide. Our commitment to maintaining our uniquely tiny group sizes can sometimes be a little tricky, mathematically speaking. For example, we want to ensure that traveling families and friends can tour together so on rare occasions we may add one or two guests in order to not split groups. On that same note, you may also find yourself on tour with less than six people! We thank you for your understanding and flexibility.
BOOK NOW
---
Must show Vaccination or Negative test for Italy & France Tours
For all France and Italy tours that include an indoor activity, a museum or an archeological park visit, it is now National Law in both countries, to present a covid-19 vaccination card OR negative covid-19 test result from the past 48 hrs accompanied by your personal ID to the local authorities for all adults over the age of 12. Lack of ability to present such documentation may result in loss of tour and funds lifting LivTours from all responsibilities.
---
BOOK NOW
---
Rome catacombs
"We enjoyed our first visit to the catacombs tremendously. The experience was made even better by Marie with her friendliness and very good knowledge of the history of these sites. She is the guide to get if you do these visits."
Rudolf - Germany
---
Ask for Mike
"I went alone to the Catacombs tour since my partner was sick. Our small tour guide, Mike was awesome though! He was crazy knowledgeable, kind and hilarious. Highly recommend the tour and ask for Mike :)"
Gary - USA
---
Excellent tour of the Catacombs
"My wife and I recently used LivItaly Tours to visit the Catacombs and Underground Rome. The tour group was small - only 6 plus one guide, which made the tour experience personal. The tour allowed us to visualise what lies under this city and what it may have been like back in the day of these wonders. Our guide - Guilia - was friendly, knowledgeable but overall excellent (the best). Her knowledge and passion was clearly evident on the tour which brought a sense of life to the history that we were being shown. Highly recommend. Thank you to LivItaly Tours and Guilia (she is an asset to your team)."
Oliver - USA
---
BOOK NOW
---
By selecting BUY AS A GIFT, you can purchase this tour as a gift for someone you care for. You will receive a gift card voucher that then can be redeemed by the person/people who will enjoy the tour.Date and Time are values that cannot be selected at the moment. You will in fact receive a gift card voucher with instructions on how to redeem the tour and then select date and time.You can create a shopping cart with multiple tours as gift cards. You may not compose a shopping cart of gift cards and actual tours with date and time.This option can also be used as an opportunity to book a tour open-dated for yourself, in case you are still in the pre-planning phase of your trip.For more information please read here.
BOOK NOW