Tapas & Flamenco Show in Barcelona | Private Experience
---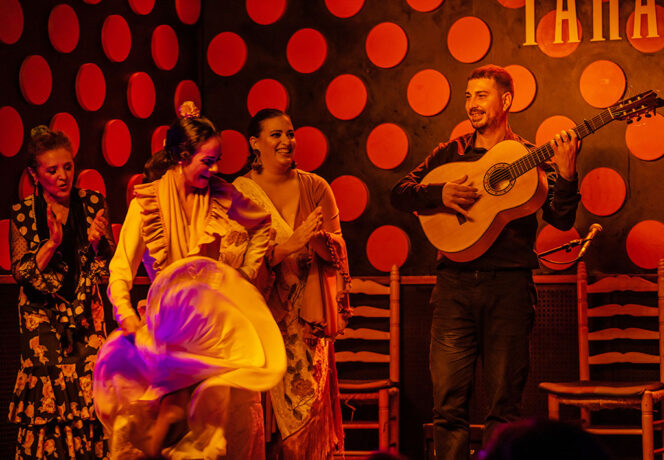 ---
LivTours Private Flamenco Show in Barcelona joins two elements fundamental to Spanish life – food and flamenco. Your private guide will take you on a walk through the Gothic Quarter stopping along the way to have some tapas and local wines or beers before enjoying a flamenco show in an intimate setting.
Eating tapas, small portions of different dishes is much like a progressive dinner, but instead of moving from house to house, you are moving from tapas tavern to tapas tavern – each place having its specialty and all in the company of your local expert guide. This is a unique opportunity to experience an evening like a local, tasting local dishes, exploring the Gothic Quarter, and enjoying an authentic flamenco show. This memorable evening is an amazing way to see the Gothic Quarter, enjoy scrumptious tapas and immerse yourself in an enthralling live flamenco show.
BOOK NOW
---
Experience the rich culture & traditions of Spain on this 2-hour private guided tour

Enjoy a round of the most typical, scrumptious tapas to satiate your appetite

Wander through the Gothic Quarter with your guide, the city's oldest district

Take in an authentic live flamenco show with select guests musicians and dancers

Relax with a private tour with an expert guide who will take care of everything
BOOK NOW
Exclusive private Tours and Experiences. Also offered in Spanish, French, Portuguese, Swedish and Russian
Our prices always include tickets and reservations fees (no waiting in lines!)
Our tour guides and staff are selected experts and speak perfect English
Easy to book and prepay your tours with our secure payment system
Eco-sustainable tourism, designed to respect and support local culture, art and traditions
---
Your Private Flamenco Show Tour starts in the main old town square of Plaça Sant Jaume where you will find your guide waiting for you in front of City Hall. This tour is set in Barcelona's oldest district that was first settled by the Romans just over 2,000 years ago. As a result, there is plenty of history and anecdotes to share with you as your guide leads you to your first tapas venue set in the heart of the Jewish Quarter.
The maze of streets that make up the Gothic Quarter is best navigated with a local expert leading the way making your visit seamless, taking you to tapas gems off the beaten path, and adding in depth knowledge that would be hard to gain on your own.
There is a myriad of wonderful things to say about tapas and your guide will make sure to tell you about the origin of these small plates of local dishes. Tapas are almost always a social event. In fact, most socializing in Spain revolves around food and you will discover why on this private walking tapas tour. You will have the chance to visit two authentic venues tucked away in the small streets of this pedestrianized quarter to share and try different dishes. Tapas and a drink go hand in hand so you will have a chance to try some delicious local wines and beers. After all, there is no shortage of either in Spain, which has 2.9 million acres of vineyards and 400 microbreweries. Over tapas, your guide will tell you more about Spanish wines, allowing you to order like a local for the rest of your trip!
Listed as an Intangible Cultural Heritage of Humanity by UNESCO, flamenco is so much more than foot-stomping dancing and melodious music. Evolving over hundreds of years, flamenco dance and music is a reflection of the mixture of Gypsy, Muslim and Spanish cultures taking a bit from each one to make it what it is today. Experiencing a live show is a once in a lifetime experience, especially in a small venue like the one LivTours has chosen for you. You will be mesmerized by the incredibly fast footwork of the dancers in their colorful dresses and the skilled guitarists accompanying them. Your guide will make sure to share with the nuances and the history behind this art form. Enjoy a moment of true culture as you immerse yourself in Spain!
BOOK NOW
---
Plaza Sant Jaume

Gothic quarter

Traditional Spanish tapas

Live flamenco show

Local Spanish wine

Private fully guided experience
BOOK NOW
---
Offered in: English, French, Spanish, Portuguese, and Italian. Please specify under "Additional notes" if you wish to book the tour in a language other than English.

Comfortable walking shoes recommended.

We can accommodate dietary restrictions such as vegetarian or gluten-free. Please specify your food needs under "Additional Notes" after booking.
BOOK NOW
---
LivTours' group size of max 6 participants is and always has been based on sustainable travel, and we are proud to be at the forefront of change and innovation in the industry.  LivTours is committed to providing travelers with truly sustainable tours with the lowest possible environmental impact, all while supporting the local industries and people of each unique destination. To learn more about how you can actively support sustainable tourism  and how LivTours is contributing, click here.
BOOK NOW
---
When you book a LivTours Private Tour or Experience, you are guaranteed a dedicated, expert guide that allows you the flexibility to start your tour at a time which is convenient for you, making planning easy. Our private tours ensure that you will get a tailored experience to meet all your needs so we go at your pace, perfect for families with younger children, elderly, or individuals with accessibility needs. Please be advised that all private tours begin at a base price starting at two people*. Prices are inclusive of entry tickets where applicable. *Some Ferrari private experiences are inclusive of one person only.
BOOK NOW
---
Make your day even more unique and comfortable by upgrading your tour with a customizable LivTours optional add on!
90 €
156.60 A$
83.70 £
106.20 $
BOOK NOW
---
Wonderful experience
"This was an experience we will not soon forget! The flamenco show was magical and it all made more sense thanks to the very enjoyable explanation that our guide gave us over our tapas tasting meal. We will be sure to recommend this tour."
Norm and Petra - Germany
---
Not to be forgotten
"A very memorable experience! Will recommend to all! Great way to understand the Spanish traditions and sentiments! 5 stars!!"
Brady - Australia
---
Amazing Flamenco experience
"As dancers, we truly appreciated the opportunity to experience a Flamenco performance in the company of a local guide to explain the symbolism and the tradition behind this form of expression."
Jerry - USA
---
BOOK NOW
---
By selecting Choose Dates Later / Buy as Gift at booking, any tour can be purchased without fixed dates. This is the perfect option if you want to purchase your tour as a gift for a loved one, or if you are in the pre-planning phase of your vacation. After booking, you will receive a Travel Voucher Code and full instructions on how to schedule your tours when ready. Once your travel plans are confirmed, you can easily use the Travel Voucher Code on the LivTours website to formally schedule your tours. You can find out more here.
BOOK NOW