Shore Excursion: Rome in a Day Exclusive Experience
---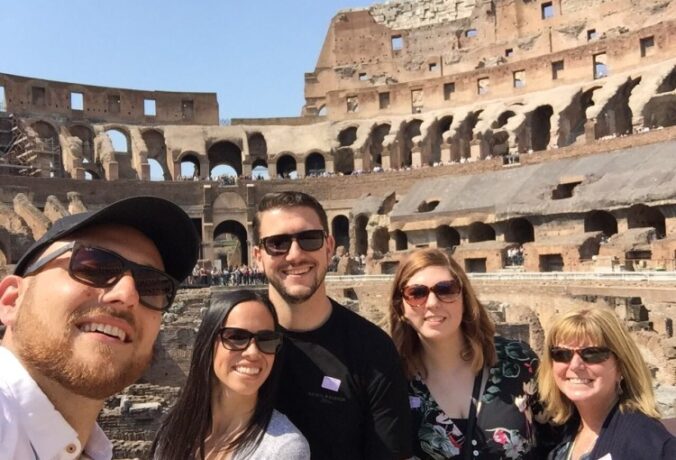 ---
LivTours Shore Excursion: Rome in a Day Exclusive Experience is the perfect tour if you are docking in Civitavecchia. With port pick up and drop off, as well as, skip-the-line tickets and a fabulous guide, you leave the logistics to us, while we leave the enjoying to you!
This tour covers all the highlights in the company of your own private expert guide who will entertain you with anecdotes and share with you the historic details of this ancient city. You will spend time taking in the nuances of the historic quarter with visits to the Pantheon (from outside), Trevi Fountain, and Roman entertainment center, the Colosseum. Imagine seeing Michelangelo's masterpiece, the Sistine Chapel and Saint Peter's Basilica in the company of a knowledgeable private guide and with priority access tickets.
If you are in port for one day, this is the perfect tour for you to maximize your time!
BOOK NOW
---
Enjoy the highlights of the Eternal city in just one day with your private guide

Revel in the luxury of exclusive door to door round trip chauffeured transportation

Optimize your time with skip-the-line access to Colosseum & Sistine Chapel

Stroll the historic streets of Rome; taking time to throw a coin in Trevi Fountain

Admire the Baroque architecture in Piazza Navona, Rome's largest square
BOOK NOW
Exclusive private Tours and Experiences. Also offered in Spanish, French, Portuguese, Swedish and Russian
Our prices always include tickets and reservations fees (no waiting in lines!)
Our tour guides and staff are selected experts and speak perfect English
Easy to book and prepay your tours with our secure payment system
Eco-sustainable tourism, designed to respect and support local culture, art and traditions
---
**All Colosseum tours require photo ID for all participants; plan to bring your passports on the day of your tour. Failure to show identification will result in the denial of entry to the site.**
On your LivTours' Rome in a Day Exclusive Experience, your private driver will meet you directly at the dock of the ship holding a sign with your name on it.  From there you will travel in the comfort of a luxury car on Italian's modern freeways to access the city's center and meet your guide.
First up, you'll travel back to Ancient Rome with an exploration of the archeological park of Ancient Rome that was once the heart of daily Roman life. You will enjoy priority access to the Colosseum where your private guide will share with you stories of gladiator fights. After you have finished your exploration of the Colosseum, your guide will accompany you on a walk through ancient wonders and bring to life buildings, structures, architecture, and stories of generals and Emperors. While visiting the Roman Forum and the Palatine Hill you will learn about Julius Caesar and his dynasty, the rise and the fall of the Roman Empire.
Your private tour from Civitavecchia to Rome continues with a pleasant stroll towards the historic center of Rome, where you will discover highlights that include the Trevi Fountain (for the traditional coin toss), the Pantheon and the breathtaking Piazza Navona, Rome's largest square filled with impressive Baroque fountains and old palaces. You will experience Rome like a local as you walk through magical alleyways in the company of your guide before sitting down to enjoy a quick break for lunch (not included in the price) and if you are a coffee lover, your guide will show you where to get one of the best espressos in town!
After lunch, it is off to another country, but no passports are required at the Vatican City! Your private tour from Civitavecchia to Rome is an all-inclusive tour that includes priority access to the Vatican Museums. Experience the grandiose halls and soak up the highlights including the Gallery of Maps, Gallery of Tapestries, the Raphael Rooms, and of course, Michelangelo's masterpiece, the Sistine Chapel. Once inside, take a moment to absorb the nearly 8,000 square feet of painting that has inspired visitors through the ages. Your guide will entertain you with engaging stories about the Popes and the artists that worked for them while admiring amazing works of art. Your time with your guide ends in the largest Catholic church, St. Peter's Basilica, where you will admire two other jaw-dropping works by Michelangelo's, including his only signed work, as well as other numerous highlights.
Your chauffeur will be waiting for you when you exit the Basilica to whisk you back to your cruise ship at Civitavecchia.
Chauffeured Service Add-On
While chauffeur services are included in the price of the tour, you will have different drivers and vehicles throughout the day. If you wish to have the convenience and ease of one private vehicle and one driver with you through the entire day, please select the appropriate add-on at booking. This gives you the advantage to leave excess bags, jackets, shopping etc in the car that you may not want to carry with you.
BOOK NOW
---
Port pickup and drop off

Chauffered service throughout city center

Private guide within Rome

Colosseum skip-the-line tickets

Roman Forum

Palatine Hill

Trevi fountain

Piazza Navona

Spanish steps

Pantheon (from outside)

Vatican skip-the-line tickets

Pinecone cortyard

Ancient Laocoon and Apollo statues

Gallery of Maps

Tapestry Gallery

Raphael rooms

School of Athens painting

Sistine Chapel

Michelangelos ceiling

St Peters Basilica access

Berninis alter canopy

Michelangelos pieta statue

St Peters Square
BOOK NOW
---
Offered in: English, French, Spanish, Portuguese, and Italian. Please specify under "Additional notes" if you wish to book the tour in a language other than English.

Please remember to add your cruise ship details – cruise line name, ship name, and dock  – under "Additional information" in the booking form.

Places of worship have strict dress code requirements for entry. All participants are required to have shoulders and knees covered (no tank tops or short dresses) to enter.

There is no photography allowed inside the Sistine Chapel.


St. Peter's Basilica is an active church and can be closed unexpectedly for liturgical ceremonies. If closed, the time inside the Vatican Museums will be extended.

Saint Peter's Basilica is closed on most Wednesdays mornings due to the weekly Papal Audience. If you book this tour for a Wednesday the time inside the Vatican Museums will be extended.

Please be aware that the Sistine Chapel is a Holy Place and talking during your visit inside is strictly forbidden, therefore your guide will give you an explanation of the Sistine Chapel beforehand during your tour, in order to give you a comprehensive explanation before entering the chapel.

Backpacks are not permitted in the Museum.

**All Colosseum tours require photo ID for all participants; plan to bring your passports on the day of your tour. Failure to show identification will result in the denial of entry to the site.**
BOOK NOW
---
LivTours' group size of max 6 participants is and always has been based on sustainable travel, and we are proud to be at the forefront of change and innovation in the industry.  LivTours is committed to providing travelers with truly sustainable tours with the lowest possible environmental impact, all while supporting the local industries and people of each unique destination. To learn more about how you can actively support sustainable tourism  and how LivTours is contributing, click here.
BOOK NOW
---
When you book a LivTours Private Tour or Experience, you are guaranteed a dedicated, expert guide that allows you the flexibility to start your tour at a time which is convenient for you, making planning easy. Our private tours ensure that you will get a tailored experience to meet all your needs so we go at your pace, perfect for families with younger children, elderly, or individuals with accessibility needs. Please be advised that all private tours begin at a base price starting at two people*. Prices are inclusive of entry tickets where applicable. *Some Ferrari private experiences are inclusive of one person only.
BOOK NOW
---
Make your day even more unique and comfortable by upgrading your tour with a customizable LivTours optional add on!
30 €
52.20 A$
27.90 £
35.40 $
Add Full Day Chauffeur Service
175 €
304.50 A$
162.75 £
206.50 $
BOOK NOW
---
Wonderful experience
"We had a most wonderful tour of Rome, thanks to your kind driver and to Donata's spirit, warmth, knowledge, and enthusiasm! Donata was very mindful of the access/mobility issues and our limited timing that we were dealing with, Which made things much easier for us. "
Jean
---
Definitely recommend LivItaly
"I booked a private tour "Rome in a day" for my family's trip to Rome. It was our first time in the city so I wanted a first class experience and I wanted to see as many things as possible in the one day we had in Rome. Our guide was Giulia and she was absolutely brilliant! She guided us around with thoughtful explanations of all the sites and we enjoyed every minute. She even made a reservation for a delicious lunch and was able to fit in a brief stop at the Rose gardens for my wife. I highly recommend LivItaly, and make sure you ask for Giulia."
Omar O. - UK
---
the best of Rome in a day
"Well organized company and a knowledgeable guide, we had a great time. I would use LivItaly tours again."
Phillip - Australia
---
BOOK NOW
---
By selecting Choose Dates Later / Buy as Gift at booking, any tour can be purchased without fixed dates. This is the perfect option if you want to purchase your tour as a gift for a loved one, or if you are in the pre-planning phase of your vacation. After booking, you will receive a Travel Voucher Code and full instructions on how to schedule your tours when ready. Once your travel plans are confirmed, you can easily use the Travel Voucher Code on the LivTours website to formally schedule your tours. You can find out more here.
BOOK NOW