Semi-Private Venice Night Walking Tour & Exclusive St Mark's Viewing
---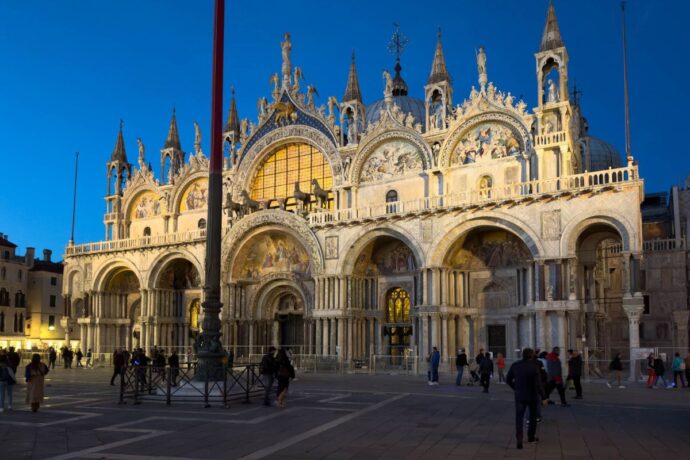 ---
Your LivTours Venice Night Walking Tour offers you a unique opportunity to discover Italy's most enchanting floating city by moonlight. See the lights dazzle and shimmer across canals like an Impressionist paintings as Venice kicks off its shoes and eases into the evening. VIP access into St. Mark's will allow you to visit one of Venice's most visited sites with only LivTours groups, guides, and Basilica staff inside. See the golden Pala d'Oro without the crowds and have the rare chance to visit the Basilica's holy crypts.
Weave through the charming walkways, footbridges, and hidden corners as you discover this serene city's treasures, including ancient churches, St. Mark's Square, the grand Ponte Rialto, and the impressive exterior of Doge's Palace. Your guide will point out all of the fascinating clues you pass along the way that illustrate this mysterious lagoon's captivating history. This is an ideal itinerary for curious travelers that want to avoid the hustle and bustle of daytime traffic and prefer to explore during the calm hours after sunset while the stars are starting to set the stage.
BOOK NOW
---
Explore the lights & magic of Venice by moonlight in group of 6 people max

Enjoy the essential highlights and sites in the serene setting of nightfall

See St. Mark's Basilica by night with our VIP privileged entry & without crowds

Experience Venice with our local expert guide who speaks your language

Visit sites that are normally off-limits or crowded such as the Pala d'Oro or crypts

Discover Venice's labyrinth of footpaths, bridges, and hidden churches and plazas
BOOK NOW
Semi-Private tours and experiences are guaranteed six participants max.
Our prices always include tickets and reservations fees (no waiting in lines!)
Our tour guides and staff are selected experts and speak perfect English
Easy to book and prepay your tours with our secure payment system
Eco-sustainable tourism, designed to respect and support local culture, art and traditions
---
Your LivTours' Venice Night Walking Tour starts in one of Venice's most quaint squares in front of the city's most ancient church, San Giacomo di Rialto. First built in 421 A.C., this incredible site features a well-preserved gothic portico and an oversized 15th-century clock on the facade. Listen to the wonderful stories of Venice's origins and of how this very special church came to be built.
Your small group will be guided through Venice's labyrinth of picturesque footbridges and winding walkways that connect its islands. Venice is a beauty to behold by day but you will find that during the calm and quiet of the evening hours, all of the intricate details hidden throughout the cityscape start to emerge. Take in the panoramic views of the city and Grand Canal from the highest point of the remarkable Ponte Rialto. Watch the gondolas with their glowing lamps as they pass underneath. Your guide will explain the history of this important bridge and its unique architectural design and redesigns throughout the centuries.
After traveling by foot through centuries of art, history, and culture, your group will find itself in the modern-day heart of the city, St Mark's Square. By night, this grand square is quite surreal, with its many arches, the imposing Doge's Palace, bell tower, and the breathtaking Byzantine architecture of St. Mark's Basilica.
Your Night Tour of Venice includes an exclusive entry after hours inside St. Mark's Basilica where LivTours groups and guides will be entirely alone, aside from Basilica staff. Admire the absolutely stunning mosaics inside as they shimmer and seemingly glow in the evening light. Discover the details and meanings behind every work of art inside as you wander through the empty Basilica. Take this unique opportunity to study all the details that are normally obscured by tour crowds, from the wavy marble floors from centuries of seasonal flooding to the brilliant, gem-covered Pala d'Oro altarpiece. Your visit includes an extra special visit below the church into St. Mark's crypts – a holy area that is normally not accessible. This experience is one that cannot be missed!
BOOK NOW
---
Ponte Rialto

Campo San Giacometto

Campo San Bartolomeo

The Jewish Ghetto

Various Churches and famous Campi

Saint Mark's Square

St Mark's Basilica VIP After-hours access

Mosaics and Facade introduction

Golden Mosaic ceilings

Pala d'Oro special viewing

Crypt under Altar

Fully guided experience
BOOK NOW
---
Please note that tour starting times are subject to change based on ticket availability

Comfortable walking shoes recommended.

Places of worship have strict dress code requirements for entry. All participants are required to have shoulders and knees covered (no tank tops or short dresses) to enter.

There is no photography allowed inside St Marks Basilica.

Guests with wheelchair accessibility needs will find difficulty with this itinerary proposed in this tour. In order to ensure a barrier-free tour with alternative routes, please book the private version of this tour.
BOOK NOW
---
LivTours' group size of max 6 participants is and always has been based on sustainable travel, and we are proud to be at the forefront of change and innovation in the industry.  LivTours is committed to providing travelers with truly sustainable tours with the lowest possible environmental impact, all while supporting the local industries and people of each unique destination. To learn more about how you can actively support sustainable tourism  and how LivTours is contributing, click here.
BOOK NOW
---
All LivTours Semi-Private Group Tours are limited to 6 guests per tour guide. Our commitment to maintaining our uniquely tiny group sizes can sometimes be a little tricky, mathematically speaking. For example, we want to ensure that traveling families and friends can tour together so on rare occasions we may add one or two guests in order to not split groups. On that same note, you may also find yourself on tour with less than six people! We thank you for your understanding and flexibility.
BOOK NOW
---
Great tour. Worth booking!
"Book this tour!!! Venice is enchanting at night and St Mark's is awesome! Great guide, well-organized, will always remember this experience!"
Denise - Australia
---
Absolutely awesome!
"We used LivItaly on a trip a few years ago and had the most amazing time with their guides so when we were planning our visit to Venice we looked them up right away. We feel so fortunate to have been able to participate in the special night tour of Saint Marks basilica. We met our guide in Saint Marks square where she gave us a great introduction about the basilica. The custodian opened the massive door to the church and let our small group (our family of four and one more couple) and guide inside. As soon as we entered they closed the door again and we were standing in there ALONE in the dark. The lights started slowly to turn on and our jaws just dropped when we saw all the golden mosaics. Since we were the only ones in there our guide could speak with a normal voice explaining all the treasures of Saint Marks. The tour also included a visit to the Pala d'Oro and the crypts which are never accessible in the daytime. This tour was a once in a lifetime experience and I will cherish it forever! "
Tanya D. - USA
---
A once in a lifetime experience
"We had the occasion to live this exclusive experience: we visited the St Mark's Basilica in Venice after the closure time with Livitaly Tours. We were only 6 people and we had a well skilled local guide that helped us discover many hidden gems in the Basilica. There were moments when the beauty left us speechless. I suggest to all of you to visit St. Mark's Basilica in this way: with no crowd, in a small group, with the possibility to take all photos and videos you desire and a very skilled guide that brings you in an enchanting atmosphere! Thank you LivItaly for this super experience!"
Gail Grady - USA
---
BOOK NOW
---
By selecting Choose Dates Later / Buy as Gift at booking, any tour can be purchased without fixed dates. This is the perfect option if you want to purchase your tour as a gift for a loved one, or if you are in the pre-planning phase of your vacation. After booking, you will receive a Travel Voucher Code and full instructions on how to schedule your tours when ready. Once your travel plans are confirmed, you can easily use the Travel Voucher Code on the LivTours website to formally schedule your tours. You can find out more here.
BOOK NOW