Private Venice Night Tour with Exclusive Entry Into St Mark's Basilica
---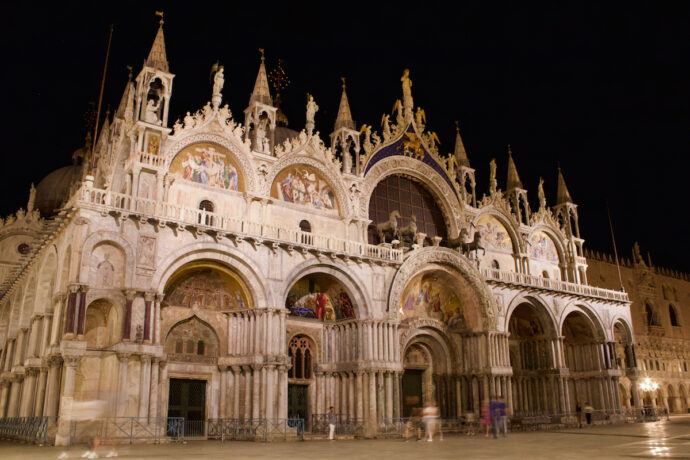 ---
LivTours' Private Venice Night Tour with Exclusive Entry into St Mark's Basilica is the perfect tour to uncover the charm and romance of this city on water. Starting in an enchanting central piazza your private expert guide will take you on a walking tour of Venice under the moonlight. Meander along its narrow streets, over bridges and through hidden piazzas as you hear about Venice's inspiring history.  Your guide will make sure you see the beloved highlights like the Rialto Bridge and St Mark's Square. Enjoy exploring the city under the stars and without the crowds in the stillness of the evening. You will have the luxury of LivTours exclusive access to St Mark's Basilica.  With only a few people inside you will get to experience its golden interior in the most exciting way!
On this private tour you have the company of a local expert guide to lead the way as you weave through the city's streets like a local. You are in for a special treat as you gain VIP access into St Mark's Basilica at night allowing you the opportunity to explore the best parts of this elegant basilica with only a few other people inside, as opposed to the masses of visitors it attracts during regular daytime hours.
Your tour will end in the glow of St Mark's Piazza as the street lights cast their warm light on the streets below.
BOOK NOW
---
Walk through Venice under the moonlight and uncover its allure and romance

Discover some of the city's beloved highlights in the stillness of the evening

Savor the luxury of having a private guide to share Venice's magical tales of time

Visit the golden interior of St Mark's Basilica illuminated in an exciting way

Enjoy VIP access to special areas of the basilica like the Crypt and Pala d'Oro
BOOK NOW
Exclusive private Tours and Experiences. Also offered in Spanish, French, Portuguese, Swedish and Russian
Our prices always include tickets and reservations fees (no waiting in lines!)
Our tour guides and staff are selected experts and speak perfect English
Easy to book and prepay your tours with our secure payment system
Eco-sustainable tourism, designed to respect and support local culture, art and traditions
---
Your LivTours' Private Venice Night Tour with Exclusive Entry Into St Mark's Basilica starts when you meet your private guide in a small piazza near the famous Rialto bridge. You will get acquainted with this enticing floating city as you walk the maze of narrow streets, passing through hidden canal side piazzas in the company of your expert local guide. Soak up the stillness of the evening, enjoying a different side to the daytime hustle and bustle of this port city. As you continue your tour, you will see the gondolas silently glide by with their lanterns glowing, and stunning Venetian buildings start to come to life with golden lights reflecting in the black waterway.  You are sure to be captivated by the city's mystique as your guide uncovers another side of this unique city sharing with you its remarkable story.  Hear how it grew from a sandy safe place out on the lagoon, into the captivating city it is today.
See firsthand how some of the city's beloved highlights that take on a new vibe as evening approaches.  Now, without the daytime crowds, you will have a chance to appreciate these treasures. The famous Rialto Bridge is more peaceful, take a moment to enjoy the atmosphere and views of the Grand Canal as evening approaches. Not to be missed is the magical Piazza San Marco with its enchanting night time atmosphere, encompassed by elegant Venetian architecture. Appreciate the beautifully lit buildings like the Bell Tower, Doge's Palace, and most of all, St Mark's Basilica with its stunning facade, adorned in decorative marble and golden mosaics. Marvel at its endless display of Venetian pride with its golden St Mark's statue, and its winged golden lion while your private guide shares with you the history of St Mark's Basilica.
Enter St Mark's through a side gate opened exclusively for LivTours. Enter into the pitch black Basilica with only a handful of other people, and sit in its pews as the lights are turned on one by one illuminating its intricate golden blanket of mosaics section by section. In the company of your guide, visit the Basilica's special areas, including getting up close to its breathtaking central golden altarpiece, the Pala d'Oro. You will see the ancient crypt, with only you, your private guide, and a few other people. As part of LivTour's exclusive entrance, this is a truly spectacular way to experience Venice's most important religious building in all its glory!
St. Mark's Basilica was originally built in the 9th century to house the remains of St. Mark. Buried in Alexandria, Egypt until 828, you will hear the story of how he was brought to Venice and given a proper burial in the Basilica that was built specifically to house his remains.
After exploring the inside of St. Mark's Basilica, your tour ends in the elegant St. Mark's Piazza in the quiet of the evening. You will have experienced the captivating allure of Venice that only comes out at night! Your private guide will be happy to give you restaurant recommendations so you can finish your evening with a traditional Venetian dinner!
BOOK NOW
---
There is no photography allowed inside St Marks Basilica.


Places of worship have strict dress code requirements for entry. All participants are required to have shoulders and knees covered (no tank tops or short dresses) to enter.
BOOK NOW
---
LivTours' group size of max 6 participants is and always has been based on sustainable travel, and we are proud to be at the forefront of change and innovation in the industry.  LivTours is committed to providing travelers with truly sustainable tours with the lowest possible environmental impact, all while supporting the local industries and people of each unique destination. To learn more about how you can actively support sustainable tourism  and how LivTours is contributing, click here.
BOOK NOW
---
When you book a LivTours Private Tour or Experience, you are guaranteed a dedicated, expert guide that allows you the flexibility to start your tour at a time which is convenient for you, making planning easy. Our private tours ensure that you will get a tailored experience to meet all your needs so we go at your pace, perfect for families with younger children, elderly, or individuals with accessibility needs. Please be advised that all private tours begin at a base price starting at two people*. Prices are inclusive of entry tickets where applicable. *Some Ferrari private experiences are inclusive of one person only.
BOOK NOW
---
Definite "must do" in Venice!
"We did this tour with Nico. He did an amazing job taking us around the streets of Venice and showing us both the busier and quieter parts of the city. We arrived in Venice right before this tour, so it was the perfect first look at the city. So happy we got to see it at night. Highly recommend. "
Karri Clute - United States
---
super very private tour all alone with our guide in the fully lit basilica is a memorable experience and worth the price
"Pamela was an excellent guide who was very knowledgable, kind, and was very good at explaining everything we saw. She showed us so many unique artifacts, and this tour could not compare to visiting the basilica in the day. "
Daniele - United States
---
Amazing Night Tour
"We will never forget our Venice night tour with Roberta. She was amazing and taught us so many things about Venice and Basilica S Marco. "
John
---
BOOK NOW
---
By selecting Choose Dates Later / Buy as Gift at booking, any tour can be purchased without fixed dates. This is the perfect option if you want to purchase your tour as a gift for a loved one, or if you are in the pre-planning phase of your vacation. After booking, you will receive a Travel Voucher Code and full instructions on how to schedule your tours when ready. Once your travel plans are confirmed, you can easily use the Travel Voucher Code on the LivTours website to formally schedule your tours. You can find out more here.
BOOK NOW