Semi-Private Tour of Pompeii
---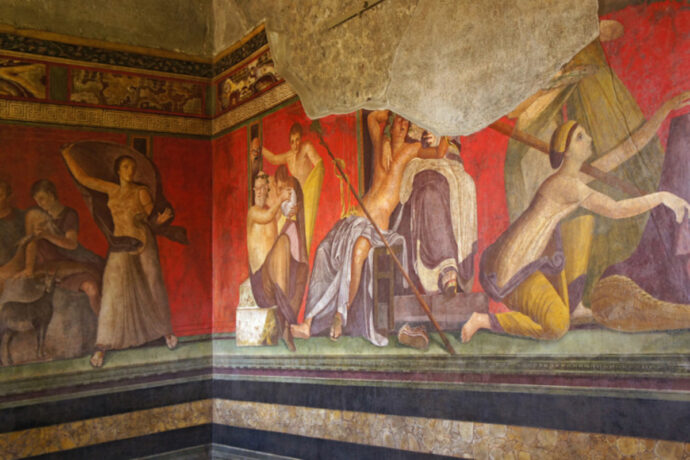 ---
LivTours' Semi-Private Tour of Pompeii is the perfect way to explore this expansive UNESCO World Heritage Site and make the most of your time in this ancient city. The fascinating history of this Ancient Roman province that was destroyed by the eruption of nearby Mt Vesuvius, is undoubtedly a sight to see for any traveler.
Pompeii is one of Italy's most well preserved archaeological sites, once one of the most important ancient Roman trade cities, which was completely destroyed by a sudden eruption of Vesuvius in 79 AD, and quickly buried the city under over 6 meters of ash. Interestingly, this city which dates back to 80 BC,  was not rediscovered again until 1599. The site is still an active excavation area, with plenty left to uncover.  Discover the story behind the life and times of this ancient port town and the modern-day excavations which are helping to bring it back to life!
BOOK NOW
---
Enjoy exclusive access into the Pompeii ruins on your semi-private tour of 6 people

Appreciate the frescoes and mosaics that decorated the homes of the wealthy

Discover what life was like on that fateful day in 79 AD when Mount Vesuvius erupted

Listen to stories of more recent Pompeii discoveries from your archaeological guide

Walk the streets of this ancient trade port city, letting your guide bring it to life
BOOK NOW
Semi-Private tours and experiences are guaranteed six participants max.
Our prices always include tickets and reservations fees (no waiting in lines!)
Our tour guides and staff are selected experts and speak perfect English
Easy to book and prepay your tours with our secure payment system
Eco-sustainable tourism, designed to respect and support local culture, art and traditions
---
Your LivTours' Semi-Private Tour of Pompeii starts with a meet and greet with your archaeological guide and fellow travelers. You will enjoy priority access into Pompeii so you make the most of your time. LivTours has carefully chosen a team of guides many of whom are archaeologists, and some of whom were part of the first excavation teams of the area – giving you the chance to hear the most amazing anecdotes, discoveries, and stories about Pompeii. Your tour kicks off with your guide explaining what a day in the life of a resident of Pompeii was like before the eruption; giving you an important link to life in ancient Roman.
Ancient Romans were forerunners of craftsmanship and engineering, and these skills are evident in the construction of Pompeii. You will have the pleasure of visiting the Roman baths and town's water system – including their sewage system – a first of its kind, and one which is still studied today. In 79 AD, when most European citizens were still living in basic structures, Pompeii residents were constructing decor for their homes from stunning mosaics to murals, as well as more practical commodities such as centrally heated public baths and saunas. As you walk through the Pompeii Forum, the heartbeat of this once port trading town, your guide will explain where residents lived, worked, and how they were entertained. This vibrant port town had its fair share of wealthy merchants who lavishly decorated their homes – your guide will make sure you get to see the best of them, as well as the two most popular attractions: the House of Sallust and the House of Julia Felix!
Throughout your tour, your archaeological guide will help you understand the chaos that reigned that fateful day with people and horses trying to flee along the stone-slabbed roads to no avail. You will have a clear mental picture of what the streets looked like on that decisive day 2000 years ago when Mt Vesuvius unexpectedly erupted.  LivTours Tour of Pompeii gives you a unique look at a true archaeological gem, an extraordinarily preserved peek into ancient history.
BOOK NOW
---
Skip the line into Pompeii site

Fully guided tour

Pompeii theatre

Forum of Pompeii

Roman bath house

House of Sallust

House of Julia Felix

Mt Vesuvius view
BOOK NOW
---
Comfortable walking shoes recommended.

Pompeii is an ongoing excavation site. The suggested itinerary might encounter some changes depending on the archaeologist's daily duties.
Due to these unprecedented times and ongoing safety and regulation changes, some sites may have limited accessibility if the venue can not guarantee social distancing which may lead to unforeseen tour modifications. Thank you for your understanding.
LivTours' group size of max 6 participants is and always has been based on sustainable travel and especially in these new times, we are proud to be at the forefront of the innovation, changes, and challenges that are presented to us during this post-pandemic time. At the moment, due to COVID-19 safety regulations, you are required to wear a mask at all times of the tour. Please bring one for every participant over 6 years of age.
BOOK NOW
---
All LivTours Semi-Private Group Tours are limited to 6 guests per tour guide. Our commitment to maintaining our uniquely tiny group sizes can sometimes be a little tricky, mathematically speaking. For example, we want to ensure that traveling families and friends can tour together so on rare occasions we may add one or two guests in order to not split groups. On that same note, you may also find yourself on tour with less than six people! We thank you for your understanding and flexibility.
BOOK NOW
---
Giorgio really made the difference!
"Our family (2 kids ages 10 and 13) toured around Italy this past summer and, of course, Pompeii was on our list of things we definitely wanted to see. We chose to book this tour with LivItaly and we were extremely pleased with the results. We were in a group with just 1 other person and our guide, Giorgio, was the best possible guide you could imagine. He connected with the kids right from the start and they hung on his every word. At dinner that night, they couldn't stop talking about all that they had seen and learned. We ALL will go home with fantastic memories of this experience."
Jenny - UK
---
Great small group tour of Pompeii
"Our suggestion is that you don't try to do Pompeii on your own or just with a tour book. We saw people wandering around, trying to make sense of what they were seeing, obviously tired and overwhelmed. Instead, with our awesome guide, Giorgio, we were able to enjoy every place we saw and learn about what life was like in Pompeii. It's amazing how much is still standing and how large a city it once was. Learning about the tragedy that took so many lives and seeing the bodies and things that the ashes have preserved all these years is just fascinating. We were also amazed at the afrescos that are still on the walls. It's a place you need to see at least once in your lifetime. Do it right and book this tour (and ask for Giorgio, if you can)."
Beatrice - UK
---
For the best possible experience...
"After our day at Pompeii, we can strongly suggest that you shouldn't try to do it on your own. The place is immense and there's quite a number of things to see so it's better to have a guide to take you precisely where you need to go and to explain what you are seeing. We were very pleased with LivTour's small group tour. The guide was very welcoming and funny, as well as knowledgeable and patient. We felt we got the best possible experience from this tour and we will remember our day in Pompeii as one of the best, most interesting experiences of our trip."
Bryan and Sean - Ireland
---
BOOK NOW
---
By selecting Choose Dates Later / Buy as Gift at booking, any tour can be purchased without fixed dates. This is the perfect option if you want to purchase your tour as a gift for a loved one, or if you are in the pre-planning phase of your vacation. After booking, you will receive a Travel Voucher Code and full instructions on how to schedule your tours when ready. Once your travel plans are confirmed, you can easily use the Travel Voucher Code on the LivTours website to formally schedule your tours. You can find out more here.
BOOK NOW