Semi-Private Tour of Park Guell | Gaudi's Wondrous Park
---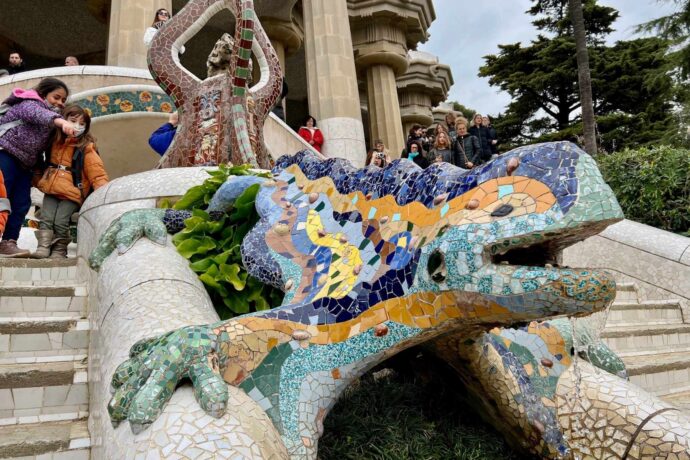 ---
Take a tour through the magical Park Güell, one of the world's most impressive and creative public parks, designed by Barcelona's most famous architect: Antonio Gaudi. 
Today, it is a UNESCO World Heritage site, made up of delightful gardens, and filled with exuberant coloured mosaics, sculptures, and monuments inspired by nature. Carved into the Carmel hillside with panoramic views of Barcelona, Gaudi loved it so much, he made his home here! Your tour will take you to all the major highlights like El Drac, the tiled lizard, as well as many hidden gems within this huge 42-acre park.
BOOK NOW
---
Enjoy skip the line tickets to Park Guell

Explore the highlights of this UNESCO World Heritage Site with your 5-star guide

Join a semi-private group of no more than 6 people, guaranteed

See some of the very best views of Barcelona from Park Guells decorative terrace

Walk up the Dragon staircase and other shimmering colorful mosaics
BOOK NOW
Semi-Private tours and experiences are guaranteed six participants max.
Our prices always include tickets and reservations fees (no waiting in lines!)
Our tour guides and staff are selected experts and speak perfect English
Easy to book and prepay your tours with our secure payment system
Eco-sustainable tourism, designed to respect and support local culture, art and traditions
---
Meet your guide at the entrance to Park Güell, and enjoy skip-the-line entry into one of the most magical parks in the world. 
The brainchild of Antonio Gaudi and his patron Count Güell, this enchanting and eccentric wonderland of mosaic statues and tiled sculptures, with magnificently quirky architectural details, was carved into the Carmel hillside, to be a haven away from the pollution and busyness of the city below.   
Your exploration of the park will take you under remarkable viaducts, along curving pathways and through pretty gardens. You'll see a vast array of bright colors evocative of the Mediterranean atmosphere, gorgeous mosaics and tiled sculptures – all inspired by nature and animals. Walk up the Dragon staircase in the center of the park, an icon of Barcelona, and admire the many other animal mosaics shimmering in the sun, from snails to elephants in Gaudí's garden paradise. Everything – from viaducts, to buildings to the sculptures – is cleverly built into the topography of the hill. Gaudi, the beloved Modernist architect of Park Güell – loved his sparkling creations so much he lived here. The house is now open to the public. 
In 1984 the Park became a UNESCO World Heritage Site and remains one of Barcelona's most symbolic and defining attractions. 
You will end your tour, at the top of the hill, on a tiled snake-like bench, a great place to relax, enjoy the sweeping panoramic views over the park and city of Barcelona beneath.
BOOK NOW
---
Skip-the-line entrance to Park Guell

Expert local guide

The best views of Barcelona

Groups of 6 people maximum
BOOK NOW
---
LivTours' group size of max 6 participants is and always has been based on sustainable travel, and we are proud to be at the forefront of change and innovation in the industry.  LivTours is committed to providing travelers with truly sustainable tours with the lowest possible environmental impact, all while supporting the local industries and people of each unique destination. To learn more about how you can actively support sustainable tourism  and how LivTours is contributing, click here.
BOOK NOW
---
All LivTours Semi-Private Group Tours are limited to 6 guests per tour guide. Our commitment to maintaining our uniquely tiny group sizes can sometimes be a little tricky, mathematically speaking. For example, we want to ensure that traveling families and friends can tour together so on rare occasions we may add one or two guests in order to not split groups. On that same note, you may also find yourself on tour with less than six people! We thank you for your understanding and flexibility.
BOOK NOW
---
By selecting Choose Dates Later / Buy as Gift at booking, any tour can be purchased without fixed dates. This is the perfect option if you want to purchase your tour as a gift for a loved one, or if you are in the pre-planning phase of your vacation. After booking, you will receive a Travel Voucher Code and full instructions on how to schedule your tours when ready. Once your travel plans are confirmed, you can easily use the Travel Voucher Code on the LivTours website to formally schedule your tours. You can find out more here.
BOOK NOW