Private Park Guell Tour | Gaudi's Wondrous Park
---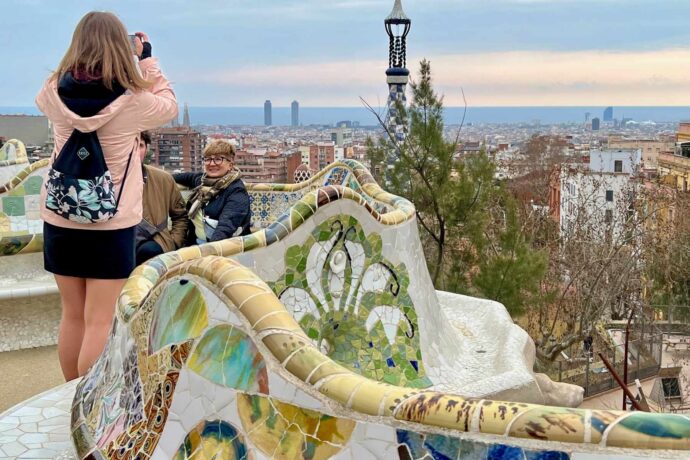 ---
Park Guell is one of the most magical, impressive, creative and enchanting public parks in the world. Designed by Barcelona's most famous architect, Antonio Gaudi, it is a UNESCO World Heritage site. The park is filled with brightly colored sculptures, statues and tiled monuments inspired by nature, with a plethora of decorative gardens. Built into the Carmel hillside with spectacular views overlooking Barcelona, the park was home to Count Guell for whom it was built, as well as Gaudi himself. Your private tour will take you to all the major highlights and hidden gems of this huge 17 hectare park.  
BOOK NOW
---
Enjoy skip the line access to Park Guell with a private guide

Explore this magical park filled with eccentric statues by Antonio Gaudi

Admire the most spectacular views over Barcelona from Carmel Hill

Learn about the amazing combination of colorful architecture and topography

Hear Gaudi's life story and influences that led to the creation of the park
BOOK NOW
Exclusive private Tours and Experiences. Also offered in Spanish, French, Portuguese, Swedish and Russian
Our prices always include tickets and reservations fees (no waiting in lines!)
Our tour guides and staff are selected experts and speak perfect English
Easy to book and prepay your tours with our secure payment system
Eco-sustainable tourism, designed to respect and support local culture, art and traditions
---
Your private tour of Park Güell starts at the entrance, where your guide will meet you with tickets for immediate entry into one of the most magnificent and magical parks in the world. 
Your guide will show you how Gaudí turned the barren hillside into the city's most beautiful park for his friend, Count Güell. As you walk beneath the twisting viaducts, and sculptural monuments you'll learn all about the Garden City Güell and Gaudí planned to build here, away from the pollution of the city below.
The park is filled with brightly colored mosaics and tiled sculptures inspired by nature and the animal kingdom. See the Dragon staircase in the center of the park, a famous symbol of Barcelona. Keep your eyes open for other animal mosaics, like snails and elephants in Gaudí's garden paradise.The bright colors and glinting, jewel-like mosaics are eloquent of the sunny, laid back Mediterranean atmosphere of Barcelona. The magnificent buildings, gardens, monuments and sculptures are cleverly built into the topography of the hill – and are all the design of Antonio Gaudi, Barcelona's beloved Modernist architect – who loved his sparkling creations so much he made his home here. It is now a museum open to the public. 
Work on the Park began in 1900 on the orders of Gaudi's wealthy patron and friend Count Guell, but was never fully completed and the Guell family sold it to Barcelona council. In 1984 it was designated a UNESCO World Heritage Site and remains one of Barcelona's most iconic and defining attractions. 
As you climb higher along the curving pathways, finally, you'll reach the top where a mosasic-covered bench snakes around an open square. This is a great place to relax, enjoy the views and get some memorable photos of your tour of Park Guell.
BOOK NOW
---
Private, expert English-speaking guide

Skip-the-line entrance tickets to Park Guell

Fully guided tour of the magical Park Guel

Spectacular views over the city of Barcelona

The tiled dragon staircase
BOOK NOW
---
When you book a LivTours Private Tour or Experience, you are guaranteed a dedicated, expert guide that allows you the flexibility to start your tour at a time which is convenient for you, making planning easy. Our private tours ensure that you will get a tailored experience to meet all your needs so we go at your pace, perfect for families with younger children, elderly, or individuals with accessibility needs. Please be advised that all private tours begin at a base price starting at two people*. Prices are inclusive of entry tickets where applicable.
*Our Tuscan motorcycle tour and some Ferrari private experiences are inclusive of one person only.
BOOK NOW
---
Make your day even more unique and comfortable by upgrading your tour with a customizable LivTours optional add on!
BOOK NOW
---
By selecting BUY AS A GIFT, you can purchase this tour as a gift for someone you care for. You will receive a gift card voucher that then can be redeemed by the person/people who will enjoy the tour.Date and Time are values that cannot be selected at the moment. You will in fact receive a gift card voucher with instructions on how to redeem the tour and then select date and time.You can create a shopping cart with multiple tours as gift cards. You may not compose a shopping cart of gift cards and actual tours with date and time.This option can also be used as an opportunity to book a tour open-dated for yourself, in case you are still in the pre-planning phase of your trip.For more information please read here.
BOOK NOW