Semi-Private Tapas & Flamenco Tour of Barcelona
---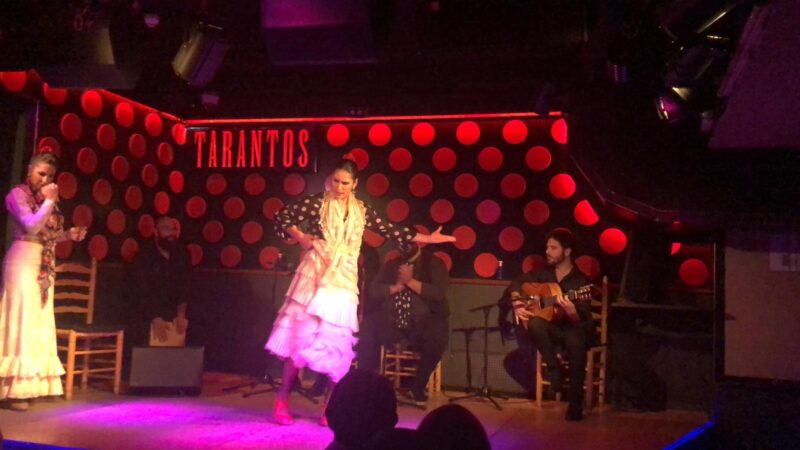 ---
LivTours Tapas and Flamenco Semi-Private Experience is a fantastic experience for those who want to live like a local, tasting local food and watching an authentic flamenco show. Your friendly and knowledgeable guide will accompany you and your fellow travelers through the narrow streets of the Gothic Quarter to small local tapas bars where you will be able to taste and savor tapas before ending the evening with a live flamenco performance in an intimate setting.
This memorable experience is an amazing way to see the Gothic Quarter, enjoy scrumptious tapas and immerse yourself in a mesmerizing live flamenco show.
BOOK NOW
---
Immerse yourself in the heart of Spanish culture on this two hour semi-private tour

Savor the delicious tapas and Spanish flavors like a local on this small group tour

Discover the rich cultural tapestry of the Gothic Quarter, the city's oldest district

Enjoy an authentic live flamenco show with select guests, musicians and dancers

Understand the history behind flamenco, and why it's considered a UNESCO gem
BOOK NOW
Semi-Private tours and experiences are guaranteed six participants max.
Our prices always include tickets and reservations fees (no waiting in lines!)
Our tour guides and staff are selected experts and speak perfect English
Easy to book and prepay your tours with our secure payment system
Eco-sustainable tourism, designed to respect and support local culture, art and traditions
---
Your Tapas and Flamenco Tour of Barcelona begins at the main square of the Old Town, Plaza Sant Jaume where you will meet your local guide. As your guide leads you to your first tapas venue you will begin to understand the captivating history of this labyrinth-like neighborhood where a legend sits behind every ancient stone facade. This neighborhood was where the Romans first settled more than 2,000 years ago and until the 1100s it was the only area of Barcelona enclosed in a protective wall making this neighborhood a melting pot of thousands of years of history and cultures.
TAPAS
Tapas, small dishes of local foods, that are eaten much like a progressive dinner and this tour is no exception as your expert guide leads you to two authentic venues nestled away in the narrow streets of this fascinating quarter to share and try different dishes. Of course, tapas are not complete without the company of local wines and beers. With 2.9 million acres of vineyards and 400 microbreweries, there is no shortage of choices. This experience is a marvelous way to get acquainted with Spanish cuisine, getting you set up to order like a local for the rest of your trip!
FLAMENCO
The foot stopping and toe-tapping rhythms of flamenco have been listed as an Intangible Cultural Heritage of Humanity by UNESCO, the United Nations Educational, Scientific, and Cultural Organization. Flamenco, evolving over hundreds of years, is a reflection of the cultures who have inhabited the Iberian Peninsula giving us a mixture of Gypsy, Muslim, and Spanish culture into the enthralling live show that you will experience in person. The magical blend of guitar, percussion, and singing with dancers is flamboyant and color dresses make for an unforgettable experience. Sit back and sip on a local wine as the sounds and movement transport you to an extraordinary place of complete immersion in Spanish culture.
Your Flamenco Show & Tapas Tour Barcelona is not just about food and entertainment, it is an informative, first-hand experience that stands apart.
BOOK NOW
---
Plaza Sant Jaume

Gothic quarter

Traditional Spanish tapas

Live flamenco show

Local Spanish wine

Fully guided experience
BOOK NOW
---
Comfortable walking shoes recommended.

It is possible to accommodate dietary restrictions such as vegetarian or gluten-free. Please specify your food needs under "Additional Notes" at booking.

Due to these unprecedented times and ongoing safety and regulation changes, some sites may have limited accessibility if the venue can not guarantee social distancing which may lead to unforeseen tour modifications. Thank you for your understanding.

LivTours' group size of max 6 participants is and always has been based on sustainable travel and especially in these new times, we are proud to be at the forefront of the innovation, changes, and challenges that are presented to us during this post-pandemic time. At the moment, due to COVID-19 safety regulations, the museums and sites visited on this tour require wearing a mask while on the site. Please bring one for every participant over 6 years of age.
BOOK NOW
---
All LivTours Semi-Private Group Tours are limited to 6 guests per tour guide. Our commitment to maintaining our uniquely tiny group sizes can sometimes be a little tricky, mathematically speaking. For example, we want to ensure that traveling families and friends can tour together so on rare occasions we may add one or two guests in order to not split groups. On that same note, you may also find yourself on tour with less than six people! We thank you for your understanding and flexibility.
BOOK NOW
---
Covid-19
All of our tours and experiences are in compliance with the latest local Covid-19 safety protocols. More information can be found in the voucher you will receive upon booking your tour/s.
---
BOOK NOW
---
All that we had hoped for
"Had a brilliant time with LivSpain's flamenco tour! Easily made friends with other couple in the group. Guide very entertaining. Delicious dinner and fascinating show. Definitely recommend."
Clyde - UK
---
A really great evening
"How can you come to Spain and not experience a true Flamenco show?? This was definitely on our bucket list and LivSpain's tour was the perfect solution. Our group of 4, plus guide, was the perfect size. We enjoyed the tapas and other authentic food and really got into the symbolism of the flamenco dancing and singing. This tour is a definite "must" when in Spain!!"
Jackie and friends - USA
---
We loved every minute!
"We knew we had to see a real flamenco show while in Spain so this tour was just perfect for us. We met our guide, who was warm and friendly right from the start and who gave us a wonderful overview of the neighborhood. After a great, very authentic dinner, we watched the flamenco show. Our guide was very good at explaining all of the meanings in the music and in the movements of the dancers and we couldn't help but get caught up in the emotions being displayed. It was an experience neither my husband or I will soon forget!"
Camille - USA
---
BOOK NOW