Semi-Private Ostia Antica Tour
---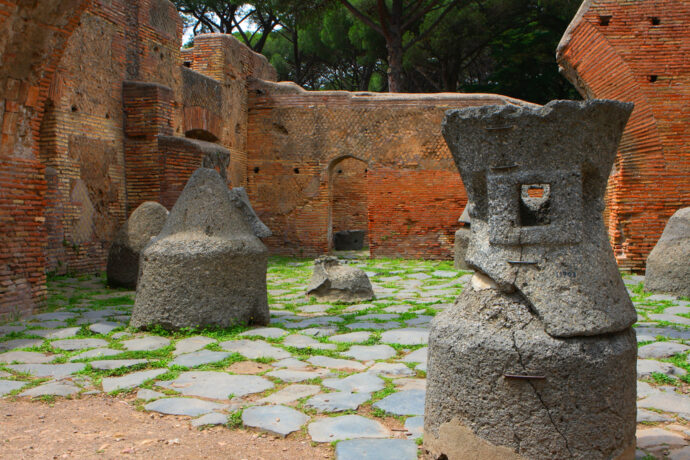 ---
LivTours Semi-Private Ostia Antica Tour is a half-day trip from Rome. This harbor city that was once full of hustle and bustle and one of the most important trading ports in the Roman Empire. On this semi-private group tour, you will maximize your time with your expert local guide by your side. Lucky for you, Ostia Antica has always been extremely well looked after, making the town the most well preserved ancient Roman city known to man. Along with your group of no more than six travelers, your expert guide will bring the ruins to life through their stories and anecdotes. By the end of the tour, you will have a really good understanding of what Ostia Antica was like in its heyday when it was an essential trading hub.
You will start your tour at the entrance of the archeological site, where your local expert guide will be waiting for you. An expert in their field, your guide will take you on a tour back in time 2,000 years when Ostia Antica was at the height of its population and importance in the Roman Empire.  Seeing the ruins first hand allows your guide to paint a vivid picture of what daily life must have been like, the luxuries the wealthy would have enjoyed, the challenges of the poor, and the urban planning the Romans were so known for.
BOOK NOW
---
Discover well-preserved ancient ruins of Ostia Antica known as the "better Pompeii"

Tour with an expert LivTours guide who will be waiting for you in Ostia Antica

Savor LivTours' exclusive priority access into the ruins & maximize your time

Visit what was once the most powerful trade & commerce site of the Roman Empire

Climb the steps of the Ostia Antica Theater which remains perfectly intact
BOOK NOW
Semi-Private tours and experiences are guaranteed six participants max.
Our prices always include tickets and reservations fees (no waiting in lines!)
Our tour guides and staff are selected experts and speak perfect English
Easy to book and prepay your tours with our secure payment system
Eco-sustainable tourism, designed to respect and support local culture, art and traditions
---
Your LivTours Semi-Private Ostia Antica Tour begins at the entrance of the Ostia Antica site, where you will be met by your top rated LivTours guide. Enjoying LivTours exclusive priority entrance, you will be able to make the most of your time with your guide. Your guide will paint a vivid picture of what life was like during Roman times when the city was in its heyday through stories and anecdotes. You will also get a chance to see the Baths of Neptune with its wonderfully preserved mosaics, the former business district, known as the commercial forum, and a theater that seated 3,500 attendees.
Seeing first-hand ancient storefronts, public bathhouses, with indoor plumbing, hot and cold running water, you will find out just how advanced the Roman Empire was. This is a wonderful half-day tour allowing you a deeper understanding of the inner workings and the strength of its far-reaching trading network. A visit to Ostia Antica is key in understanding daily life some 2,600 years ago!
After your comprehensive tour of Ostia Antica is complete you can return to Rome, stay in Ostia Antica for a while longer or head to the Mediterranean; keep reading to find out more.
Want to turn your half-day into a full day trip?  Why not take a visit to nearby Ostia Lido!
On LivTours' Semi-Private Ostia Antica Tour you have choices of how to spend your time after your tour ends.  You can spend more time in Ostia Antica exploring on your own, return to Rome straight away or take the train a few more stops and spend the afternoon on the Mediterranean.  Your guide will help you with any details you need on the day!
BOOK NOW
---
Entrance tickets for Ostia Antica

Fully guided experience

Ostia necropolis

Piazza della minerva

Baths of Neptune

Ancient theatre of Ostia

Square of the corporations

The ancient bakery

Ostia forum

Ancient latrines
BOOK NOW
---
LivTours' group size of max 6 participants is and always has been based on sustainable travel, and we are proud to be at the forefront of change and innovation in the industry.  LivTours is committed to providing travelers with truly sustainable tours with the lowest possible environmental impact, all while supporting the local industries and people of each unique destination. To learn more about how you can actively support sustainable tourism  and how LivTours is contributing, click here.
BOOK NOW
---
All LivTours Semi-Private Group Tours are limited to 6 guests per tour guide. Our commitment to maintaining our uniquely tiny group sizes can sometimes be a little tricky, mathematically speaking. For example, we want to ensure that traveling families and friends can tour together so on rare occasions we may add one or two guests in order to not split groups. On that same note, you may also find yourself on tour with less than six people! We thank you for your understanding and flexibility.
BOOK NOW
---
Highly recommended Ostia Antica tour
"We were really surprised how well preserved Ostia Antica still is! So if you want to experience a Roman ancient city this is the tour for you! Our tour guide Gio was doing a wonderful job showing us around and explaining the history of Ostia. We can sincerely recommend this tour! "
Ann-Charlotte and John - Sweden
---
BOOK NOW
---
By selecting Choose Dates Later / Buy as Gift at booking, any tour can be purchased without fixed dates. This is the perfect option if you want to purchase your tour as a gift for a loved one, or if you are in the pre-planning phase of your vacation. After booking, you will receive a Travel Voucher Code and full instructions on how to schedule your tours when ready. Once your travel plans are confirmed, you can easily use the Travel Voucher Code on the LivTours website to formally schedule your tours. You can find out more here.
BOOK NOW