The Best of Colosseum & Ancient Rome With Exclusive Arena Access | Semi-Private Tour
---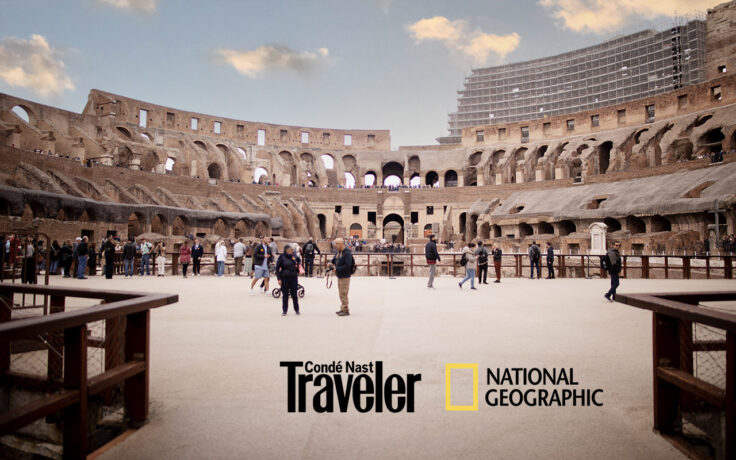 ---
LivTours' Colosseum & Ancient Rome With Exclusive Arena Access tour is the perfect way to explore Ancient Rome. You will get skip the line access through the Colosseum and step out onto the restricted Colosseum Arena floor! 
Your tour will take you through the Colosseum, Palatine Hill & Roman Forum with an expert tour guide in a semi-private group with a maximum of six people. 
BOOK NOW
---
Pass through the Gladiator Gate and walk on the Colosseum's exclusive arena floor

Visit the Colosseum, Roman Forum & Palatine Hill on this semi-private tour

Enjoy LivTours' skip-the-line access into the iconic Colosseum

Hear about the epic battles and stories that have shaped the Eternal City

Get a bird's-eye-view of the Colosseum's underground tunnels

Live the experience as seen on National Geographic and CONDÉ NAST Travel
BOOK NOW
Semi-Private tours and experiences are guaranteed six participants max.
Our prices always include tickets and reservations fees (no waiting in lines!)
Our tour guides and staff are selected experts and speak perfect English
Easy to book and prepay your tours with our secure payment system
Eco-sustainable tourism, designed to respect and support local culture, art and traditions
---
**All Colosseum tours require photo ID for all participants; plan to bring your passports on the day of your tour. Failure to show identification will result in the denial of entry to the site.**
Your Colosseum & Ancient Rome Tour with Exclusive Arena Access begins at the iconic Colosseum. You and your semi-private group will enjoy priority access to the Colosseum, enabling you to skip the long lines (just a quick stop for the security check). You will then pass through the Gladiators Gate to the Colosseum's exclusive arena floor and step out directly onto the same level where the gladiators would fight! It's an incredible perspective that is only possible for a limited number of visitors. It's also the perfect place for your guide to share stories of the gladiators and performances that occurred here in ancient times. 
From the restricted arena floor, you will also be up close to the Colosseum underground, having a near unobstructed birds eye view of the fascinating dungeons where the shows were managed and coordinated.   
Once you have enjoyed exclusive access to the arena floor, your guide will lead you up to the second floor where you can enjoy the view from Caesar's balcony, hear amazing stories and anecdotes, and get a better picture of what it all looked like thousands of years ago.
During the tour, your guide will use visual aids to help recreate the ancient world. If you you wish, you can download our free LivTours app (via Apple or Android store) before the tour and then view our patented VR reconstructions with a pair of cardboard goggles that will be provided by the guide. Simply slip your phone in the case and enjoy LivTours' exclusive 360-degree virtual reality reconstructions of the Colosseum and the surrounding hills.
After concluding your visit to the Colosseum, your semi-private tour will move on to another magnificent archaeological site – the nearby Palatine Hill and Roman Forum. Learn about the origins of Rome and the strategy that helped this ancient power grow. Climbing to the very top of this beautiful archeological park you will be able to admire one of the most stunning views of the Circus Maximus. Imagine what it looked like when Emperor Nero held chariot races here. While listening to your guide's stories about ancient Rome, you will gain a new appreciation for just how advanced they were and how epic this panoramic view must have been at the time.  
Next, it is on to visit the political and commercial center of ancient Rome – the Roman Forum. The sheer size of the excavation site and the fascinating ruins of basilicas, political buildings, temples and more and will stimulate your imagination of the Roman life. Your guide will delight you with stories of emperors and the over-the-top lifestyles of ancient Rome's rich and famous. 
Imagine the vibrant debates of toga-clad Roman senators in the Curia, and the discussions that may have taken place during the cremation of Julius Caesar. Before accompanying you to the exit and concluding this once-in-a-lifetime tour, your expert guide will paint a picture of the colorful victory parades of Roman soldiers as they passed through the magnificent arches after conquests.

BOOK NOW
---
Colosseum & Arena Floor Access and tour

Skip the line Colosseum & Roman Forum tickets

Main Floor & 1st Tier Colosseum visits

Ancient City & Imperial Forum guided tour
BOOK NOW
---
Please note that all Colosseum tour starting times are subject to change based on ticket availability.
All Colosseum tours require photo ID for all participants; plan to bring your passports on the day of your tour.

Failure to show identification will result in the denial of entry to the site.

VR cardboard glasses by no means replace your tour guide's descriptions and serve only as an enhancement to the tour. They are in no way, shape, or form a video game, but rather offer 360-degree visual reconstructions of the architectural wonders that surround you.

The above itinerary is an example, the order of the sites might change depending on the scheduled slot.
Guests with wheelchair accessibility needs will find difficulty with this semi-private tour. In order to ensure a tour with alternative routes, please inquire with our customer support team and we will find you a barrier-free tour.
BOOK NOW
---
LivTours' group size of max 6 participants is and always has been based on sustainable travel, and we are proud to be at the forefront of change and innovation in the industry.  LivTours is committed to providing travelers with truly sustainable tours with the lowest possible environmental impact, all while supporting the local industries and people of each unique destination. To learn more about how you can actively support sustainable tourism  and how LivTours is contributing, click here.
BOOK NOW
---
All LivTours Semi-Private Group Tours are limited to 6 guests per tour guide. Our commitment to maintaining our uniquely tiny group sizes can sometimes be a little tricky, mathematically speaking. For example, we want to ensure that traveling families and friends can tour together so on rare occasions we may add one or two guests in order to not split groups. On that same note, you may also find yourself on tour with less than six people! We thank you for your understanding and flexibility.
BOOK NOW
---
Great experience for all ages
"Our tour at the Colosseum with Dario was truly amazing. I would recommend Dario as guide to anyone and in particular anyone with younger children and teenagers. Dario made the tour very personal in an engaging and fun way. Really 10/10. I would recommend this tour with Dario to anyone any day of the week. Thank you so much for a great experience!!!"
Maria D. - Canada
---
Favorite part of our trip
"Our guide, Sev, was amazing and very knowledgeable! He kept the tour light and fun!! We loved the small group and the chance to be a part of it. The Colosseum was probably our favorite part of the trip and Sev was one reason why! "
Marianna - USA
---
100/100
"Can not say enough about our guide Luca. He was amazing, made experience an amazing one!!! I rate him 100!!!!"
Beatriz - Spain
---
BOOK NOW
---
By selecting Choose Dates Later / Buy as Gift at booking, any tour can be purchased without fixed dates. This is the perfect option if you want to purchase your tour as a gift for a loved one, or if you are in the pre-planning phase of your vacation. After booking, you will receive a Travel Voucher Code and full instructions on how to schedule your tours when ready. Once your travel plans are confirmed, you can easily use the Travel Voucher Code on the LivTours website to formally schedule your tours. You can find out more here.
BOOK NOW