Private Vatican Morning Tour with Exclusive Access to Secret Rooms
---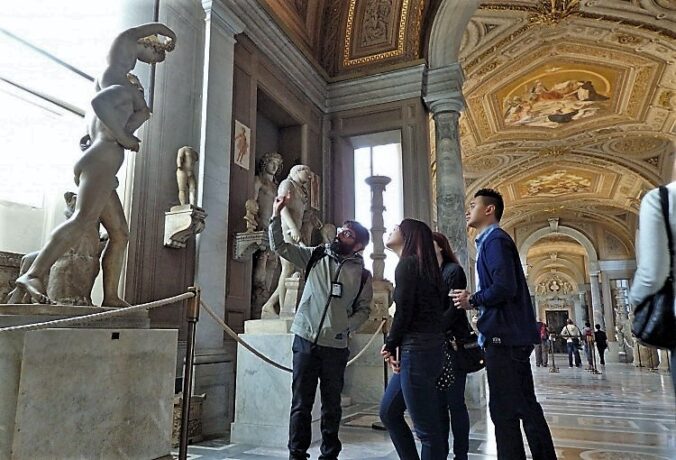 ---
This LivTours' Private Early Access Vatican Tour includes early entrance, ahead of the crowds as well as a visit to some exclusive rooms! Your English-speaking guide will take you on a comprehensive tour through the major highlights of the Vatican Museums, the Sistine Chapel, St. Peter's Basilica, and the secret rooms. Walk the famous Hall of Busts and have exclusive entry into the Cabinet of Masks with its ancient mosaics and sculptures. See the picturesque Pinecone Courtyard and the Museum Clementino. Study the nearly perfect statue of Apollo Belvedere and the ancient statue of the tragic Lacoon.
Explore the Tapestry and Maps galleries without the crowds. Meet Renaissance masters like Raphael and Michelangelo as you walk through the Raphael Rooms and the absolutely awe-inspiring Sistine Chapel. See some of Italy's most famous frescoes like the School of Athens in the Raphael rooms, and the Creation of Adam on the ceiling and of the Sistine Chapel. Go directly into St. Peter's Basilica where you will discover its most important works of art with your private guide such as Berninis soaring solid bronze alter canape, Michelangelo's emotional Pietà and his incredible Dome. Customize your tour according to your interests, whether that's an itinerary aimed to involve younger tour-takers or one that focuses on Renaissance masters. This is an opportunity of a lifetime!
BOOK NOW
---
Enter the Vatican Museums a full hour before it opens to the general public

Enjoy exclusive benefits of LivTours' Official Silver Level Vatican Collaboration

Discover the magnificent art and highlights with a private, English-speaking guide

Go beyond the velvet ropes and visit Vatican rooms which are normally off-limits

See Italian Renaissance masterpieces and St. Peter's Basilica on this 3.5 hour tour
BOOK NOW
Exclusive private Tours and Experiences. Also offered in Spanish, French, Portuguese, Swedish and Russian
Our prices always include tickets and reservations fees (no waiting in lines!)
Our tour guides and staff are selected experts and speak perfect English
Easy to book and prepay your tours with our secure payment system
Eco-sustainable tourism, designed to respect and support local culture, art and traditions
---
Your LivTours' Private Early Entrance Vatican Tour begins with privileged entrance into the Vatican Museums. You will enter an hour before general entry begins, giving you a head start to explore the highlights of this vast collection. Walk the Gallery of Statues and Hall of Busts, normally off-limits. Enter the Cabinet of Masks, named after the ancient mosaics inside. See famous statues of Aphrodite and other remarkable treasures from this private collection.
Visit the Pinecone Courtyard, named for its bronze pine cone statue. See the Museo Clementino with its classical sculptures. Admire the ancient statue of the Trojan Lacoon. This sculpture features an expressive scene from a tragic legend. Study the celebrated Belvedere Apollo, a 2nd century AD marble statue of Apollo. See the important Belvedere Torso, a mysterious fragment of a 15th-century sculpture that inspired artists like Michelangelo.
Enjoy the privacy in famous hallways like the Gallery of Maps, a wonderfully decorated gallery of 16th-century maps. Admire the Gallery of Tapestries which hold priceless examples of religious scenes woven with precious silver and gold. Discover the ornately decorated Raphael Rooms with your private guide as they tell you about the Renaissance artist and the frescoes that decorate the rooms that were once his apartments. Among the major artworks here is the world-renowned School of Athens, a very important example of Renaissance art.
Your guide will brief you before entering the silent Sistine Chapel. Inside you will find every inch of this sacred space covered in stunning frescoes of religious stories and pagan figures imagined by the devout Christian, Michelangelo. After visiting the Sistine, you'll enter directly into St. Peter's Basilica. This monumental church is a remarkable example of architecture and art. Inside you will see the major highlights such as Michelangelo's highly emotive Pietà, Bernini's impressive bronze altar canopy, and one of the largest Domes in the world.
This Early Entrance Vatican Tour offers you an incredible chance to see one of the world's most expansive galleries, secret rooms, and its most important holy sites ahead of the crowds and with a local expert to be your guide.
BOOK NOW
---
Priority early entrance into Vatican museums

Exclusive access to secret Vatican rooms

Full guided experience through the museums

Pinecone Courtyard

Apollo Belvedere

Museo Clementino

Ancient Lacoon statue

Belvedere Torso

Raphaels school of athens

Gallery of the maps

Sistine Chapel & Michelangelos ceiling

St Peters Basilica

Berninis alter canopy

Michelangelos pieta
BOOK NOW
---
Offered in: English, French, Spanish, Portuguese, and Italian. Please specify under "Additional notes" if you wish to book the tour in a language other than English.

Places of worship have strict dress code requirements for entry. All participants are required to have shoulders and knees covered (no tank tops or short dresses) to enter.

Backpacks are not permitted in the museum.

This private tour is family-friendly.
St. Peter's Basilica is an active church and accordingly can be closed unexpectedly for liturgical ceremonies and/or Wednesday mornings during Papal Audiences. In the event of such closures, your time spent inside the museums will be extended.
Photography (without flash) is permitted inside the galleries but not the Sistine Chapel.

LivTours' is and always has been based on sustainable travel and especially in these new times, we are proud to be at the forefront of innovation, change, and challenges that are presented to us during this post-pandemic time. At the moment, due to Covid-19 safety regulations, museums and sites visited on this tour require wearing a mask while on site. Please bring one for every participant over 6 years of age.

Due to these unprecedented times and ongoing safety and regulation changes, some sites may have limited accessibility if the venue can not guarantee social distancing which may lead to unforeseen tour modifications. Thank you for your understanding.
BOOK NOW
---
When you book a LivTours Private Tour or Experience, you are guaranteed a dedicated, expert guide that allows you the flexibility to start your tour at a time which is convenient for you, making planning easy. Our private tours ensure that you will get a tailored experience to meet all your needs so we go at your pace, perfect for families with younger children, elderly, or individuals with accessibility needs. Please be advised that all private tours begin at a base price starting at two people*. Prices are inclusive of entry tickets where applicable.
*Our Tuscan motorcycle tour and some Ferrari private experiences are inclusive of one person only.
BOOK NOW
---
Make your day even more unique and comfortable by upgrading your tour with a customizable LivTours optional add on!
BOOK NOW
---
Covid-19
All of our tours and experiences are in compliance with the latest local Covid-19 safety protocols. More information can be found in the voucher you will receive upon booking your tour/s.
---
BOOK NOW
---
A life long memory
"There are countless advertisements and other recommendations that we saw or received prior to our trip to Rome. My wife and I can unequivocally state that the LivItaly private tour we took today was amazing. Our tour guide Davide was waiting for us and we had no difficulty finding him prior to the tour. From there he guided us on a personal tour of the Vatican Museum, Secret Rooms, Sistine Chapel and Saint Peter's Basilica. Knowledgeable, cheerful and a delight throughout the entire tour, Davide was a wealth of information on the history of our surroundings. We never felt overwhelmed or lost like on other tours we have had in the past. Davide whisked us past the lines and our early tour let us enter ahead of the crowds and truly enjoy the history and art without competing with a million other tourists. This along with the excellent guide made this tour a life long memory that my wife and I will fondly reminisce. If you are thinking about booking a tour, I can't emphasize it enough that you need to book one of their tours and I hope you are fortunate enough to get Davide as your guide!"
Richard R. - USA
---
A wonderful experience
"Livitaly is a great company that is very communicative, giving specific instructions and prompt response to emails. We had a wonderful time touring the Vatican! Our guide (Giulia) was so informative! She was patient with us, never rushed us, offered to take pictures and even gave us recommendations for places to eat. Thank you LivItaly and thank you Giulia for a great tour!"
Ruth - Canada
---
Two great tours with LivItaly
"We booked the Private Vatican and Secret Room tour and the Colosseum Underground tour with LivItaly. Both tours were super!! Barbara was our guide for the Vatican and she was FANTASTIC, she was so sweet nice considerate and especially knowledgeable. The secret room was great (made us feel special to have seen it but also when we walked out past the roped off area, people were jealous). We really enjoyed this tour and HIGHLY recommend. For the Colosseum tour Alex was our guide and gosh the man knows his stuff! Super nice and considerate of our needs (a rest or bathroom visit). Small groups rock! Thanks LivItaly!"
Deb Arnold - USA
---
BOOK NOW