Private Vatican Morning Tour with Exclusive Access to Secret Rooms
---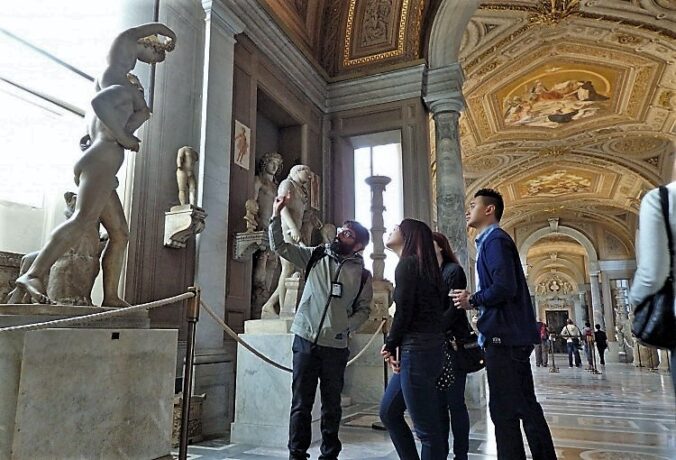 ---
Thanks to a very special collaborative agreement between LivTours and the Vatican Museums, our clients have access to an exclusive 8AM first entry into the Museums.
Reserved for only a select number of other tour operators, this privileged entry guarantees you access to the Raphael Rooms and the Sistine Chapel before the general public and before other tour operators. This extraordinary experience is not to be missed! 
---
LivTours' Early Morning Vatican Museum Tour with Secret Rooms includes early entrance, the major highlights of the Vatican Museums, the Sistine Chapel, St. Peter's Basilica and the secret rooms.
BOOK NOW
---
Enter the Vatican Museums a full hour before it opens to the general public

Enjoy exclusive benefits of LivTours' Official Silver Level Vatican Collaboration

Discover the magnificent art and highlights with a private, English-speaking guide

Go beyond the velvet ropes and visit Vatican rooms which are normally off-limits

See Italian Renaissance masterpieces and St. Peter's Basilica on this 3.5 hour tour
BOOK NOW
Exclusive private Tours and Experiences. Also offered in Spanish, French, Portuguese, Swedish and Russian
Our prices always include tickets and reservations fees (no waiting in lines!)
Our tour guides and staff are selected experts and speak perfect English
Easy to book and prepay your tours with our secure payment system
Eco-sustainable tourism, designed to respect and support local culture, art and traditions
---
Your LivTours' Private Early Morning Vatican Museums Tour begins with privileged entrance. You will enter an hour before general entry begins, giving you a head start to explore this vast collection.
Highlights of the Vatican Museums
Walk the Gallery of Statues and Hall of Busts, which are normally off-limits. Enter the Cabinet of Masks, named after the ancient mosaics inside. See famous statues of Aphrodite and other remarkable treasures in this private collection.
Study the ancient statue of the Trojan Laocoon and the Belvedere Torso, a mysterious fragment of a 5th-century sculpture that inspired Michelangelo. Enjoy the Gallery of Maps without the crowds, a wonderfully decorated gallery of 16th-century maps. Admire the Gallery of Tapestries which hold priceless examples of religious scenes woven with precious silver and gold.
Renaissance Masters
Discover the ornately decorated Raphael Rooms that were once the apartments of Pope Julius II. Among the major artworks is the world-renowned School of Athens, an important example of Renaissance art.
Your guide will brief you before entering the silent Sistine Chapel. Inside you'll find every inch of this sacred space covered in stunning frescoes of religious stories and pagan figures. Take your time studying the vast ceiling and the wall of the Last Judgment.
Inside St. Peter's Basilica
After visiting the Sistine Chapel, you'll enter directly into St. Peter's Basilica. This monumental church is a remarkable example of architecture and art. Inside you will see major highlights like Michelangelo's highly emotive Pietà and Bernini's impressive bronze altar canopy.
This Early Morning Vatican Museum Tour offers you an incredible chance to see one of the world's most expansive galleries, secret rooms, and its most important holy sites ahead of the crowds and with a local expert to be your guide.
BOOK NOW
---
Priority early entrance into Vatican museums

Exclusive access to secret Vatican rooms

Full guided experience through the museums

Pinecone Courtyard

Apollo Belvedere

Museo Clementino

Ancient Lacoon statue

Belvedere Torso

Raphael's School of Athens

Gallery of the maps

Sistine Chapel & Michelangelo's ceiling

St. Peter's Basilica (not available Wednesdays)

Bernini's Baldacchino

Michelangelo's Pieta
BOOK NOW
---
Languages
This tour is available in English, French, Spanish, Portuguese, and Italian. Please specify under "Additional notes" if you wish to book the tour in a language other than English.
Dress Code
St. Peter's Basilica and the Sistine Chapel have strict dress codes. You must cover shoulders and knees (no tank tops or short dresses) to enter.
Backpacks are not allowed in the museum
Photography
Photography (without flash) is permitted inside the galleries, but not the Sistine Chapel.
Wednesday Tours
St Peter's Basilica is closed on Wednesday mornings and thus tours booked on this day will include an alternative visit to the Pinocoteca collection including works by Da Vinci, Caravaggio and Raphael. The Basilica opens in the afternoon and is free to visit, your guide will provide information about how to access the Basilica in your own time after the tour if you wish.
BOOK NOW
---
LivTours' group size of max 6 participants is and always has been based on sustainable travel, and we are proud to be at the forefront of change and innovation in the industry.  LivTours is committed to providing travelers with truly sustainable tours with the lowest possible environmental impact, all while supporting the local industries and people of each unique destination. To learn more about how you can actively support sustainable tourism  and how LivTours is contributing, click here.
BOOK NOW
---
When you book a LivTours Private Tour or Experience, you are guaranteed a dedicated, expert guide that allows you the flexibility to start your tour at a time which is convenient for you, making planning easy. Our private tours ensure that you will get a tailored experience to meet all your needs so we go at your pace, perfect for families with younger children, elderly, or individuals with accessibility needs. Please be advised that all private tours begin at a base price starting at two people*. Prices are inclusive of entry tickets where applicable. *Some Ferrari private experiences are inclusive of one person only.
BOOK NOW
---
Make your day even more unique and comfortable by upgrading your tour with a customizable LivTours optional add on!
Add VIP Visit to the Bramante Staircase
375 €
652.50 A$
348.75 £
442.50 $
One Way Pick-Up Transfer Service
75 €
130.50 A$
69.75 £
88.50 $
BOOK NOW
---
Only way to visit the Vatican
"Our tour with Luca at the Vatican was great! Luca's knowledgeable navigation skills were invaluable within the vatican halls. The museum is a labyrinth and we have wandered aimlessly on our many prior visits to the Vatican museums. With this being the first and only time that my mother-in-law would be able to see the Vatican I wanted a knowledgable and experienced guide. Luca delivered perfectly! He took some great pictures of us that we'll treasure forever. Our grateful thanks to LivTours and Luca! "
Kathryn - UK
---
Highly recommend this tour
"Our tour of the Vatican museum and Sistine Chapel was very well organized and very satisfying. My wife and I felt that we learned many new and interesting facts about the Vatican complex and we saw wonderful masterpieces which we will remember the rest of our lives. Our guide was named Raffaela and she was a font of information and insight as well as being a lovely and charming person. We never felt bored or tired and that is saying alot since the tour takes more than 3 hours with alot of walking. We were definitely pleased with this tour and will recommend it to all."
Joe - USA
---
Not disappointed!
"This tour and tour company came highly recommended to us and we are happy to add our names to the (long) list of satisfied customers. Our lovely guide was extremely well-prepared and an excellent comunicator. Together with this, she was very attentive to our particular needs, to our walking speed (or lack of) and to shaping the tour around our personal interests and curiosity. She not only shared her vast knowledge about the Vatican museum but also tidbits about her life and what living in Rome is like. It helped our understanding and appreciation for this city much more than if we had spent the morning with any other person. Our experience was very fulfilling and enjoyable and we will recommend this tour to everyone we know."
Rick Evans - USA
---
BOOK NOW
---
By selecting Choose Dates Later / Buy as Gift at booking, any tour can be purchased without fixed dates. This is the perfect option if you want to purchase your tour as a gift for a loved one, or if you are in the pre-planning phase of your vacation. After booking, you will receive a Travel Voucher Code and full instructions on how to schedule your tours when ready. Once your travel plans are confirmed, you can easily use the Travel Voucher Code on the LivTours website to formally schedule your tours. You can find out more here.
BOOK NOW