Private Trastevere & Jewish Ghetto Tour of Rome
---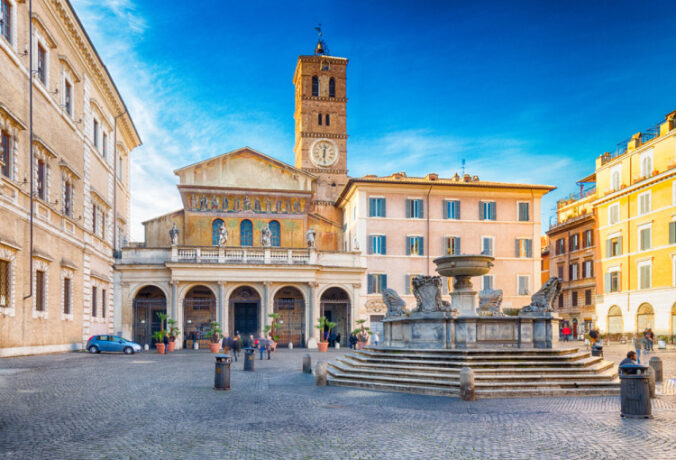 ---
LivTours Private Trastevere & Jewish Ghetto Tour of Rome allows you to see and learn about a hidden Roman gem. Soak up the beauty as you explore two of the most beautiful and historically rich neighborhoods in Rome with your private guide. This is a truly unique experience in Rome.
Your private expert guide will share with you the fascinating stories weaving together modern history with the stories from the past of these inhabitants of Rome. Many travelers associate Christianity with Rome, but through this tour, you will learn about ancient Pagan religions and Judaic influences on the Eternal City. You will get to see the historic "Jewish Ghetto", a Jewish neighborhood in Rome right in the center of the city, as well as the nearby neighborhood of Trastevere. Admire the Isola Tiberina  – the island in the Tiber River!
BOOK NOW
---
Discover 2 beautiful neighborhoods & learn their hisotry with your private guide

Enjoy a fascinating walk through history and religion on this private tour

Learn about the long and trying history of the Jewish community in Rome

Stroll through quaint cobble stoned streets and see the Teatro Marcello

Marvel at the golden mosaics covering the interior of the Santa Maria Basilica
BOOK NOW
Exclusive private Tours and Experiences. Also offered in Spanish, French, Portuguese, Swedish and Russian
Our prices always include tickets and reservations fees (no waiting in lines!)
Our tour guides and staff are selected experts and speak perfect English
Easy to book and prepay your tours with our secure payment system
Eco-sustainable tourism, designed to respect and support local culture, art and traditions
---
Your LivTours Private Trastevere & Jewish Ghetto Tour of Rome starts in Piazza Trilussa at the fountain of Ponte Sisto, in Trastevere (Tras-across, Tevere-Tiber). Let yourself get lost in the maze of enchanting, narrow cobblestone streets. From the Roman Republic up until the end of the Middle Ages, Trastevere was the center of the Jewish community. Your private tour guide will fascinate you with stories about this history-filled part of the city. Enjoy the quiet peacefulness of this neighborhood during the daytime, perhaps you will come back in the evening when the squares are vibrant and full of life, filled with both locals and tourists. Your guide will lead you to one of Rome's most ancient churches, the Basilica of Santa Maria in Trastevere, where you can admire its beautiful golden mosaics and ancient Roman funerary artifacts.
As you leave this romantic neighborhood behind, you will cross the River Tiber by way of an island, the Isola Tiberina. This important island holds the secrets of Rome's great success, now home to one of the oldest hospitals in Rome. On the other side of the river is the Jewish Ghetto, but your guide will take a slight detour to show you the impressive remains of a huge ancient theater, Teatro Marcello.
Once you reach the Jewish Ghetto, your private local guide will show you the stunning architecture, charming squares, and the narrow cobblestone alleyways this amazing ancient neighborhood offers. Today the area is a hidden treasure, but not long ago, it was an enclosed community that lived in overcrowded and putrid conditions. Your guide will take you by the Great Synagogue of Rome – admire its beautiful façade as your guide shares with you its history. The Synagogue is available to be explored after the tour if you would like to continue your visit inside.
Complete the tour with a delicious cup of espresso or gelato as you savor the moment.
BOOK NOW
---
Ponte Sisto

Trastevere

Basilica St Mary of Trastevere

Tiber Island

Jewish Ghetto

Porta Otavia

Theatre of Marcellus

The turtle fountain
BOOK NOW
---
Offered in: English, French, Spanish, Portuguese, and Italian. Please specify under "Additional notes" if you wish to book the tour in a language other than English.

Places of worship have strict dress code requirements for entry. All participants are required to have shoulders and knees covered (no tank tops or short dresses) to enter.
BOOK NOW
---
LivTours' group size of max 6 participants is and always has been based on sustainable travel, and we are proud to be at the forefront of change and innovation in the industry.  LivTours is committed to providing travelers with truly sustainable tours with the lowest possible environmental impact, all while supporting the local industries and people of each unique destination. To learn more about how you can actively support sustainable tourism  and how LivTours is contributing, click here.
BOOK NOW
---
When you book a LivTours Private Tour or Experience, you are guaranteed a dedicated, expert guide that allows you the flexibility to start your tour at a time which is convenient for you, making planning easy. Our private tours ensure that you will get a tailored experience to meet all your needs so we go at your pace, perfect for families with younger children, elderly, or individuals with accessibility needs. Please be advised that all private tours begin at a base price starting at two people*. Prices are inclusive of entry tickets where applicable. *Some Ferrari private experiences are inclusive of one person only.
BOOK NOW
---
Make your day even more unique and comfortable by upgrading your tour with a customizable LivTours optional add on!
One Way Pick-Up Transfer Service
75 €
130.50 A$
69.75 £
88.50 $
BOOK NOW
---
Intriguing history of the Jews in Rome
"We were intrigued with the history of the Jewish community in Rome, which we learned about on our LivItaly tour with Rachel. As she told us, it is one of the most important Jewish communities in all of Europe -- here, just around the corner from the seat of the Catholic church. The juxtaposition of this, together with the reciprocal respect, garnered over thousands of years, we found to be fascinating. We're so glad we decided to add this experience while we were in Rome and we strongly recommend it to all!"
Leah and Sam - USA
---
BOOK NOW
---
By selecting Choose Dates Later / Buy as Gift at booking, any tour can be purchased without fixed dates. This is the perfect option if you want to purchase your tour as a gift for a loved one, or if you are in the pre-planning phase of your vacation. After booking, you will receive a Travel Voucher Code and full instructions on how to schedule your tours when ready. Once your travel plans are confirmed, you can easily use the Travel Voucher Code on the LivTours website to formally schedule your tours. You can find out more here.
BOOK NOW