Private Taormina Tour | City Highlights Walk
---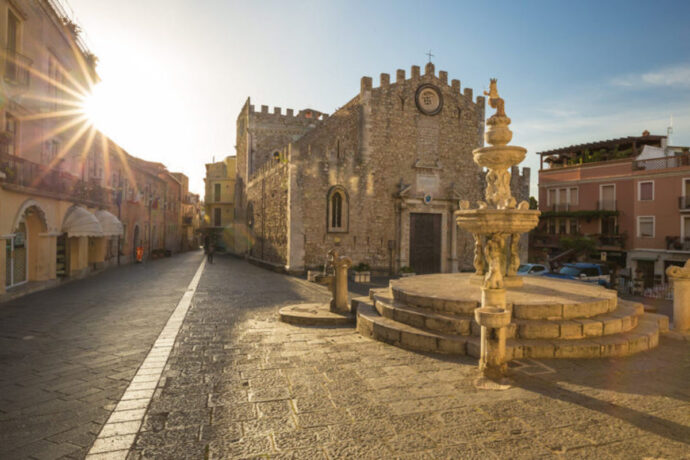 ---
LivTours' Private Tour of Taormina offers you a comprehensive overview of this ancient hilltop city. Nicknamed the "Pearl of the Ionian Sea", Taormina has attracted visitors from near and far for centuries. Perched up high on Monte Tauro with views of Mt. Etna and brilliant blue water, it's easy to understand why this place has remained so popular throughout history. Walk through the ancient doorway Porta Messina with your English-speaking guide and see the city's main shopping street, Corso Umberto I. Explore the historic city center with its seamless blend of shops and monuments.
Admire the 17th century Chiesa di Santa Caterina, a charming church just off the main street. Learn about the incredible Baroque church of San Giuseppe with its picturesque double staircase and tall bell tower. Stop to take in the breathtaking panoramas of the Bay of Naxos below Taormina with its picture perfect blue waters and steep landscapes. Your 3 hour tour will also take you into the city's most famous religious site, the Duomo di Taormina. Learn about the many different cultural influences that create this architectural marvel.
Of course, the highlight of this tour is a visit Taormina's famous Ancient Greek Theater, the second largest of its kind in Sicily!
This private exploration of Taormina is perfect for visitors who want to experience this incredible city's remarkable landmarks.
BOOK NOW
---
Discover the scenic hilltop town of Taormina with a private, English-speaking guide

Explore the magnificent ancient Greek Theater of Taormina, still in use today

See Chiesa di Santa Caterina and Chiesa di San Giuseppe on this 3 hour tour

Learn about the many celebrities who have visited Taormina for its Film Festivals

Visit the famous stone Duomo Taormina and bell tower with its priceless works of art
BOOK NOW
Exclusive private Tours and Experiences. Also offered in Spanish, French, Portuguese, Swedish and Russian
Our prices always include tickets and reservations fees (no waiting in lines!)
Our tour guides and staff are selected experts and speak perfect English
Easy to book and prepay your tours with our secure payment system
Eco-sustainable tourism, designed to respect and support local culture, art and traditions
---
Your Private Taormina Tour begins at the ancient entrance Porta Messina. Also known as Porta Ferdinanda after Ferdinand IV of Bourbon, this impressive doorway was once an integral part of the protective walls of the city. Continuing into the heart of Taormina, you will find the busy shopping street Corso Umberto I, named after the king of Italy and Duke of Savoy from 1878-1900. In antiquity this bustling street was an important path between Messina and Catania. Today it's a lively place lined with boutique shops and restaurants. You will also have the chance here to see many architectural styles from different eras, including Arabic, Gothic, and Baroque.
Discover the lovely Chiesa di Santa Caterina just off the main street. Dedicated to St. Catherina of Alexandria, this church was built in 1663 AD. Learn about this wonderful church and see the remains of the ancient Odeon – a theater built by the Romans in 21 BC. Your knowledgeable guide will also take you to see the spectacular Chiesa di San Giuseppe. This soaring 17th century church features a beautiful double staircase with Syracuse stone carved balustrades. Learn about this picture perfect church's Baroque style and see its magnificent frescoes which decorate the walls inside.
Your private guide will take you to Taormina's iconic cathedral, the Duomo di Taormina. Dedicated to San Nicolò di Bari, this castle-like church was built around 1400 AD and boasts diverse Architectural styles due to centuries of renovations. Your guide will help you to recognize the many styles like Arabic, Byzantine, Norman, and Spanish. Nearby you'll also have the opportunity to explore the Moorish Palazzo Corvaja. Once an Arab fortress in the 10th century, this is yet another architectural marvel. 
No visit to Taormina would be complete without stopping along the way to appreciate the panoramic views from this hilltop town. Below the steep slopes you'll be able to see the blue waters of the Bay of Naxos and in the distance the active volcano, Mt. Etna! 
Your guide will also have your skip the line tickets ready to enter the impressive ruins of an ancient Greco-Roman theater. Built 3rd century before Christ, this theater will impress you with it's exceptional state of preservation, and with stunning views of Mt Etna volcano and Taormina town behind the ruins of the monumental scene, it's really a picture perfect location.
LivTours' Private Taormina Tour is the perfect way to discover and come to truly know this Pearl of the Ionian. 
BOOK NOW
---
Entrance into Ancient Greek Theatre

Porta Messina

Corso Umberto I

Chiesa di Santa Caterina

Chiesa di San Giuseppe

Duomo di Taormina

Viewpoint of Bay of Naxos

Views of Mt Etna Vulcano
BOOK NOW
---
Offered in: English, French, Spanish, Portuguese, and Italian. Please specify under "Additional notes" if you wish to book the tour in a language other than English.

Places of worship have strict dress code requirements for entry. All participants are required to have shoulders and knees covered (no tank tops or short dresses) to enter. 

To keep you comfortable, this Itinerary is subject to change depending on weather conditions such as heavy rain or extreme heat.
BOOK NOW
---
LivTours' group size of max 6 participants is and always has been based on sustainable travel, and we are proud to be at the forefront of change and innovation in the industry.  LivTours is committed to providing travelers with truly sustainable tours with the lowest possible environmental impact, all while supporting the local industries and people of each unique destination. To learn more about how you can actively support sustainable tourism  and how LivTours is contributing, click here.
BOOK NOW
---
When you book a LivTours Private Tour or Experience, you are guaranteed a dedicated, expert guide that allows you the flexibility to start your tour at a time which is convenient for you, making planning easy. Our private tours ensure that you will get a tailored experience to meet all your needs so we go at your pace, perfect for families with younger children, elderly, or individuals with accessibility needs. Please be advised that all private tours begin at a base price starting at two people*. Prices are inclusive of entry tickets where applicable. *Some Ferrari private experiences are inclusive of one person only.
BOOK NOW
---
Make your day even more unique and comfortable by upgrading your tour with a customizable LivTours optional add on!
Roundtrip Transfer Service from Syracuse
Roundtrip transfer from Catania
475 €
826.50 A$
441.75 £
560.50 $
BOOK NOW
---
A fascinating tour
"Taormina is probably one of the most beautiful places I've ever seen. With its breathtaking views of the sea, fascinating history and lovely little streets. I was so happy to have Simone, LivItaly's guide, with me to make sure I saw everything and to hear all of his fun stories about the famous people who have walked these same streets. He was just brilliant! Highly recommend!!"
Gideon - UK
---
LOVED this tour and this town!
"We absolutely LOVED our walking tour of Taormina. Walking around the little hilltop town is enchanting on its own but we felt we were getting so much more out of it, having a guide to tell us about the history, show us the most important sites and help give us a "feeling" for all that this beautiful place represents. Visit Taormina and do it with a LivItaly guide! You won't be disappointed!!"
Linda - USA
---
BOOK NOW
---
By selecting Choose Dates Later / Buy as Gift at booking, any tour can be purchased without fixed dates. This is the perfect option if you want to purchase your tour as a gift for a loved one, or if you are in the pre-planning phase of your vacation. After booking, you will receive a Travel Voucher Code and full instructions on how to schedule your tours when ready. Once your travel plans are confirmed, you can easily use the Travel Voucher Code on the LivTours website to formally schedule your tours. You can find out more here.
BOOK NOW