Syracuse and Noto Tour | Full Day Private Experience
---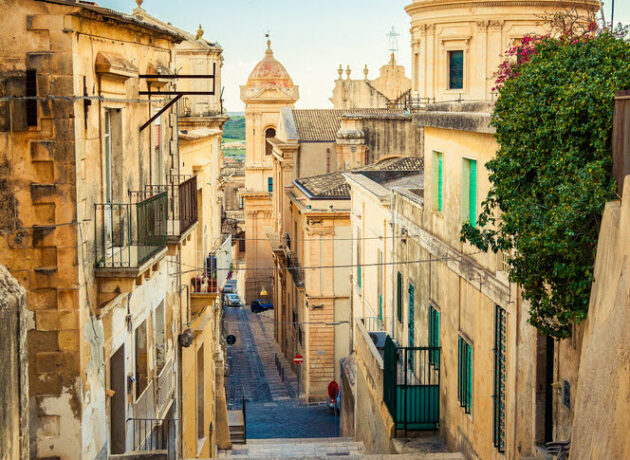 ---
LivTours' Syracuse and Noto full day private tour takes you to see two of the most beautiful cities in Sicily in just one day, offering you a thorough look at ancient history, art and culture. Discover the beauty of the historic city of center of Syracuse, visit the Neapolis National Park of Syracuse, enjoy a delicious Sicilian lunch with wine and end your day with a tour of the enchanting city of Noto. This is the perfect full day tour allowing you to see two of the most important places in southern Italy.
BOOK NOW
---
Enjoy a full day private tour of Syracuse and Noto spanning 3000 years of history

Stroll through the Neapolis Archeological Park with an expert local private guide

Savor a scrumptious Sicilian lunch with wine in a typical Syracuse restaurant

Revel in the luxury of a chauffeured private car to the stunning Baroque town of Noto

Discover the importance of Noto and the natural wonder of the Ear of Dionysius
BOOK NOW
Exclusive private Tours and Experiences. Also offered in Spanish, French, Portuguese, Swedish and Russian
Our prices always include tickets and reservations fees (no waiting in lines!)
Our tour guides and staff are selected experts and speak perfect English
Easy to book and prepay your tours with our secure payment system
Eco-sustainable tourism, designed to respect and support local culture, art and traditions
---
Your LivTours Syracuse and Noto full day private tour starts with meeting your local guide at an ancient Greek temple at the heart of Syracuse old town. Your private guide will jump right in with stories of what makes this historic center of Syracuse such an extraordinary place to visit, the many remarkable people who came from this land, the tales of Archimedes, the famed mathematician from Syracuse, and the history of Saint Lucia who has a basilica dedicated to her.
The Temple of Apollo, one of the most significant ancient Greek landmarks of the city, dating back to 6BC is spectacular place to start your adventure. Your guide will stroll with you towards the elegant Piazza Duomo, where you will see the Syracuse Cathedral – this baroque treasure has seen many changes through the centuries, starting with its construction in the 7th century, and your private guide will show you how to identify the various architectural styles from these centuries.
Your tour of Syracuse continues to Palazzo Beneventano del Bosco, this impressive palace was built during the Middle Ages for the noble Arezzo family. Nowadays, the building bears little resemblance to the original Medieval construction, as it was rebuilt in Sicilian Baroque style, a style that has served as inspiration to architects throughout the world. Continuing your tour through the city, your guide will make sure you have time to appreciate one of the most important religious sites – the Basilica of Santa Lucia.  Dedicated to the patron Saint Lucia whose remains lay in this very spot, and inspired the famous Italian painter Caravaggio's Burial of Santa Lucia.
You will enjoy seeing the Fountain of Arethusa, a simple yet stunning work of public art, which is often mentioned throughout literature due to its uniqueness. This natural spring gets its name from a Greek myth in which Arethusa who had escaped from her home in Arcadia under the sea emerges in this very spot.
Just around the corner is the Jewish Quarter, which once comprised a third of the population of Syracuse.  Your guide will navigate this labyrinth-like quarter sharing with you the historic architecture which  is characterized by charming courtyards with citrus or palm trees.
You and your guide will meet your private chauffeured car to visit the natural wonders that Syracuse offers, including a visit to the Neapolis Archeological Park of Syracuse where you will enjoy priority access to this stunning historical gem. The Greek Theater, dating back to the 5th century BC, is the star of the show.  If you are visiting in the spring or summer, look out for evening performances in this still active venue.  Take a moment to enjoy the spectacular sea view, the same view which was once cherished by over 15,000 spectators in its heyday.
Next, it is off to see the Ear of Dionysius, whose name was coined by Caravaggio. Your guide will entertain you with the legends surrounding this limestone cave, including the popular belief that Dionysius had the cave made in such a way that it would echo allowing them to spy on prisoners.
After you have explored the highlights of Syracuse with your private guide, you will have some free time to enjoy a traditional Sicilian lunch (not included in the price).
After a delicious local lunch, you and your private guide will meet your  chauffeured car that will whisk you to Noto, a breathtaking city at the foot of the Iblean Mountains and known as the capital of baroque architecture.  One of your first stops will be the orlante Palazzo Nicolaci, whose facade will give you insight into what life was like for the 18th century Sicilian nobility.  Afterwards, you will enjoy a look around the glorious architecture of the Church of Montevergine, also known as San Girolamo after the famed religious scholar. Standing next to each other, this is the perfect moment to compare the two buildings, both of which are Sicilian baroque buildings.
A pleasant walk through this charming city will take you to Piazza XVI Maggio where your guide will show you the Church of San Domenico and the Fountain of Hercules.  Now that you have spent the day learning about the culture and history of these two gorgeous baroque Sicilian cities, it is time for one last treat, a delicious and cool typical Sicilian sweet at the Caffe Sicilia which has been serving locals since 1892!
BOOK NOW
---
Guided tour of Syracuse & Noto

Temple of Apollo

Piazza Duomo

Syracuse Cathedral

Palazzo Beneventano del Bosco

Basilica of Santa Lucia

Caravaggio's Burial of Santa Lucia

Fountain of Arethusa

Jewish Quarter

Neapolis Archeological Park of Syracuse

Ancient Greek temple of Syracuse

Ear of Dionysius

Escorted trip to Noto town

Palazzo Nicolaci

Church of Montevergine

Church of San Domenico

Fountain of Hercules

Typical Sicilian sweet at the Caffe Sicilia
BOOK NOW
---
Offered in: English, French, Spanish, Portuguese, and Italian. Please specify under "Additional notes" if you wish to book the tour in a language other than English.

Comfortable walking shoes recommended.
BOOK NOW
---
LivTours' group size of max 6 participants is and always has been based on sustainable travel, and we are proud to be at the forefront of change and innovation in the industry.  LivTours is committed to providing travelers with truly sustainable tours with the lowest possible environmental impact, all while supporting the local industries and people of each unique destination. To learn more about how you can actively support sustainable tourism  and how LivTours is contributing, click here.
BOOK NOW
---
When you book a LivTours Private Tour or Experience, you are guaranteed a dedicated, expert guide that allows you the flexibility to start your tour at a time which is convenient for you, making planning easy. Our private tours ensure that you will get a tailored experience to meet all your needs so we go at your pace, perfect for families with younger children, elderly, or individuals with accessibility needs. Please be advised that all private tours begin at a base price starting at two people*. Prices are inclusive of entry tickets where applicable. *Some Ferrari private experiences are inclusive of one person only.
BOOK NOW
---
Fascinating tour!
"We only had time to visit the east coast of Sicily so decided to take LivTours full day tour of two very representative Sicilian cities. Syracuse has so many layers of history, dating back as far as the 6th century BC, that it is fascinating and incredible all in one! We especially liked the Ortygia area. We enjoyed a lovely lunch of local fare and then a nice drive to Noto where we strolled through this beautiful city with its very baroque architecture. The tour was a perfect introduction to Sicily and all of the treasures it has to offer. We will definitely be back!"
Faith - USA
---
BOOK NOW
---
By selecting Choose Dates Later / Buy as Gift at booking, any tour can be purchased without fixed dates. This is the perfect option if you want to purchase your tour as a gift for a loved one, or if you are in the pre-planning phase of your vacation. After booking, you will receive a Travel Voucher Code and full instructions on how to schedule your tours when ready. Once your travel plans are confirmed, you can easily use the Travel Voucher Code on the LivTours website to formally schedule your tours. You can find out more here.
BOOK NOW