Private Rome 2 Day Tour | All Inclusive Bundle
---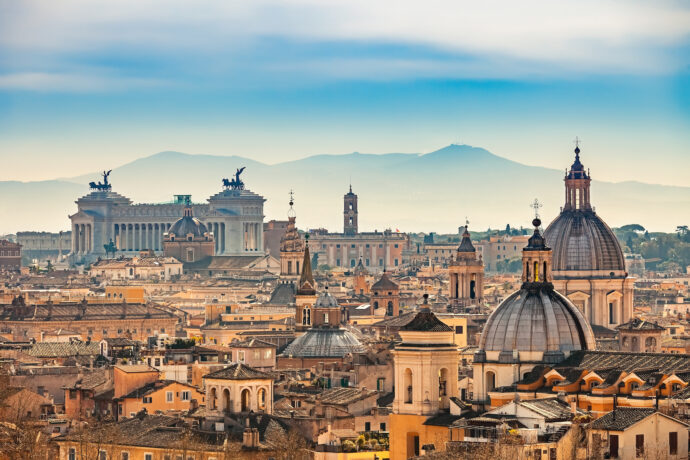 ---
LivTours Private Rome 2 Day Tour – All Inclusive Bundle is the perfect way to see the Eternal City without the stress of planning your itinerary. Pamper yourself and leave the planning to the experts – LivTours! Allow our years of experience help you get the most out of your time in Rome! On all your tours, you will enjoy an expert private guide, priority access tickets and entrance tickets. With our knowledgeable, friendly expert guide at your side, you will get the most out of Rome.
You will be accompanied by your own private guide as you take in the must-see stops like the Colosseum, Sistine Chapel, Trevi Fountain, Pantheon, Catacombs of Rome and so much more. LivTours years of experience to make sure your entrance tickets are optimally timed to avoid the most crowded parts of the day.
Over the course of two days, you will visit both the Colosseum and the Sistine Chapel, both stunning monuments, but represent two very different historical times. Your private guide will place those monuments, as well as the others you will be seeing, in a historical timeline, allowing you to gain a greater understanding of the history of Rome and Italy.
BOOK NOW
---
Maximize your time in Rome by seeing the highlights in just two days on private tours

Enjoy private tours with expert local guides as you seamlessly visit the Eternal City

Stroll through the historic center and toss a coin into Rome's famous Trevi fountain

Discover early Christian burial spots underground as you visit Rome's Catacombs

Savor the luxury of LivTours' exclusive priority access to all venues on your tours
BOOK NOW
Exclusive private Tours and Experiences. Also offered in Spanish, French, Portuguese, Swedish and Russian
Our prices always include tickets and reservations fees (no waiting in lines!)
Our tour guides and staff are selected experts and speak perfect English
Easy to book and prepay your tours with our secure payment system
Eco-sustainable tourism, designed to respect and support local culture, art and traditions
---
Your LivTours Rome 2 Day Tour – All Inclusive Bundle begins with a visit to see the statue of Moses made by one of Italy's most revered artists, Michelangelo! You will hear the history of this area and how Emperor Nero forever changed the face of Rome. The rest of your morning can be spent visiting ancient Rome, the Forum, and the Colosseum.
Your private guide will ensure that you have priority access into the Colosseum, whisk you through a quick security check, and then dive into the ancient Roman world. Your guide will share with you the stories of gladiator fights, exotic animals, and theater performance that took place right where you are standing. Admire the wondrous engineering feat visible in the construction of this famous amphitheater as your guide brings the venue to life through anecdotes and the history of days gone past. Walk up to higher levels and experience the amazing views that only the noble Romans would have enjoyed while you look at your next stops – the Palatine Hill and the Roman Forum.
Known as ancient Rome's most exclusive neighborhood, The Palatine Hill is still covered by the ruins of Emperor Domitian's palace. You will discover the wonders of the Form, including the Temple of Julius Caesar, in the company of your expert private guide.  For literary fans, the Temple is the site Shakespeare chose for Marc Antony's famous speech!
Lunch will be at one of our favorite trattorias giving you a great introduction to real Roman cuisine (not included in price). Afterward, you will continue your tour, this afternoon is dedicated to Rome's historic district allowing you to see famous sites such as Trevi Fountain, the spectacular Pantheon, and Bernini's Four Rivers Fountain in Piazza Navona, Rome's largest square. Your private expert guide will give the backstories that make these monuments to life!
From the historic center to the Borghese Gallery is just a short taxi ride, but one that is appreciated after a day of strolling through Rome's most historic districts. See some of the masterpieces of painters like Caravaggio, Raphael, Dossi, and Rubens and some of the remarkable statues by Bernini and Canova. After a beautiful panoramic view of Rome from the Borghese Gardens, your guide will bid you a good evening at the Spanish Steps. Climbing the Spanish Steps offers you one of the most breath-taking views in the city.
On your second, you will explore another part of the city as you visit the catacombs and the well-preserved ruins of the ancient Baths of Caracalla as well as the Circus Maximus. Staring over the empty field,  it is easy to imagine Ben-Hur racing in his chariot around the circus. Rome is famous for its miles and miles of catacombs, but what exactly is a catacomb?   These ancient burial chambers, which date as far back as the 2nd Century AD, were a network of underground tunnels that were used years ago to bury the not so wealthy.  Land inside the protective wall that would have surrounded any Roman town was at a premium, so only the very wealthy could afford to be buried in cemeteries, with this in mind, the Roman Christians got creative and adopted the Jewish idea of burying people underground.
You might be thinking that catacombs are gruesome and rather gory places to visit, but the reality is actually quite different.   The catacombs are like walking through an underground excavation site surrounded by history this old really is a reason to head underground and explore the mystery. Next is a stop at the Bocca della Verità (Mouth of Truth) and then a break for lunch. There are a variety of tasty places to grab a bite to eat in the area.
In the afternoon your guide will accompany you to the Vatican City where you will enjoy priority access, skipping the often long lines, and start your tour without any delay. This exclusive experience allows you to take in all of the Papal Palace highlights, including the vast collection of Greek & Roman statues, among them the magnificent Laocoon and the moving Apollo Belvedere. With your private guide, you will learn the intriguing stories behind the sculptures that occupy this beautiful space.
Your private LivTours Expert guide will weave together the fascinating history adding in the little-known stories about the Popes and the artists who walked these lavish hallways. Soak up the intriguing gossip that only a private tour guide can provide. After a thorough exploration of the museums, your tour continues to the Sistine Chapel. This stunning room contains one of the greatest and most famous examples of Michelangelo's artistic genius. Enjoy the luxury of time on your private Vatican tour, as you take your time admiring the details that interest you the most.
The last stop on your private Vatican tour is the stunning St. Peter's Basilica. You will enjoy skipping another long line as your guide shares with you the masterpieces of the largest and most ornate church in the world. This magnificent tour promises to teach, entertain, and give you new insight into the wonderful art and history in Vatican City.
BOOK NOW
---
Colosseum

Roman Forum Highlights

Palatine Highlights

Vatican Museums

Sistine Chapel

Saint Peter's Basilica

Pantheon

Trevi Fountain

Spanish Steps

Piazza Navona

Catacombs

Circus Maximus

Basilica of San Clemente

Borghese Gallery
BOOK NOW
---
Offered in: English, French, Spanish, Portuguese, and Italian. Please specify under "Additional notes" if you wish to book the tour in a language other than English.

On Monday the Borghese Gallery is closed. The Vatican Museums are closed on Sundays. The tour plan will be modified to ensure everything.
If you choose a pick-up service or chauffeur add on, prices reflect service on both days.

Places of worship have strict dress code requirements for entry. All participants are required to have shoulders and knees covered (no tank tops or short dresses) to enter.

There is no photography allowed in some or all areas of this tour.

St. Peter's Basilica is an active church and can be closed unexpectedly for liturgical ceremonies. If closed, the time inside the Vatican Museums will be extended.

Saint Peter's Basilica is closed on most Wednesdays mornings due to the weekly Papal Audience. If you book this tour for a Wednesday the time inside the Vatican Museums will be extended.

Please be aware that the Sistine Chapel is a Holy Place and talking during your visit inside is strictly forbidden, therefore your guide will give you an explanation of the Sistine Chapel beforehand during your tour, in order to give you a comprehensive explanation before entering the chapel.

Backpacks are not permitted in the museum.

Lunch is not included in the price of the tour.
BOOK NOW
---
LivTours' group size of max 6 participants is and always has been based on sustainable travel, and we are proud to be at the forefront of change and innovation in the industry.  LivTours is committed to providing travelers with truly sustainable tours with the lowest possible environmental impact, all while supporting the local industries and people of each unique destination. To learn more about how you can actively support sustainable tourism  and how LivTours is contributing, click here.
BOOK NOW
---
When you book a LivTours Private Tour or Experience, you are guaranteed a dedicated, expert guide that allows you the flexibility to start your tour at a time which is convenient for you, making planning easy. Our private tours ensure that you will get a tailored experience to meet all your needs so we go at your pace, perfect for families with younger children, elderly, or individuals with accessibility needs. Please be advised that all private tours begin at a base price starting at two people*. Prices are inclusive of entry tickets where applicable. *Some Ferrari private experiences are inclusive of one person only.
BOOK NOW
---
Make your day even more unique and comfortable by upgrading your tour with a customizable LivTours optional add on!
One Way Pick-Up Transfer Service
Full Day Available Chauffeur
BOOK NOW
---
Two Incredible Days with Marco
"We loved Marco. He was an awesome tour guide. Great personality, knowledgeable and fun. We would highly recommend him. We had two incredible days of tours in Rome. In fact, we got the recommendation for Liv Tours from our friend who previously used LivTours while in Rome. "
Stacy
---
An amazing time in Rome thanks to LivItaly!
"My husband and my two day tour in Rome with LivItaly was awesome!! We saw everything that we wanted, learned all sorts of new things, didn't ever feel rushed or crowded or even tired since all of our needs and desires were carefully attended to throughout the two days. All of our guides were wonderfully expert in their fields and also very personable and friendly. We feel this experience made our visit to Rome something we will remember forever. Many thanks to all of our guides and to LivItaly!"
Leslie S. - USA
---
A memorable two days in Rome
"We were very pleased with the two day Rome tour that we booked with LivItaly. We only had 2 days in Rome but knew that there was so much to see that we really needed to be organized to get it all in. We entrusted LivItaly with our quick stay in Rome and we couldn't have been happier with the results. We felt we were shown the highlights of the city with guides who were all extremely knowledgeable and friendly, at a pace that worked best for us. The first day was dedicated to the "greats": the Colosseum/Ancient Rome and Vatican/Sistine Chapel. On the second day we were able to see the very fascinating Catacombs, the art and sculptors in the Borghese Gallery and an evening stroll to the Trevi fountain/Pantheon/Piazza Navona areas, all in the company of some of the best guides we've ever had the pleasure to know. We left Rome with a wonderful feeling and respect towards the city and its great history and huge appreciation to LivItaly for helping make this experience so special!"
Bernard - USA
---
BOOK NOW
---
By selecting Choose Dates Later / Buy as Gift at booking, any tour can be purchased without fixed dates. This is the perfect option if you want to purchase your tour as a gift for a loved one, or if you are in the pre-planning phase of your vacation. After booking, you will receive a Travel Voucher Code and full instructions on how to schedule your tours when ready. Once your travel plans are confirmed, you can easily use the Travel Voucher Code on the LivTours website to formally schedule your tours. You can find out more here.
BOOK NOW