Private Ostia Antica Tour
---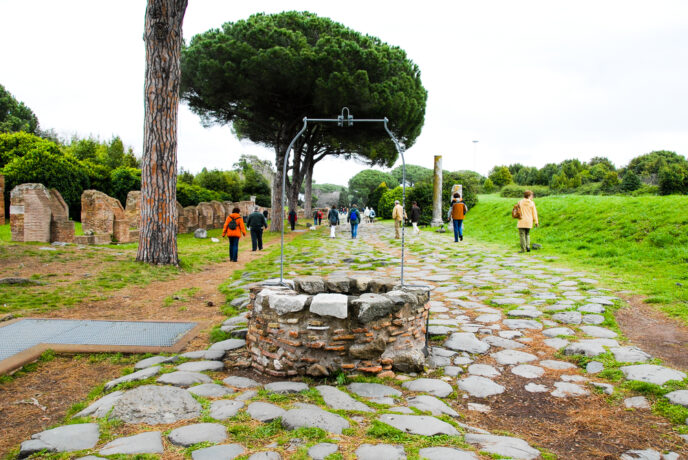 ---
LivTours Ostia Antica Private Tour explores one of the most well preserved ancient Roman cities in the world in the company of your private guide. Started as a military posting, Ostia Antica became a thriving metropolis and blossomed into a very important trading city feeding into and out of Rome. This 3-hrs tour is ideal for visitors interested in seeing intact archaeological sites, giving them an insight into ancient life.
This private tour gives you the luxury of exploring what interests you the most. Your private tour guide will base the tour of Ostia Antica around your curiosities and interests.
Come take a walk back in time with LivTours on this half-day private tour!
BOOK NOW
---
Explore the well preserved Ancient Roman Ostia Antica on a half day private tour

Enjoy LivTours priority access to the Ostia Antica ruins and avoid the lines

Discover the highlights of Ostia Antica such as Amphitheater & Baths of Neptune

Admire the stunning & still intact mosaics of the Romans, dating back 2000 years

Get a personalized tour with a 5-star expert guide to navigate you throughout
BOOK NOW
Exclusive private Tours and Experiences. Also offered in Spanish, French, Portuguese, Swedish and Russian
Our prices always include tickets and reservations fees (no waiting in lines!)
Our tour guides and staff are selected experts and speak perfect English
Easy to book and prepay your tours with our secure payment system
Eco-sustainable tourism, designed to respect and support local culture, art and traditions
---
Your LivTours Private Ostia Antica Tour starts in Ostia Antica, where you will be met by your local private guide who will begin getting to know your interests, in order to properly personalize your tour. Once inside the ruins, take time to marvel at the impeccable surroundings as your private guide helps you understand why these ruins are referred to as the "better Pompeii". You will visit the commercial hub of this vibrant trading city in the 2nd Century BC. Once the financial pulse of the Roman Empire thanks to the commercial importance and control of the grain supply, which could feed over a million Roman citizens.
No visit is complete without visiting the Baths of Neptune with its breathtaking, completely intact mosaic floors and opulent decoration of public bathrooms in ancient Roman times. The brilliance of Roman art and engineering, from over 2,000 years ago, is evident throughout the ruins, which hosted a complex system of both hot and cold running water! Your Private Ostia Antica Tour also includes a visit to the Amphitheater. Still, in exceptional condition, this entertainment arena once sat up to 3,500 spectators.
Ostia Antica, a wonder of the Roman Empire, is best visited in the company of a private expert guide who can unveil the secrets and history behind the ruins. This tour is ideal for history buffs, families, and friends who want to enjoy a stress-free day of history and anecdotes.
Stay in Ostia Antica or Explore the Nearby Seaside
If you choose to travel by train, you have the option of continuing your exploration of the ancient ruins on your own once your tour is completed. You may also want to explore the nearby Ostia Lido beach which is just a few train stops away. If interested, your guide will give you information on how to reach the seaside and timetable information.
BOOK NOW
---
Entrance tickets for Ostia Antica

Fully guided experience

Ostia necropolis

Piazza della minerva

Baths of Neptune

Ancient theatre of Ostia

Square of the corporations

The ancient bakery

Ostia forum

Ancient latrines
BOOK NOW
---
Offered in: English, French, Spanish, Portuguese, and Italian. Please specify under "Additional notes" if you wish to book the tour in a language other than English.

 
BOOK NOW
---
LivTours' group size of max 6 participants is and always has been based on sustainable travel, and we are proud to be at the forefront of change and innovation in the industry.  LivTours is committed to providing travelers with truly sustainable tours with the lowest possible environmental impact, all while supporting the local industries and people of each unique destination. To learn more about how you can actively support sustainable tourism  and how LivTours is contributing, click here.
BOOK NOW
---
When you book a LivTours Private Tour or Experience, you are guaranteed a dedicated, expert guide that allows you the flexibility to start your tour at a time which is convenient for you, making planning easy. Our private tours ensure that you will get a tailored experience to meet all your needs so we go at your pace, perfect for families with younger children, elderly, or individuals with accessibility needs. Please be advised that all private tours begin at a base price starting at two people*. Prices are inclusive of entry tickets where applicable. *Some Ferrari private experiences are inclusive of one person only.
BOOK NOW
---
Make your day even more unique and comfortable by upgrading your tour with a customizable LivTours optional add on!
One Way Pick-Up Transfer Service
BOOK NOW
---
Relatively unknown but definitely worth a visit
"Ostia Antica is a relatively unknown part of ancient Rome history but definitely worth a visit! We booked the private tour which included transport from our hotel. If you are interested in ancient roman history this place is a must. We were fortunate that there were no crowds on the day we went and we had an amazing guide - Guilia - who was incredibly knowledgeable and passionate about the history of the site and the Romans in general. If you have the time, take a trip with LivItaly out to Ostia Antica!"
Louise - USA
---
BOOK NOW
---
By selecting Choose Dates Later / Buy as Gift at booking, any tour can be purchased without fixed dates. This is the perfect option if you want to purchase your tour as a gift for a loved one, or if you are in the pre-planning phase of your vacation. After booking, you will receive a Travel Voucher Code and full instructions on how to schedule your tours when ready. Once your travel plans are confirmed, you can easily use the Travel Voucher Code on the LivTours website to formally schedule your tours. You can find out more here.
BOOK NOW