Private Naples Archeological Museum Tour
---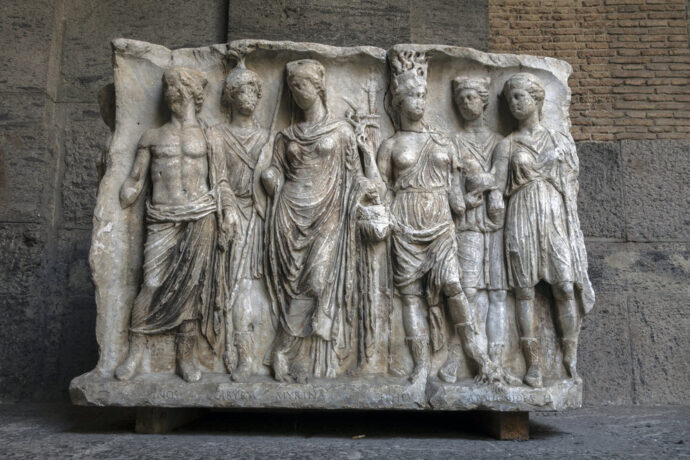 ---
LivTours' Naples Archaeological Museum private tour is a memorable experience if you are interested in ancient history.  Your private guide will bring to life one of Italy's largest and most important collections of ancient history. You will be able to get close to many safeguarded pieces, including precise mosaics, stunningly preserved frescoes, and a vast array of classical sculptures.  Your guide will make sure you see the notable Farnese Collection, sharing history with you as you discover artifacts from the ancient cities of Pompeii and Herculaneum, and visit the impressive Egyptian collection.  Enjoy access to the restricted famous Secret Room and go on a fascinating journey through ancient erotica. Your guide's excellent commentary will take you on a journey through antiquity at its finest!
LivTours exclusive access enables you to maximize your time in this impressive museum. With so much to see, it is a real treat having a private guide leading the way, showing you all the best artifacts, and sharing their most interesting stories. Take pleasure in having a more personalized experience where you can focus on particular aspects of the museum that interest you the most and enjoy your time just the way you like it.
BOOK NOW
---
Enjoy a private tour of Italy's most astonishing collections of ancient artifacts

Admire the most spectacular artworks from Roman, Greek and Renaissance times

Discover the history of this remarkable museum with a private expert guide

Appreciate the vast collection of ancient artifacts from Pompeii & Herculaneum

Enter the Secret Room for a fascinating journey through ancient erotica
BOOK NOW
Exclusive private Tours and Experiences. Also offered in Spanish, French, Portuguese, Swedish and Russian
Our prices always include tickets and reservations fees (no waiting in lines!)
Our tour guides and staff are selected experts and speak perfect English
Easy to book and prepay your tours with our secure payment system
Eco-sustainable tourism, designed to respect and support local culture, art and traditions
---
Your LivTours begins in the center of Naples at the front main entrance of the grand museum, where you will meet your private guide. The Naples National Archaeological Museum (Museo Archeologico Nazionale di Napoli) is an excellent museum filled with ancient artifacts, including works from Greek, Roman and Renaissance times. Additionally, the collection of artifacts from Pompeii and Herculaneum is one of the most impressive, upon entering the museum, you will be impressed by the incredibly detailed mosaics, colorful frescoes, and a spectacular collection of classical statues.
With your private expert guide by your side, you will see all the best highlights while learning their interesting stories. The Farnese Collection is the jewel in its crown.  Admire the beautifully engraved gems on the 2nd century Farnese Cup and the many Farnese marbles that line the corridors. Enjoy the Farnese Bull (Toro Farnese), one of the most memorable and the largest single sculptures ever recovered from antiquity! Pompeii and Herculaneum mysteries are uncovered with the impressive collection of artifacts from ancient Roman cities destroyed by an eruption of Mount Vesuvius. Seeing and learning about the many artifacts excavated from these sites will give you an extraordinary insight into the life of these ancient cities.
Not to be missed is The Secret Room, also known as The Secret Cabinet (Gabinetto Segreto), is a collection of erotic artifacts from Herculaneum and Pompeii. Only in the 18th century, when these sites were rediscovered and excavated, did this grand collection of ancient erotic art emerge, showcasing an incredible collection of statues, frescoes, and even household items decorated with sexual themes.
Your guide will explain why these artifacts were hidden away for over 100 years and why it took until 2000 to finally reopen this amazing collection. Visitors will quickly learn the ancient Romans strong appreciation for erotic art through a compelling selection of naughty statues, frescoes and mosaics.
Once your tour comes to a conclusion, perhaps you will take some time to enjoy a walk along the seafront elegant boardwalk with waterfront castles and views of Mount Vesuvius. If you have worked up an appetite, your guide will be happy to make some suggestions!
BOOK NOW
---
Skip the line museum tickets

Farnese Collection

Pompeii artifacts

Coin collection

The secret cabinet

Herculanium artifacts

Farnese Bull & Hercules

Cave Canem moseic

Pompeii Alexander moseic

Fully guided experience
BOOK NOW
---
Offered in: English, French, Spanish, Portuguese, and Italian. Please specify under "Additional notes" if you wish to book the tour in a language other than English.
BOOK NOW
---
LivTours' group size of max 6 participants is and always has been based on sustainable travel, and we are proud to be at the forefront of change and innovation in the industry.  LivTours is committed to providing travelers with truly sustainable tours with the lowest possible environmental impact, all while supporting the local industries and people of each unique destination. To learn more about how you can actively support sustainable tourism  and how LivTours is contributing, click here.
BOOK NOW
---
When you book a LivTours Private Tour or Experience, you are guaranteed a dedicated, expert guide that allows you the flexibility to start your tour at a time which is convenient for you, making planning easy. Our private tours ensure that you will get a tailored experience to meet all your needs so we go at your pace, perfect for families with younger children, elderly, or individuals with accessibility needs. Please be advised that all private tours begin at a base price starting at two people*. Prices are inclusive of entry tickets where applicable. *Some Ferrari private experiences are inclusive of one person only.
BOOK NOW
---
Definitely a must-see
"My wife and I are ancient history buffs so to visit the National Archaeological Museum in Naples has been a lifetime dream. Wanting the best possible visit, we booked LivItaly's private guided tour and we couldn't have been more pleased. The museum is a treasure chest of very well preserved art and artifacts from ancient times continuing through to the more classical and Renaisance period. Our guide was extremely knowledgeable about the museum and the pieces we were seeing and we were able to set our own pace and linger where we wanted. This is a museum you don't want to miss but do it with a LivItaly guide. You won't be disappointed."
Richard W. - USA
---
BOOK NOW
---
By selecting Choose Dates Later / Buy as Gift at booking, any tour can be purchased without fixed dates. This is the perfect option if you want to purchase your tour as a gift for a loved one, or if you are in the pre-planning phase of your vacation. After booking, you will receive a Travel Voucher Code and full instructions on how to schedule your tours when ready. Once your travel plans are confirmed, you can easily use the Travel Voucher Code on the LivTours website to formally schedule your tours. You can find out more here.
BOOK NOW