Private Golf Cart Tour of Rome by Night with Drinks
---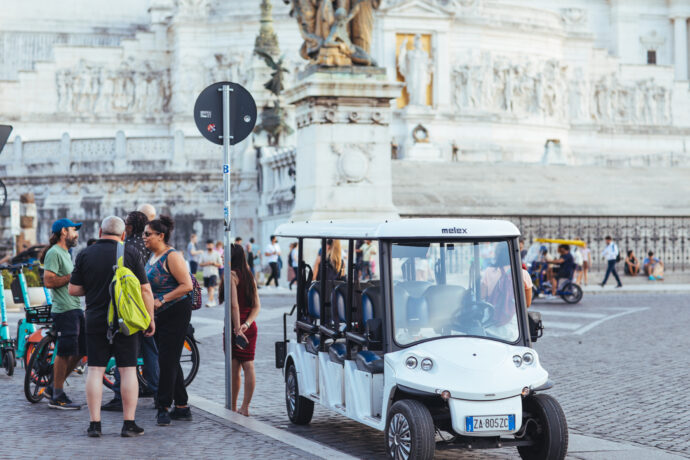 ---
Explore Rome at the Golden Hour on this fabulous private golf cart tour of the Eternal City. See the most iconic sights as you hop on and off the golf cart driven by your expert guide. During your evening tour, you'll see many of Rome's fountains, temples, ancient ruins, Renaissance churches, iconic piazzas, and beautiful panoramic vistas – with an expert private guide steering you to all the very best highlights and hidden gems.
You'll see famous monuments like the Pantheon and Trevi Fountain, Colosseum, and Piazza Navona, as well as have the opportunity to enjoy the popular Italian tradition of aperitivo  – pre-dinner drinks and snacks. You'll have some delicious cuts of meats and cheeses at a traditional Roman bar, and enjoy prosecco, craft beer, and other drinks of your choice on board your golf cart! This is a really fun and intimate way to experience Rome by sunset, and see the amazing monuments of the city light up as dusk turns to dark: La Dolce Vita!
BOOK NOW
---
Explore all the iconic sights of Rome by night on a private golf cart tour

Stop at beautiful views and monuments like the Trevi Fountain and Pantheon

Discover the Italian tradition of Aperitivo with a plate of meats and cheese

Enjoy glasses of prosecco and craft beer on board your golf cart

See the best of the Eternal City with your expert local guide
BOOK NOW
Exclusive private Tours and Experiences. Also offered in Spanish, French, Portuguese, Swedish and Russian
Our prices always include tickets and reservations fees (no waiting in lines!)
Our tour guides and staff are selected experts and speak perfect English
Easy to book and prepay your tours with our secure payment system
Eco-sustainable tourism, designed to respect and support local culture, art and traditions
---
Your expert guide will meet you in central Rome driving a white golf cart and whisk you off on an evening adventure around the Eternal City – so you can witness the magic of Rome at the Golden Hour and enjoy complimentary prosecco, beer, and Roman snacks. You'll be able to whizz about the city – hopping on and off at all the highlights and hidden gems for fabulous photos. You'll stop for a taste of Aperitivo at a bar for a drink with a plate of delicious Italian meats and cheeses, and take your glass of prosecco or craft beer onto the golf cart with you!
Your tour begins at Piazza della Repubblica, which is famous for its glorious fountain of a Triton surrounded by nymphs, as well as the magnificent Basilica – designed by Michelangelo and built into the ruins of the ancient Roman Baths of Diocletian. From here, you'll set off on your three-hour private golf cart tour – driven by your expert local guide, who will take you to all the iconic highlights of Rome's historic center, including the Trevi Fountain, Piazza Navona, the Pantheon, and so much more – and some slightly off-the-beaten-path hidden gems too. You'll zoom along cobbled alleyways and famous streets, and also stop at some of the truly breathtaking panoramic views overlooking the city. You'll be able to take fabulous memory-making photos as well as learn some of the fascinating history and stories of Rome.
Your guide will also stop off at a traditional Roman bar so you can partake in the popular Italian tradition of Aperitivo: enjoy a glass of prosecco and local craft beer along with some cuts of meats and cheeses. Your guide will provide you with prosecco, craft beer, or a drink of your choice throughout your tour on board the golf cart!
Your private tour of the Eternal City by golf cart ends at the Spanish Steps, in time to enjoy the magic of Golden Hour, when the city is bathed in pink and golden light. Throughout your tour, twilight will turn dark, and you'll get to see the city lights begin to illuminate the spectacular monuments and piazzas of Rome. This is a unique experience of La Dolce Vita and La Grande Bellezza!
BOOK NOW
---
Private Tour Guide

Stop for apperitivo

Beer and wine on route

Colosseum (outside)

Jewish Ghetto

Piazza Navona

Panoramic view point

Piazza Venezia

Pantheon

Spanish Steps (from top)

Castel Sant'Angelo and much more!
BOOK NOW
---
LivTours' group size of max 6 participants is and always has been based on sustainable travel, and we are proud to be at the forefront of change and innovation in the industry.  LivTours is committed to providing travelers with truly sustainable tours with the lowest possible environmental impact, all while supporting the local industries and people of each unique destination. To learn more about how you can actively support sustainable tourism  and how LivTours is contributing, click here.
BOOK NOW
---
When you book a LivTours Private Tour or Experience, you are guaranteed a dedicated, expert guide that allows you the flexibility to start your tour at a time which is convenient for you, making planning easy. Our private tours ensure that you will get a tailored experience to meet all your needs so we go at your pace, perfect for families with younger children, elderly, or individuals with accessibility needs. Please be advised that all private tours begin at a base price starting at two people*. Prices are inclusive of entry tickets where applicable. *Some Ferrari private experiences are inclusive of one person only.
BOOK NOW
---
Make your day even more unique and comfortable by upgrading your tour with a customizable LivTours optional add on!
30 €
52.20 A$
27.90 £
35.40 $
BOOK NOW
---
By selecting Choose Dates Later / Buy as Gift at booking, any tour can be purchased without fixed dates. This is the perfect option if you want to purchase your tour as a gift for a loved one, or if you are in the pre-planning phase of your vacation. After booking, you will receive a Travel Voucher Code and full instructions on how to schedule your tours when ready. Once your travel plans are confirmed, you can easily use the Travel Voucher Code on the LivTours website to formally schedule your tours. You can find out more here.
BOOK NOW