Private Girona Day Trip from Barcelona by Train
---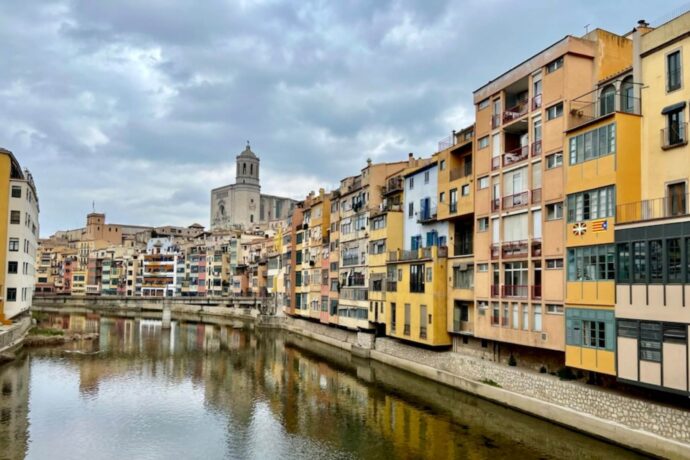 ---
Your LivTours Private Girona Day Trip from Barcelona by Train is a wonderful way to enjoy the lush countryside north of Barcelona as you ride in the luxury of a high-speed train to this charming and vibrant city. Girona, originally founded by the Romans, is set in the crossroads of four rivers, making it an ideal location for not only the Romans but the Moors, Charlemagne, and finally the Kingdom of Aragon. Today this dynamic city is home to just over 100,000 people who live amongst its windy cobbled stone street behind facades with a thousand stories to tell. Discover the secrets this city holds on a private tour with your expert local guide.
LivTours has designed a seamless day trip for you to make the most of your time, spending more time enjoying being there than getting there. This easily accessible day trip from Barcelona is a high-speed train ride to Girona. The 65-mile journey takes just 38 minutes, and you will be met by your guide at Girona's railway station to begin your private day trip. Come take a journey back in time with an expert guide.
BOOK NOW
---
Explore the culturally rich picturesque city of Girona with a 5-star private guide

See the Cathedral of Girona with the Tapestry of Life and its Romanesque cloister

Enjoy the most well preserved Jewish Quarter, including the Jewish History Museum

Walk the streets and explore the squares where The Game of Thrones filming took place

Extend your stay and explore the city on your own, having a typical lunch in Girona
BOOK NOW
Exclusive private Tours and Experiences. Also offered in Spanish, French, Portuguese, Swedish and Russian
Our prices always include tickets and reservations fees (no waiting in lines!)
Our tour guides and staff are selected experts and speak perfect English
Easy to book and prepay your tours with our secure payment system
Eco-sustainable tourism, designed to respect and support local culture, art and traditions
---
Your Private Girona Day Trip from Barcelona by Train starts with a 38-minute high-speed train ride giving you just enough time to enjoy the scenery while sipping your second cup of coffee before arriving at Girona where your local expert guide will be waiting for you.
The first monument you will see is the Cathedral of Girona, located at the highest point in the city. This church was started in the 900s, but was not officially finished until the 1970s. Allow your guide to lead you on a walk back through history as you explore its different parts and former inhabitants, including its stunning Romanesque cloister and the amazing 11th-century Tapestry of Creation. 
Next, it is on to the Arab Baths which though functional in their heyday of the 14th century, are impressive to visitors of the 21st century for the beauty of the central pool which is characterized by its 8 columns in Saracen style. The mixture of Roman, Moorish, and Jewish cultures makes this room a perfect example of the cultural harmony that made it stand out in the Middle Ages.
Your next destination on this tour is the Jewish Quarter located just a stone's throw from the Cathedral. Walk through this 12th-century neighborhood in the company of your expert local guide and you will learn what life was like there before the Jewish community was expelled by Papel order in 1391.
Since 2016 and after closing down the city for three days, your local guide is happy to point out the different settings for scenes of Game of Thrones. A walk through this town will be strangely nostalgic of King's Landing and Braavos… Perhaps one of the most epic scenes that fans will want to visit in real life is the Baroque staircase where Jaime Lannister battles with High Sparrow.
Once your tour is complete, you can choose to remain and explore a bit further or stay for lunch!
BOOK NOW
---
Train tickets to from Barcelona to Girona

Girona Cathedral

Ancient Arab Baths

Jewish quarters of Girona

Game of Thrones set locations

Free time for lunch (lunch not included)

Train tickets from Girona to Barcelona

Fully guided visit
BOOK NOW
---
It is advisable to wear layers as Girona is set up in the mountains and can be cooler than Barcelona.
Comfortable walking shoes are a must on this walking tour.
BOOK NOW
---
LivTours' group size of max 6 participants is and always has been based on sustainable travel, and we are proud to be at the forefront of change and innovation in the industry.  LivTours is committed to providing travelers with truly sustainable tours with the lowest possible environmental impact, all while supporting the local industries and people of each unique destination. To learn more about how you can actively support sustainable tourism  and how LivTours is contributing, click here.
BOOK NOW
---
When you book a LivTours Private Tour or Experience, you are guaranteed a dedicated, expert guide that allows you the flexibility to start your tour at a time which is convenient for you, making planning easy. Our private tours ensure that you will get a tailored experience to meet all your needs so we go at your pace, perfect for families with younger children, elderly, or individuals with accessibility needs. Please be advised that all private tours begin at a base price starting at two people*. Prices are inclusive of entry tickets where applicable. *Some Ferrari private experiences are inclusive of one person only.
BOOK NOW
---
Make your day even more unique and comfortable by upgrading your tour with a customizable LivTours optional add on!
110 €
191.40 A$
102.30 £
129.80 $
BOOK NOW
---
Day trip to Girona
"This half day trip to Girona was just perfect for us. We wanted to visit the city but would have spent much more time trying to find our way around and aimlessly wandering the streets without the input of LivSpain's great guide and terrific organization. This is a tour company you can count on! They deliver precisely what they say and go that extra mile to make sure you have a great experience."
Irwin - USA
---
Worth every penny
"Being our family's second time in Barcelona, we had the time to book a day trip outside of the city. Girona had been highly recommended to us so we booked LivSpain's tour. The experience was totally positive! Traveling through the countryside from Barcelona to Girona was very interesting and Girona itself was fascinating. The Jewish ghetto is beyond words! Our guide Maria was charming and could answer all of our questions without hesitation. She engaged our interests and was sensitive to our needs. We were so happy we had booked this tour with this company."
Kelly - Canada
---
Girona is worth a visit
"While our husbands were busy with their convention in Barcelona, my girlfriends and I took LivSpain's day trip to Girona. We found the tour to be well organized and the tour guide to be very knowledgeable and friendly. She paced the tour to our speed (or lack of) and around our specific interests. Girona is a fascinating place and worth a visit. If you book with LivSpain, you won't be disappointed."
BettyAnn - USA
---
BOOK NOW
---
By selecting Choose Dates Later / Buy as Gift at booking, any tour can be purchased without fixed dates. This is the perfect option if you want to purchase your tour as a gift for a loved one, or if you are in the pre-planning phase of your vacation. After booking, you will receive a Travel Voucher Code and full instructions on how to schedule your tours when ready. Once your travel plans are confirmed, you can easily use the Travel Voucher Code on the LivTours website to formally schedule your tours. You can find out more here.
BOOK NOW